Olivia Wilde Posts About Heartache on Valentine's Day, Months After Breakup with Harry Styles
Instagram Stories about "ugly and crippling" love have some wondering how Olivia Wilde is doing since the split.
Olivia Wilde is really going through it this week. The actress posted a series of Instagram Stories on Feb. 14 (Valentine's Day), including some excerpts and quotes about heartache — and some are wondering if these have anything to do with her recent breakup from singer Harry Styles.
"There are several kinds of love," begins an Instagram post that Wilde reshared from the @lettersofnote account. "One is a selfish, mean, grasping, egotistical thing which uses love for self-importance. This is the ugly and crippling kind."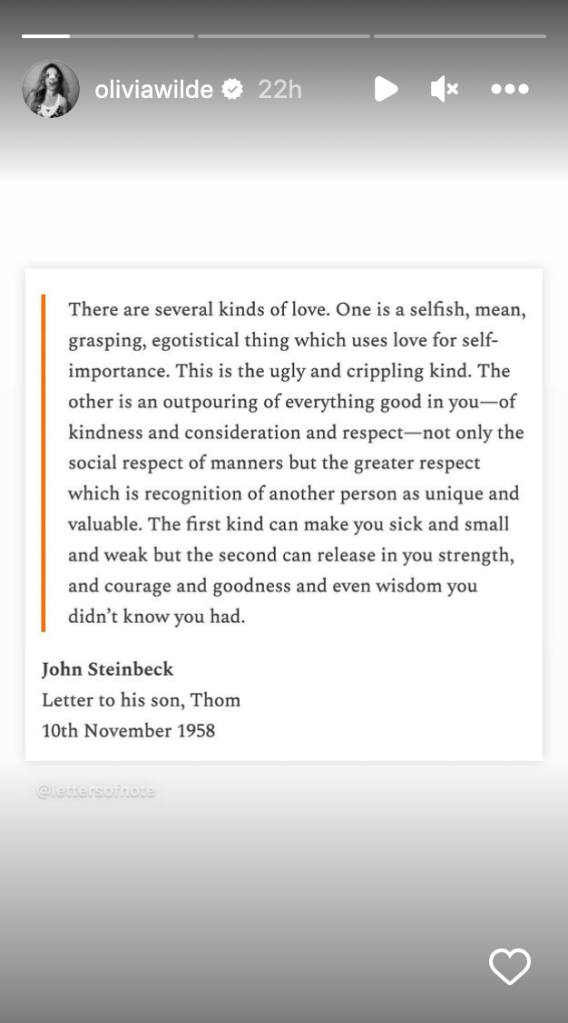 RELATED: Olivia Wilde Faces Backlash for "Cringey" Post Calling A$AP Rocky "Hot"
The lines are from an unconventional love note: Letter to his son, Thom, written by the famous 20th century author John Steinbeck, who penned the longer letter back in 1958.
"The other is an outpouring of everything good in you — of kindness and consideration and respect — not only the social respect of manners but the greater respect which is recognition of another person as unique and valuable," the rest of the note reads. "The first kind can make you sick and small and weak but the second can release in you strength, and courage and goodness and even wisdom you didn't know you had."
Wilde was also the target of scrutiny just a day before the Valentine's Day posts, when she was accused of "cringey" behavior after posting some fangirl Stories related to A$AP Rocky and Rihanna during the Super Bowl LVII halftime show.
It's not certain whether or not the post is directly related to Styles, as Wilde made no specific references to anyone in the post. However, back in November 2022, it was reported that Wilde and Styles were "taking a break" after their nearly two-year relationship, and that Wilde has been "leaning on friends" to help her get through it.
The pair met while on the set of Don't Worry Darling, the film Wilde directed and starred in, which also starred Styles after he replaced Shia LaBeouf, who was reportedly fired due to issues between cast and crew members, and himself.
Rumors began that romance had begun back in 2020, but it wasn't until the two stars were seen holding hands in public that their relationship became official in January 2021.
Their coupling came shortly after news that the House star announced the end of her nine-year relationship to Jason Sudeikis. The former couple were engaged but never married, and currently share two children together.
In terms of "courage and goodness and even wisdom," Wilde has had her fair share of those qualities while struggling through co-parenting battles with Sudeikis.
"It's tough," Wilde has admitted. "Reshaping a family is tricky." Since the split, Wilde has dealt with stressful issues like custody papers being served to her during a promotional event, and scandalous allegations about post-breakup life getting leaked from a former nanny.
The Booksmart director rounded out her Valentine's Day Stories with a candid photo of her and friend, where she wrote, "It makes so much sense this love machine was born on Valentines Day. Almost 20 years of friendship hot damn we are lucky. Happy birthday my gorgeous Jac ❤️," followed by a post she reshared from @karlawelchstylist that dives deeper into connections between love and friendship.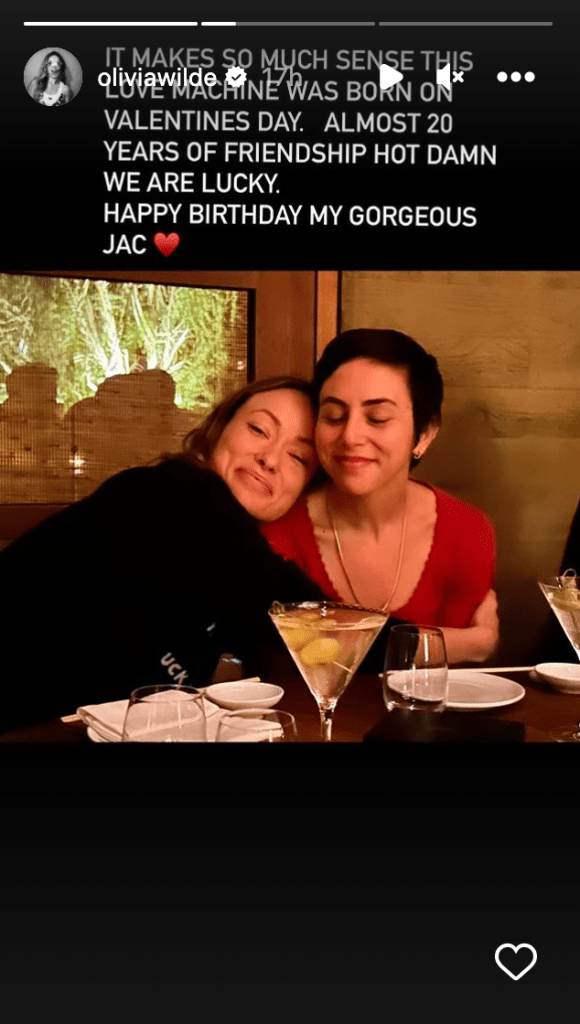 Kat is a born and raised New Yorker exploring the world as she writes, eats, and everything in between.
Read more