Olivia Wilde gives us a tour of a tiny home powered by Dunkin' Donuts coffee beans, talks sustainability
Olivia Wilde may have a lot on her plate these days, but she makes sure to carve out time for sustainability. The multi-hyphenate actress, director, producer, and activist recently teamed up with Dunkin' Donuts Coffee at Home to help build a house that runs entirely on coffee grounds. Yes, a house fueled on coffee! The traveling home, which made its debut in Washington Square Park in New York City this week, operates using a biofuel that powers everything from the fully functioning kitchen to the jacuzzi bathtub and washer and dryer.
Wilde, who just came off promoting her latest film, Life Itself , lent a design eye to the house, which despite its teeny size exudes a chic, modern aesthetic brimming with vibrant color. While sustainability has been deeply important to Wilde for a long time, she has also been a vocal advocate for removing stigma around public breastfeeding and supporting individuals with disabilities like Down Syndrome.
Wilde gave us a tour of the tiny homeand told us about how she practices sustainable living at home, her mom's campaign for Congress, and her upcoming directorial debut about the power of female friendship.
HelloGiggles: What inspired you to team with Dunkin' Donuts on a project around sustainability?
Olivia Wilde: Their brand motto has always been "America runs on Dunkin'," and to create a home that runs on Dunkin', literally, by creating a new type of biofuel blew my mind. I'm always on the lookout for news of evolution of technology. I wanted to be part of what this giant brand is doing as a way to start a conversation about changing the way we consume and dispose of our materials.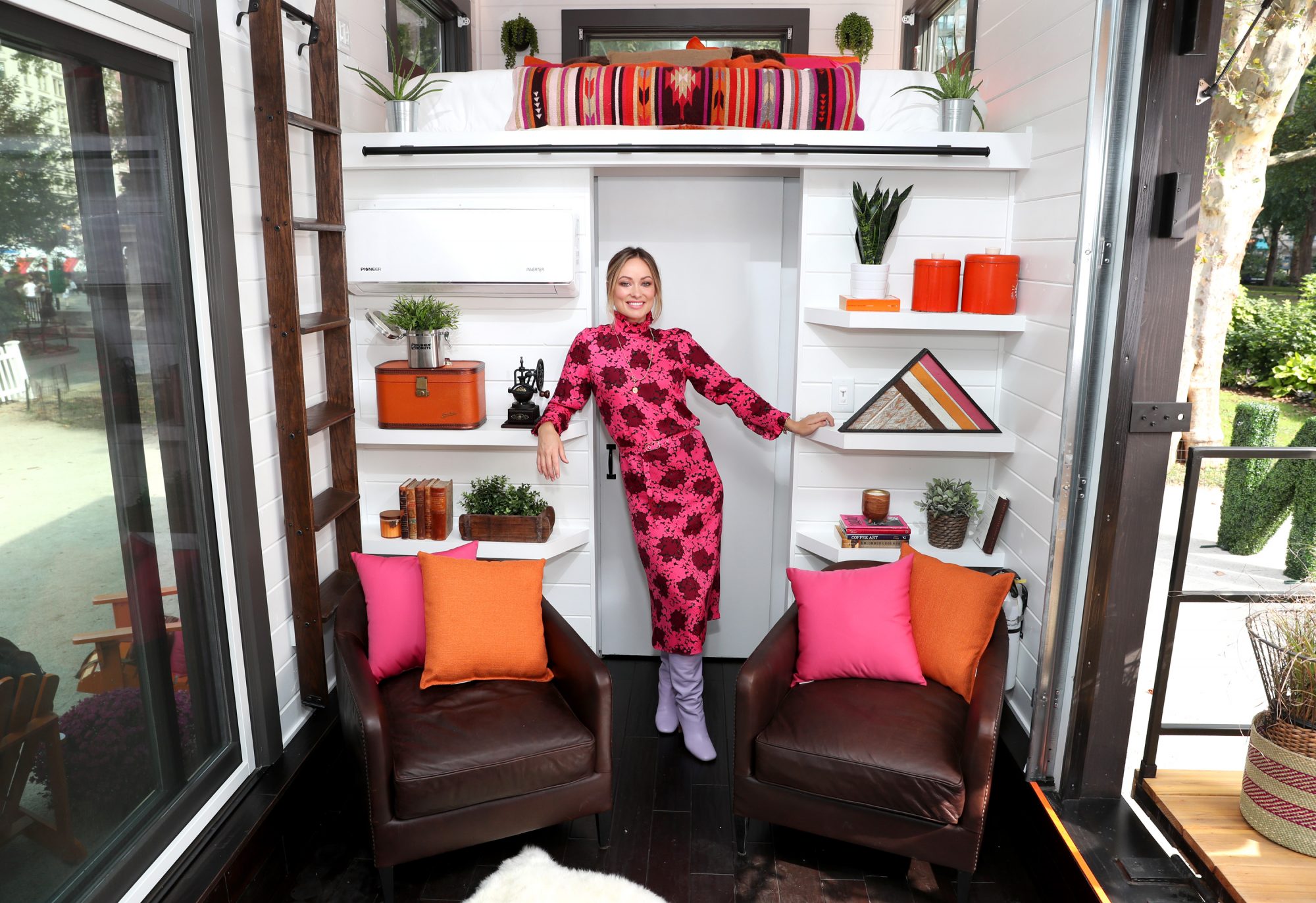 HG: How do you think a house like this could make an impact and inspire consumers to change their habits?
When you talk about things like sustainability, actual literal examples are the only way to actually have an impact. When people read statistics, they mean nothing. But if you create a home, and show that the power inside actually works based on coffee grounds, that alerts people to the idea that there is exciting new technology that works. At this point, we're so flooded with information that there needs to be more experiments like this. Let's give people more opportunities to witness the evolution of technology.
HG: How do you practice environmentally friendly living at home with your husband (actor Jason Sudeikis) and your kids?
It's become a part of the way that I buy and dispose of products. Certainly with children, and the amount of materials we go through on a day-to-day basis, it really makes it clear how much you're wasting and what kind of products you're buying that have chemicals and pesticides. If you think about it in America, just in terms of the FDA and comparing it to the European Union, there are 300 banned ingredients in the EU and just 11 in the United States. It's all about self-regulation. I try to educate myself about what ingredients are in different materials.
https://www.instagram.com/p/Bn4DlGNn7tC
HG: Why is it important to self-educate around sustainability?
It's clear that our federal government isn't going to invest enough in being part of the solution, so it becomes our job. I think of it in terms of my footprint and how I can offset it different ways. My parents also raised us to be conscious of what we were consuming. In terms of food, my dad grew up in Ireland and has a real connection to farmers and fresh ingredients and the effect large companies have on the actual working farmers. That's something that we so often don't think about, things like pesticides, and my parents taught us about Monsanto at a really young age. I give them a lot of credit for raising us to be conscious of these things, and as an adult I've tried to take baby steps. I don't live in a perfectly sustainable way yet, but I really try.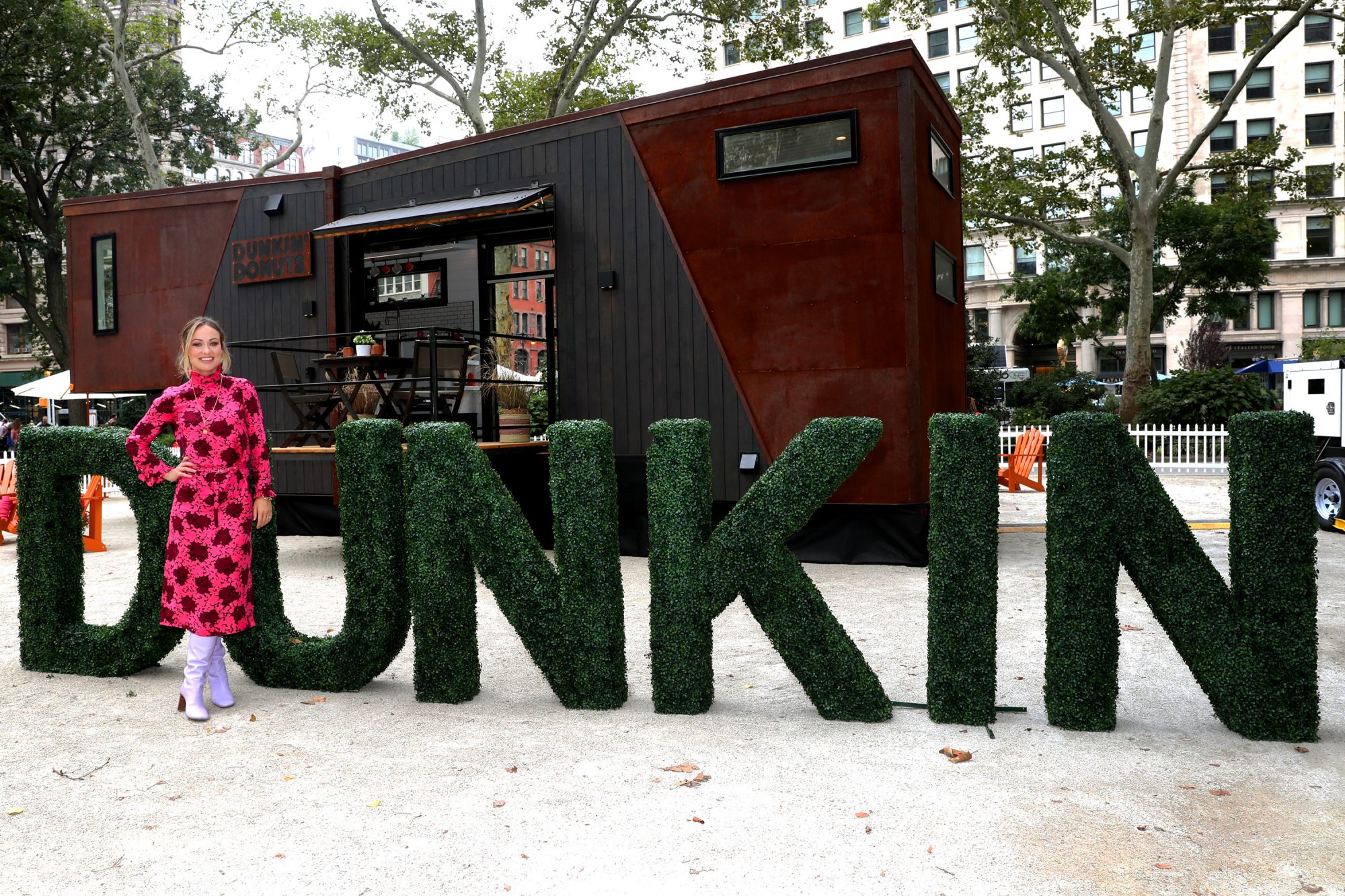 HG: Speaking of government, your mom, Leslie Cockburn, is running as the Democratic nominee for Congress in Virginia's fifth district. What has that experience been like for you as a daughter and advocate?
It's extraordinary. I thought I knew a little bit about politics, but it's such a truly hard job to run a grassroots campaign. It's an extreme amount of effort, and she has knocked on 50,000 doors, made 150,000 phone calls. She's constantly writing letters and calling people. She's created this wonderful network of 4,500 volunteers in the district where she's running, which includes both rural and cosmopolitan counties. She has really blown my mind in terms of her authentic devotion to the people of the fifth district. She's also neck-and-neck right now with the Republican nominee, and Trump won that district by 11 points. She's already done an extraordinary job.
HG: Impressive! You have your directorial debut with the upcoming film, Booksmart, starring Beanie Feldstein and Kaitlyn Dever. How has it felt to be on the other side of the camera?
Incredible. I'm so hooked. Booksmart is a comedy about female friendship, and there hasn't been a story about female friendship told with the authenticity that these actresses have brought to it. They even lived together for two months before we shot the film! The movie explores the elements of female friendship, particularly your first best friend in high school. It's an intimacy that's really kind of remarkable; if you think about it, before you even really have a romantic relationship, you had a best friend. We can all think back to who that person was, that person we trusted more than anyone, and how that relationship formed us. I think this is a unique story and it really mines that. It brings people back. It's been fun.
HG: What excites you most as a female director in an industry that remains so male-dominated?
It's all about giving great roles to actresses. To me, directing a studio movie is exciting because around eight percent of studio films last year were directed by women, if that. It's important right now to tell stories not only about singular women who are powerful, great examples of strength, but also the support necessary between women.