Olivia Wilde just announced she's pregnant again, and we cannot contain our excitement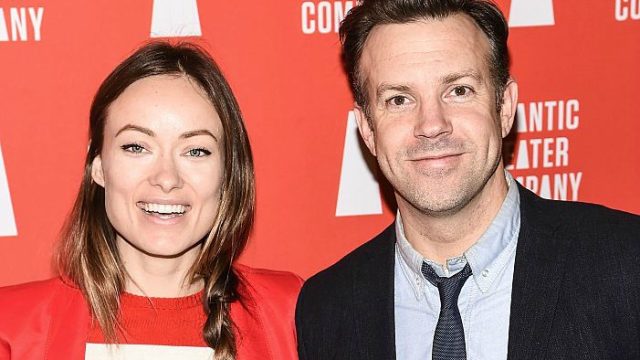 It's SO hard not to like Olivia Wilde. For one, she's one of the few celebrities who is completely willing to open up, and always seems to view the positive side of things. And she definitely has something to be positive about these days, since she announced (through an incredibly adorable Instagram photo) that she and her fiancé, Jason Sudeikis, are expecting their second child together. Their first son, Otis, was born in April of 2014. And speaking of Otis, he helped his Mom make the announcement. So cute!
"Matching baby bumps," Wilde captioned the photo. Otis looks absolutely overjoyed about the new arrival, which will officially give him the title of "Big Brother."
Wilde and Sudeikis were one of the many celebrity pairs that announced second pregnancies this week — they're in good company with Blake Lively and Ryan Reynolds, and Eva Mendes and Ryan Gosling. Megan Fox also announced that she was pregnant with her third child, with Brian Austin Green, who she's in the midst of divorcing (but seems to be on good terms with.)
As far as Wilde and Sudeikis, they're waiting to officially tie the knot, even though Wilde has no problem with referring to her guy as "husband." Nancy O'Dell asked the two of them if they got married in secret after hearing the affectionate term, and Wilde was quick to clarify that,"No, not technically, not if you checked the law books." Both have a good sense of humor about the hot topic, with Sudeikis even saying that his go-to joke is that he won't be tying the knot until "weed is legal in every state."
Rumors about Wilde sporting a baby bump have been spreading since January, with Wilde saying that any bump she had was directly related to burgers.
Since Otis has been rumored to be having a Beyoncé-themed birthday party this year, we know that Wilde and Sudeikis are amazingly fun parents, alongside being fantastic partners.
Congratulations to Olivia — we can't wait to hear more about Baby #2!