Deadpool is no match for Olivia Munn's Psylocke's knife skills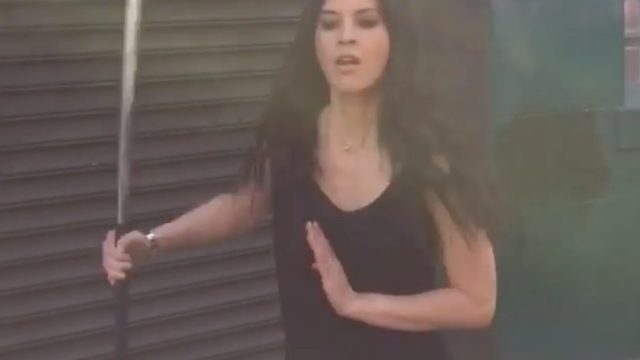 Olivia Munn has been doing some serious training for her upcoming role as Psylocke in X-Men: Apocalypse. During the Super Bowl, a new trailer was released that showed her character slicing a car in half. So yeah, this superhero's got super strength. Psylocke is known for her telekinetic powers and her martial arts skills. So naturally, Olivia got in fighting shape for the role.
The actress posted a video on Instagram of her practicing her sword skills, and they're crazy impressive. She flips a blade, transfers hands and exercises serious control over the weapon. Then, a few seconds into the video, we realize that Olivia has an opponent: Ryan Reynolds, aka Deadpool.
Except when it's Ryan's turn to show off his skills…well, let's just say he's not as prepared as Olivia is. He's holding a blue balloon sword, and from the look on his face, he knows he doesn't stand a chance. He halfheartedly tries to join the battle, but his balloon sword doesn't get him very far.
What did we learn here? Never challenge Olivia Munn to a swordfight, because she'll win handily. Don't mess with Psylocke!