These are the under-$20 beauty products one HG Contributor uses on the daily
Welcome to The Beauty Files, where HelloGiggles editors and contributors share what exactly they put on their faces, and why. We want to take you on this voyeuristic journey because we believe makeup means something different for every single person — applying makeup is a conscious, intimate decision we make almost every single day, and there's usually a method behind the madness. Join us every week as we spill the beans on beauty products, and feel free to submit your own Beauty File. E-mail us at [email protected]!
Hey there! I'm Olivia, a HelloGiggles contributor from the Northeast. As much as I love the four seasons here, they haven't shown my skin much love. I've recently started having some issues with breakouts and weather-related skin problems. To figure out how to best care for my changing skin, I've been testing a bunch of products to see which ones make my face happy. I have yet to perfect my beauty routine, but honestly, has anyone? (If you have, please tell me. I need to know. Thank you.)
Also, you better believe I'm balling on a budget. The products I use might be cheap AF, but that doesn't mean they aren't great. I've found some amazing products that everyone can afford. Plus, they get the job done. So step into my lab to see the products I've been experimenting with lately!
8:00 a.m. — Coffee and cleanse thyself.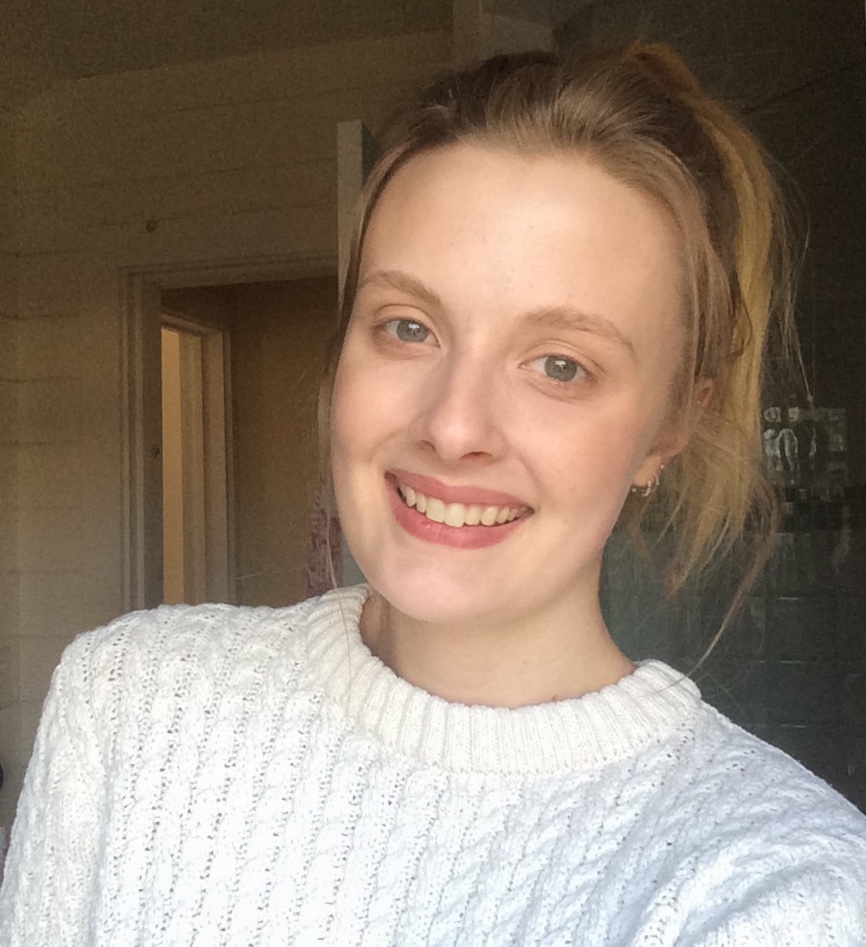 A few months ago, I decided to make an effort to go cruelty-free with all my beauty products. But ever since I started breaking out, I must admit that I've regressed a bit. I'm still proud of the progress I've made, though.
When I hop into the shower, I start my beauty routine with Renpure's Coconut Water Hydrating Shampoo ($7.99) and Conditioner ($7.99). The shampoo literally melts into your hair, leaving it super hydrated but not weighed down. It's perfect during the dry winter months when my hair is actually just uncooked spaghetti. I like to leave my conditioner on for a few minutes; long enough for it to soak into my hair, then I rinse right before I get out of the shower. This ensures I'm getting the maximum amount of moisture into my spaghetti hair.
For body wash, I use Alba Botanica's Very Emollient Bath & Shower Gel ($14.49). It smells great, and it's 100% vegetarian and cruelty-free.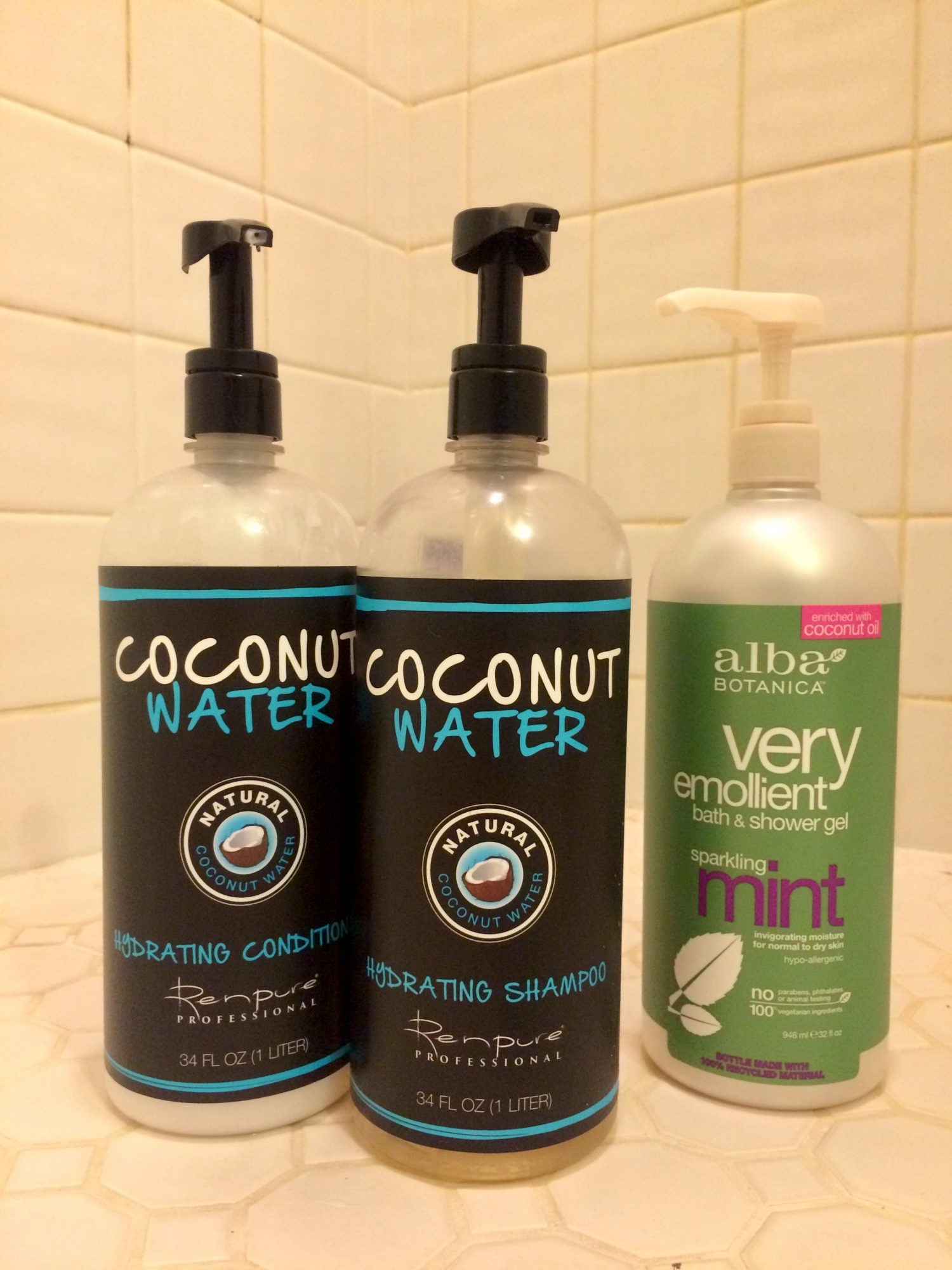 Also, a guru tip from a non-guru: wrap your wet hair in a T-shirt. I heard from someone years ago that drying wet hair with a towel can cause split ends and since making the change to tees, I've actually noticed that my hair feels healthier. Am I imagining this? Perhaps. But sometimes you just have to let a girl believe in something.
I try so hard to remember to moisturize after getting out of the shower, but I usually don't. Scaly skin for the win? Gross. But I do wash my face with Cetaphil's Daily Facial Cleanser ($12.99) to make sure there's no dirt or grime on this face of mine. I was using and loving the Trader Joe's SPA Face Wash ($11.39 — currently out of stock), but the Tea Tree oil became too harsh for my dry winter face. I will be switching back to it during the summer, though.
I then apply Alba Botanica's Hawaiian Oil-Free Moisturizer ($17.17) on my face. It's calming, fast-drying, and perfect. This stuff smells like something from my childhood, and I get waves of nostalgia every time I use it.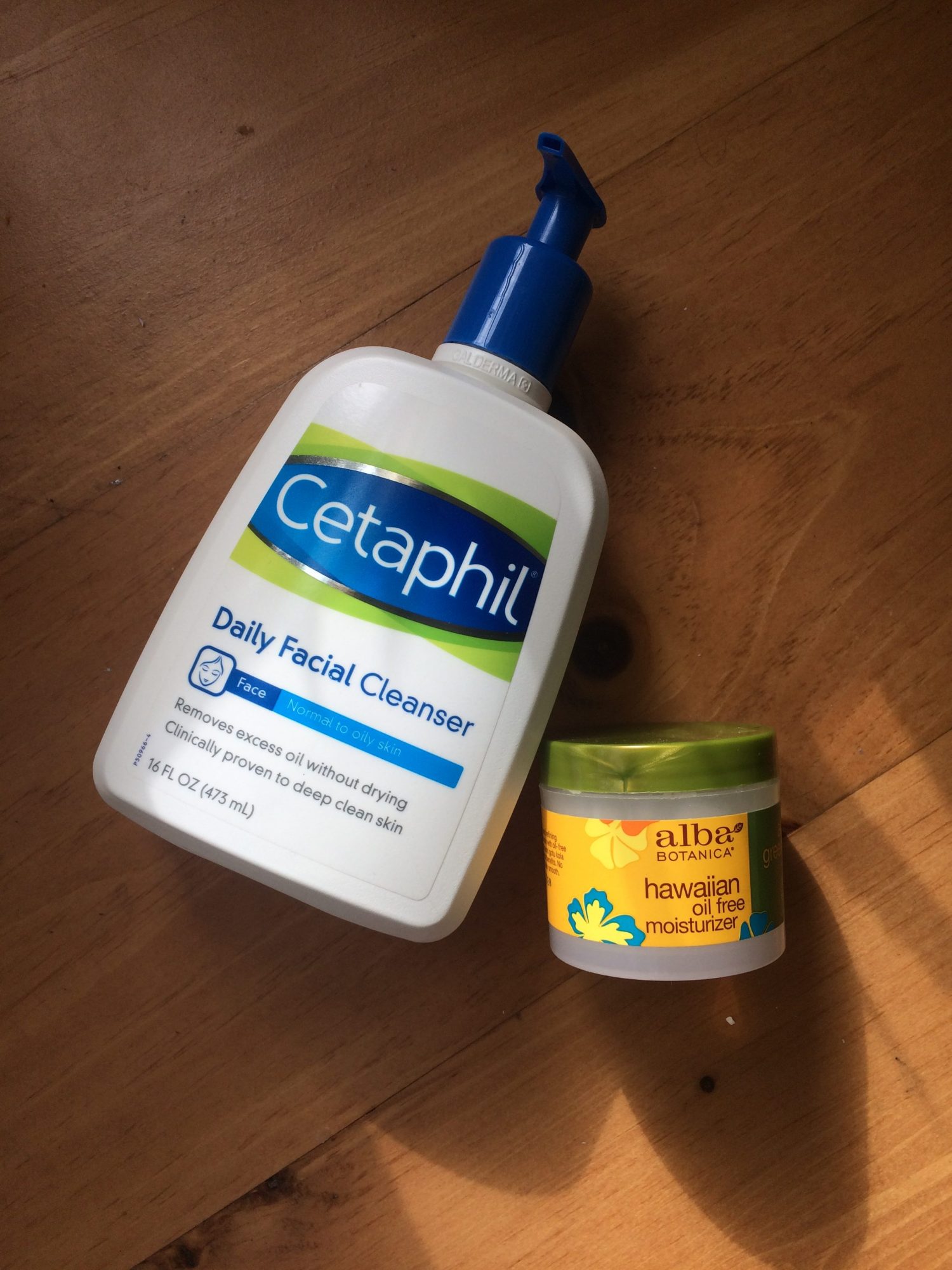 8:30 a.m. — Makeup meets my face.
Listen, simplicity is key when it comes to my makeup routine. Some days it may not even look like I'm wearing anything. But for me, it's all about the ritual of applying makeup. It makes me feel great about my looks, and it centers me for the day ahead.
Now it's time to see my beloved concealer at our favorite meeting spot — my vanity. I've recently fallen for two Wet N Wild concealers — the Photo Focus Concealer in Light Ivory ($3.93) and the MegaGlow Makeup Stick in Follow Your Bisque ($3.93). I use these guys interchangeably depending on the day. Both are my true loves and I cannot (and will not) choose between them.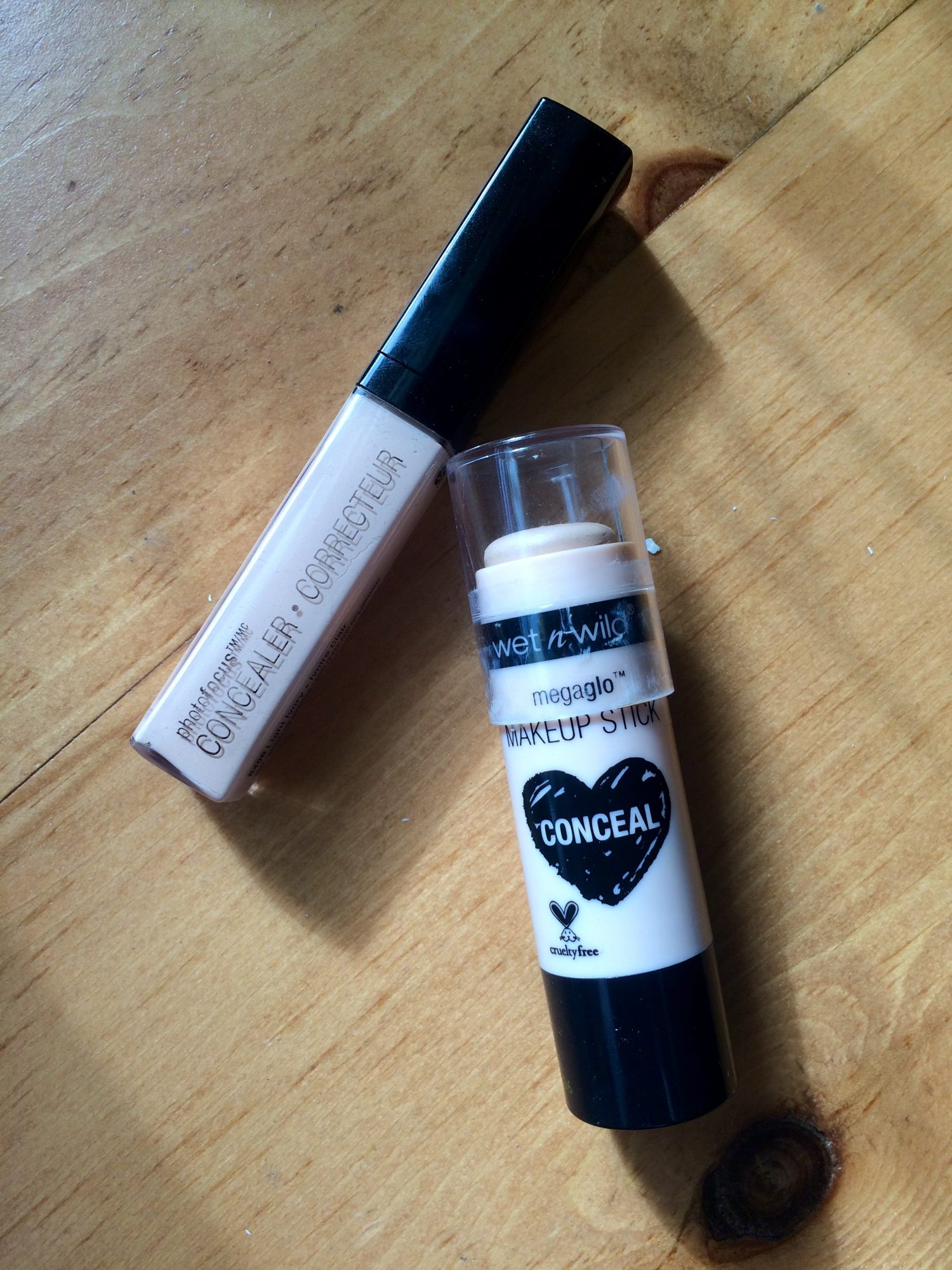 I set my concealer with the NYX #NoFilter Finishing Powder in Porcelain ($8.39). So far, this stuff has worked wonders with my dry skin. It's not chalky, and it has a blurring effect that helps to even out my skin tone. I then use Wet N Wild's Color Icon Bronzer in Ticket to Brazil ($3.93) to add a slight contour. And finally, I finish up the face with Wet N Wild's MegaGlo Highlighting Powder in Precious Petals ($4.99).
Guys, Wet N Wild rules. It's incredibly affordable, cruelty-free, and honestly, really good makeup. It's not the same Wet N Wild that supplied us with lip gloss in middle school. They've come a long way.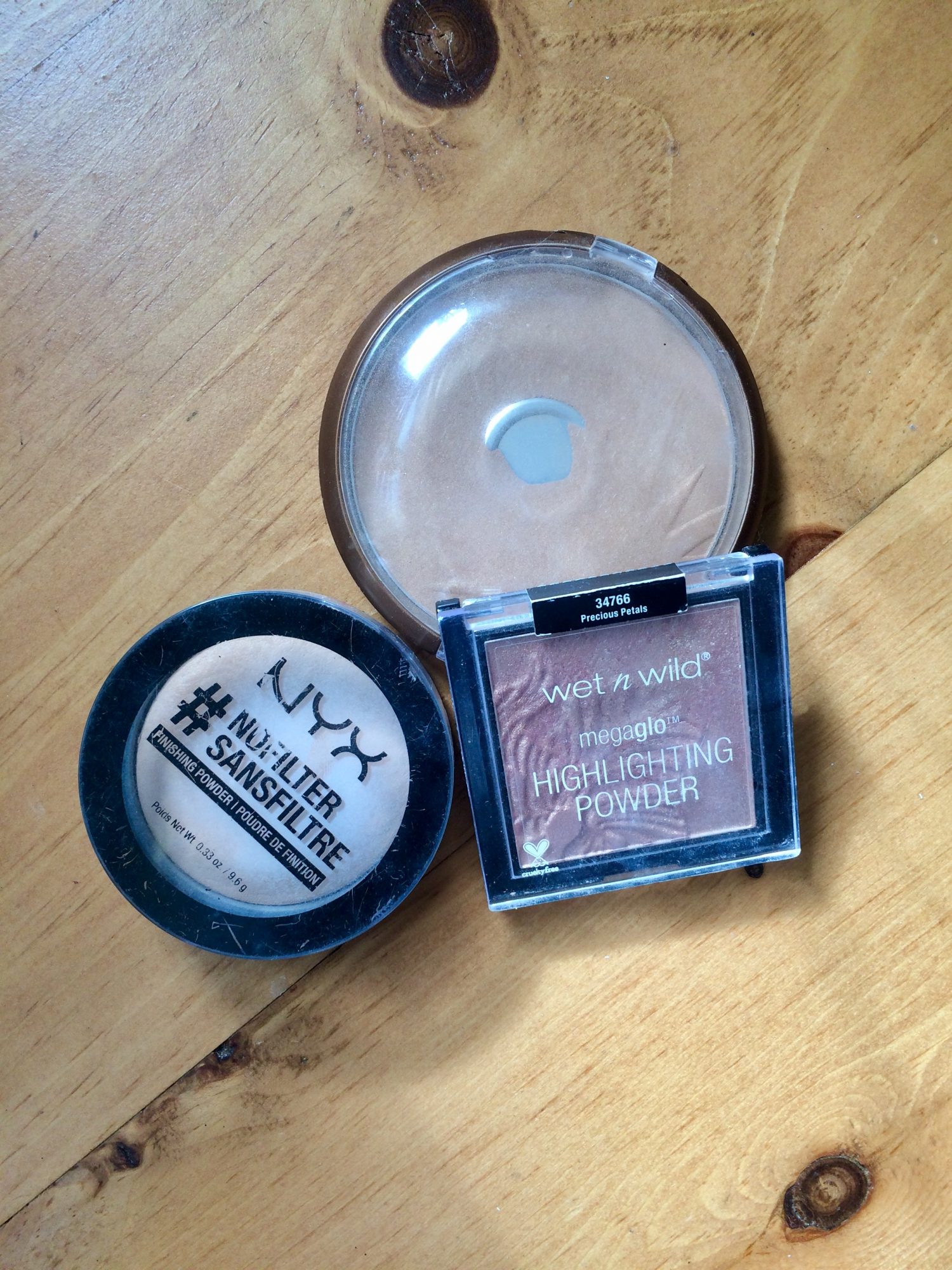 The last step is brows. I stopped plucking my brows about a year ago because it hurt. And, hello — bushy brows are in, people! I swear by the Essence Make Me Brow Eyebrow Gel Mascara in Blondy Brows ($2.99). Although I've never used Glossier's famous Boy Brow, I think this Essence product might be the perfect dupe. And please, it's only $2.99, so don't even try to beat that. Just don't!
I usually skip mascara because my eyes are fairly sensitive. But when I want to give my look a little extra somethin', somethin' I use the Essence Volume Stylist 18hr Curl & Hold ($4.99).
Ladies and lords, let me tell you that this mascara is divine and I recommend it to all of you.
10 p.m. — Rinse and repeat.
Hi Cetaphil! How was your day? Mine was good, thanks for asking. I wash my face with Cetaphil once more, trying to work up a good lather in my hands before applying it to my face. I then reapply the Alba Botanica moisturizer.
To help with my breakouts and to nourish my dry skin, I apply three drops of cold-pressed Radha Rosehip Oil ($14.95). It's a super lightweight oil that helps to reduce acne scarring, prevents wrinkles, and improves moisture levels in the skin. I strongly recommend this if you have dry skin.
Now I'm off to get some shut-eye. Thanks for joining me today and I hope to catch up with you on the interwebs soon.
Indulge in beauty-themed voyeurism by reading all of our past Beauty Files, here.