This Olive Garden makeup palette is even better than unlimited breadsticks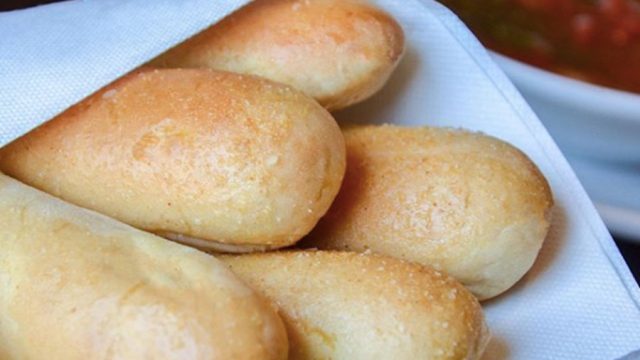 Move over, Sephora. There's a new beauty product in town, and she's bringing unlimited breadsticks and parmesan shavings. On July 31st, Olive Garden took to Twitter to tease a makeup palette, and it's the stuff of our marinara dreams. We know what you're thinking: Is this real life? Or is this just a fettuccine fantasy?
While the palette isn't exactly real, Olive Garden aficionados are all for it. The whimsical pastel pink palette features a bronzer appropriately titled Breadstick Bronzer, a blush in Marinara Rouge, and a variety of eyeshadows called Alfredo Awesome, Parmiagiana Perfection, Fierce Fettuccine, Royal Ravioli, Lasagna Lush, and Spaghetti Sparkle. Admit it, these are better than unlimited breadsticks.
Here's a closer look at the Olive Garden makeup palette:
Oh, Olive Garden.
This isn't the restaurant chain's first foray into outlandish (but brilliant) products. In early July, Olive Garden teased its "Breadscription Box." This was a subscription box for the restaurant's iconic breadsticks. But, alas, it was devastatingly fake.
Olive Garden follows a lengthy list of food companies creating novelty beauty products. In November 2016, Cheetos launched a real holiday makeup collection, which ranged from glorious "Cheeteau perfume" to "colour de Cheetos bronzer." Who wouldn't want the cheesy glow of Cheetos?
In celebration of April Fools Day, Hidden Valley Ranch launched a fake line of Valley Girl makeup, which featured whimsical lipstick, lipgloss, eyeshadow, and a highlighter. And who could forget bagel company Einstein Bros.' limited-edition cheese shampoo and bacon conditioner? You've gotta love these novelty products.
While Olive Garden's makeup palette isn't real (insert sad emoji), Twitter users were 100% supportive of the genius idea.
Honestly, we could see ourselves rocking Spaghetti Sparkle eyeshadow to our local Olive Garden.
Can't we have our breadstick and wear it, too?