The Old Navy $1 flip flop sale is here, and we're flipping out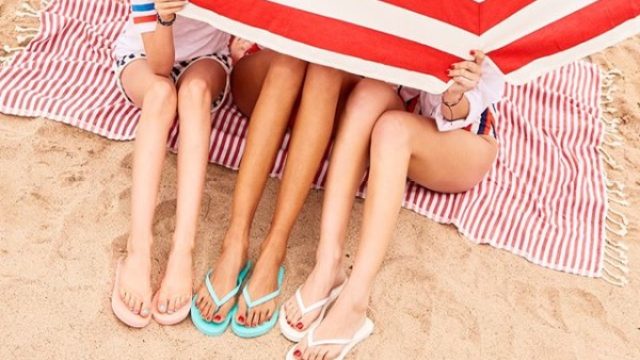 Nowadays, it seems like a dollar doesn't go too far. Even the dollar menu at a fast food joint requires some additional tax. But there's one event that budget-loving fashionistas look forward to every single year. We're talking about the Old Navy $1 flip flop sale.
Old Navy's plastic flip flops are already affordable at just $3.99 a pair, but today only (June 23rd), they're marked down to just one dollar each. And while $1 flip flops might not sound like a big deal, the sale is a huge fan favorite; it's been an annual celebration since 2005. What's not to love about a good deal that's also a perfect way to up your summer fashion game?
Here are the details: On Saturday, June 23rd, Old Navy solid color flip flops are just $1 a pair when you buy them in-store. You can buy up to 10 pairs (while supplies last). You can seriously buy one pair to match every outfit in your closet!
Look. At. All. The. Colors.
Old Navy flip flops are just too cute to resist. They're the perfect complement to any fun summer look and are super easy to pack in any carry-on luggage for a getaway.
If you've been looking to add a bit of color to your wardrobe, this is probably the most wallet-friendly way to do it.
While the solid colors are $1, Old Navy's vice president of women's shoes and accessories, Jennifer Baceda, also shared that the store will have printed flip flops for just $2. Deals on deals, folks.
If you haven't made your way to an Old Navy location just yet, get to it, because the Old Navy $1 flip flop sale is only happening while supplies last. Cheers to staying on a budget and looking summertime fly.