Stars celebrating #OldHeadshotDay will make you feel better about your embarrassing high school pics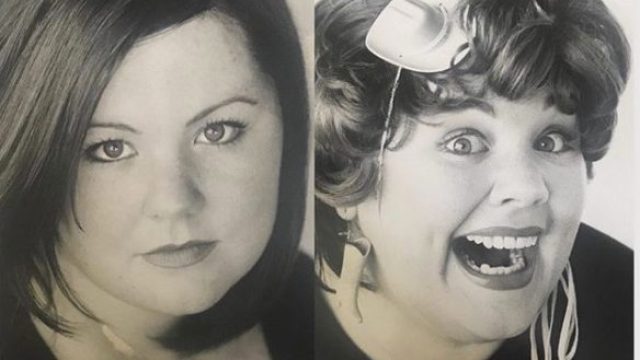 There's nothing better than a good '90s glamour shot. Thanks to Old Headshot Day on Friday, April 27th, we've been gifted with the best throwback photos of all our favorite Hollywood celebs. And it's the perfect reminder of just how much we've all changed.
Old Headshot Day instantly teleported us back to our own school picture days. You know, the days for which you'd plan the perfect, iconic outfit at least two weeks in advance, only to have your Mom guilt you into wearing something totally uncool. And please, tell us we're not the only ones who meticulously combed and straightened our bangs, just to be upstaged by our braces.
Clearly, celebs have a whole team of people dolling them up anytime they're in front of a camera, and these photos are no exception. As you'll see, bangs were poofed to perfection and curls were coaxed into over-the-top volume. (We're serious fans of Sarah Michelle Gellar's stellar pre-Buffy blowout.)
But aside from the '90s hair and fashion, Old Headshot Day served as a great reminder of what photos looked like before selfies took over the world. Like, we'd love to know what the photographer said to get Reese Witherspoon to smile like that.
There's no question everyone has their favorite throwback photos, probably tucked away in a family photo album. Some of them are undoubtedly a little embarrassing, but let's face it: No one escaped the 90's without a hilarious picture.
We rounded up some of the best Old Headshot Day pics for your viewing pleasure.
We hope they inspire you to break out that old yearbook and appreciate the babe you are and always have been.
The *lewks* Melissa McCarthy is serving up here are amazing. Seriously, where can we get that hat so we can recreate this immediately?
Here's Karlie Kloss reminding us that a makeup-free face is flawless.
We'll wait while you try to complete Danielle Fishel's triple dog dare.
Hilarie Burton is seriously #goals.
BRB, going to go hunt down some sprunch spray, thanks to Sarah Michelle Gellar.
Also, Reese Witherspoon's face is how we feel every Friday afternoon.
https://www.instagram.com/p/BiFosRVHScU
We were feelin' you too, Viola Davis!
We can't forget about our guys, of course.
Joseph Gordon-Levitt was seriously adorable.
Finn Wittrock's center part brings back so many memories.
Ed Helms was handsome even then.
We'd still let you remodel our house, Jonathan Scott.
We wonder how many roles Devon Sawa has landed with this pic.
Thank you, Internet, for blessing us with all of these amazing headshots. We'll be digging out our old photo albums this afternoon if anyone needs us.