Olaf is back and colder than ever in a new 21-minute-long "Frozen" movie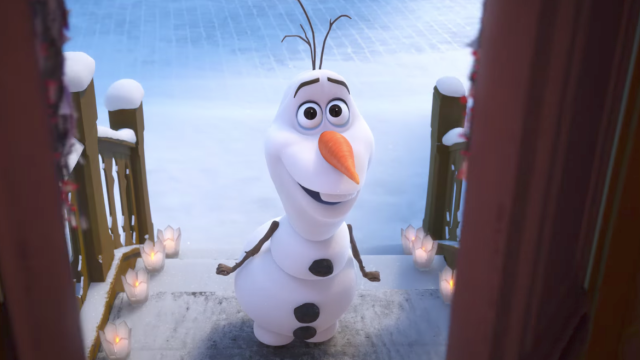 Just when we thought we'd have to wait ALL the way until 2019 for more Frozen, Disney's given us a holiday miracle — a new, Olaf-centered Frozen featurette. Disney just announced that a 21-minute short, Olaf's Frozen Adventure, will air in theaters for a limited run beginning on November 22nd, as the opener for the upcoming Pixar film, Coco.
As Disney is the gift that keeps on giving, all our favorite characters — in addition to Olaf, voiced by Josh Gad — are back for the short film, including Anna (Kristen Bell), Elsa (Idina Menzel), Kristoff (Jonathan Groff), and Sven.
Disney also released a new trailer for the short that will air before showings of Cars 3, which opens in theaters on Friday (June 16th).
https://www.youtube.com/watch?v=hb8WDATVB6A?feature=oembed
Olaf's Frozen Adventure follows our favorite Arendelle royals and company as they celebrate their first holiday season together, following the dramatic events of Frozen. After discovering that Anna and Elsa don't have any holiday traditions on their own, Olaf and Sven go off in search of the best family holiday traditions to bring back to them. WE LOVE IT!
Though the short was originally slated to be a television special, we think it makes a ton of sense to air Olaf's Frozen Adventure alongside Coco. Much like Olaf's quest to find the perfect family tradition, Coco follows Miguel, a boy who accidentally ends up in the Land of the Dead on the eve of Día de los Muertos. Alongside his trusty dog, Dante, and Hector, a trickster he meets along the way, Miguel embarks on a journey to learn about his family traditions and the secret reason music is banned in his family.
Disney's chief creative officer, John Lasseter, also noted the match in a press release.
"I'm thrilled that Disney Animation's featurette 'Olaf's Frozen Adventure' will be coming to theaters in November with Pixar's Coco, he said. "It's a perfect pairing – they're both beautiful, heartfelt films about families and how people carry traditions forward. I can't wait for audiences to get to see both of these terrific projects together on the big screen.
Olaf's Frozen Adventure will feature new songs written by Elyssa Samsel and Kate Anderson and is the *perfect* thing to hold us over until Frozen 2 hits theaters in 2019!