Okay, so, eyebrow extensions are now a thing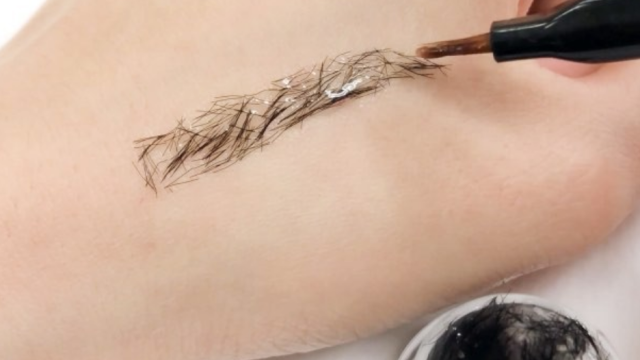 For those of us with sparse baby brows, the full-brow trend has been challenging, to say the least — whether the result of over-plucking during one's youth or plain ol' genetics, some of us just don't have Cara Delevigne-worthy brows. Much to our chagrin, this trend is definitely here to stay, but luckily, there are plenty of solutions, the latest of which appears to be eyebrow extensions.
If you're one of those people who embraces their little brows as they are, then more power to you! But for those who like to push the envelope and get a bit more fullness, there are plenty of options. You can try out a brow serum, brow gel, or go the microblading route — we love them all. Since it appears we can now add brow extensions to the list, we're thrilled.
There are currently plenty of brow gels on the market that include faux cils to add length and volume, but Vogue Korea stumbled upon a pretty innovative new formula that loads the faux hair onto your brows and then firmly seals them in place with a clear gel. We've never seen anything like it and now we're itching to get our hands on it.
Isn't it thrilling to have more options? We aren't surprised to see this coming out of South Korea — they've been leaders in the brow game (and in the beauty world as a whole) for quite some time now.
Okay, that is just wild. You can pretty much create realistic-looking brows out of nothing.
Eyebrow extensions aren't available stateside at this time, but there are quite a few products with formulas that give you similar results that can tide you over until your next South Korean jaunt:
Would you give eyebrow extensions a go? We'll do pretty much anything to get lush-looking brows, so why not?