"OITNB" star Lea DeLaria opens up about how the AIDS crisis made her want to become a comedian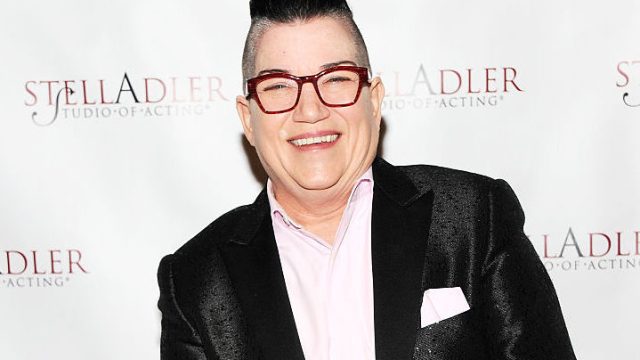 We all know Lea DeLaria for her role as Boo on Orange is the New Black. Boo is a multi-dimensional character — she's tough, and doesn't take any shit from any of the other inmates, but she's also got a soft spot for a lot of the other women in Litchfield, and she provides a lot of (highly necessary) comic relief on the series. DeLaria brings Boo to life like no one else could and it's likely because she's been performing work that walks the delicate line between serious and funny for years and years.
It turns out, Lea DeLaria has been doing comedy since the 1980s, and it's her time on stage and in comedy clubs that helped her get through the devastating time that was the AIDS crisis. She recently opened up about this time in a beautifully told piece for Esquire, and talked about what it was like to try to get people to understand that AIDS was a very real thing when the President of the United States wouldn't even say the word.
DeLaria said, "At the time, the United States was being quietly devastated by AIDS. Meanwhile, Ronald Reagan, our sitting president, wouldn't even say 'AIDS' on national television. So the LGBT community was left to deal with the crisis by itself—and that's exactly what Provincetown did. The town was small but very politically active around queer issues. We all knew and helped one another."
Provincetown, Massachusetts was where DeLaria was living at the time, and she was performing with the town's first openly lesbian act while also caring for people dealing with AIDS — these were often close friends of hers, and it was a very hard time.
She said,"When guys got to a certain point, they couldn't take care of themselves. I would cook them meals. I would help them with their medication. Whatever needed to be done. I remember getting a lot of phone calls that year: Friends would be like, 'I have to go grocery shopping. Can you come take care of Paul?' Or: 'Can you come take care of Robin?' I'd go right over."
During this time, doing stand-up comedy was the only thing that helped her keep her head above water. Other people were turning to substances to function.
"Constant movement from city to city to do stand-up helped me: San Francisco, New York City. It was ultimately the stand-up that kept me functional. It was there that I could truly rage. In front of laughing audiences, I could vent frustration over the fact that we were losing our greatest men: our artists, our thinkers, our composers, our actors, our citizens. For the longest time, it was only in a comedy club that people cared to hear it."
We're so grateful for people like Lea DeLaria, who are willing to help out people who need love and care in times of crisis, and who can also provide laughter through the pain. She's truly a special, special soul, and it's so brave that she's being open about that time.