There might be a death on "Gilmore Girls: A Year in the Life" and we're bracing ourselves already
Hello from the land of PURELY SPECULATION.
Last week, we saw a brand new image from Gilmore Girls: A Year in the Life. It has our Gilmore Girls — Lorelai, Rory, AND Emily — standing together in, what is clearly, a cemetery. At the time, we simply assumed that they were at the cemetery to honor the Gilmore patriarch, Richard (played by the dearly loved Edward Herrmann who passed away in 2014).
According to what we know about A Year in the Life, the series will pick up shortly after the death of Richard on the show, and the first episode will be "Winter."
Thing is, though, upon further inspection of this picture (and the Netflix press site for Gilmore Girls), we can 100% confirm that this picture is from the episode, "Summer."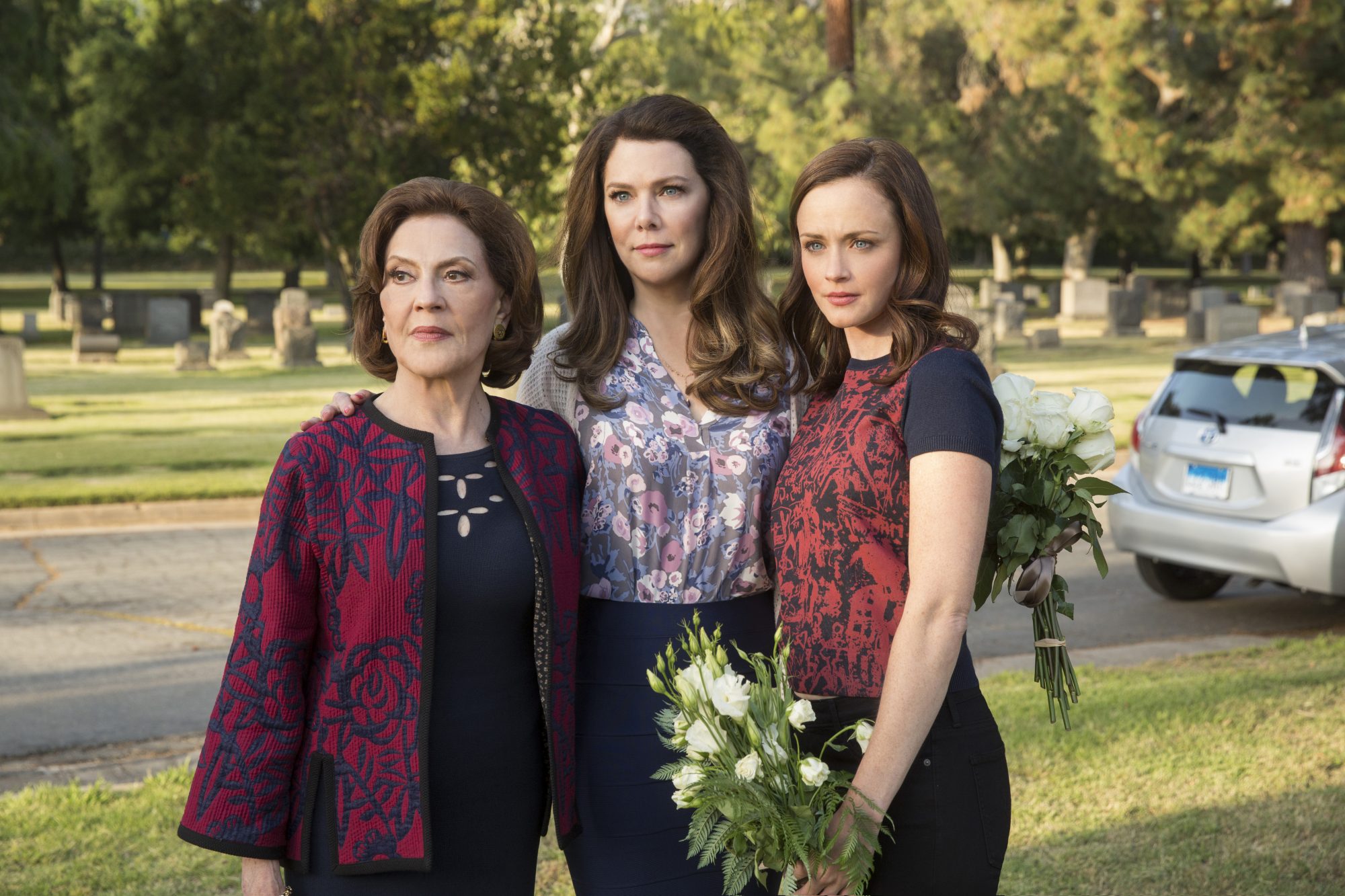 It's nice of the girls to visit the cemetery with flowers, but…this got us thinking. This is NOT Richard's funeral. What happens if this is for someone ELSE from Stars Hollow? Could A Year in the Life see the end of another beloved Gilmore Girls character?
This is still purely speculation. It's just kind of an odd picture the more than you think about it. The ladies are also clearly not at a funeral, because they're not dressed in all black (or, maybe they are, the residents of Stars Hollow were always one to dance to the beat of their own drum, and a funeral should be no different). It's also the fact that that these ladies seem to be staring off into the distance at something, not necessarily a gravestone. Their gaze is fixed on ~something~ which sure feels like they're looking at some sort of ceremony — one they're adjacent to, not necessarily a part of.
If it was a ceremony honoring Richard, you know they'd be up close and personal with it.
Plus, that car. That's not Lorelai's truck. That's also not Rory's Prius. Is this Emily's car? If not, there's another car here at the cemetery with them, which might mean that there are MULTIPLE people present. It's not that Richard wasn't loved by just about everyone, but if it was a small family gathering, no one else would necessarily be in attendance.
ALSO, this episode is from "Summer." Um, hello, Gilmore Girls, we need a tribute to Richard immediately as soon as the series kicks off with "Winter." Sure, we can have multiple tributes to him (obviously), but this somber moment at the cemetery better not be the FIRST one — if it's for him.
AND, this is what makes us think that we might have to say another big goodbye during A Year in the Life. UGH CAN IT BE NOVEMBER 25TH ALREADY?