Oglala-Lakota graduate Megan Red Shirt-Shaw speaks up for education at Harvard commencement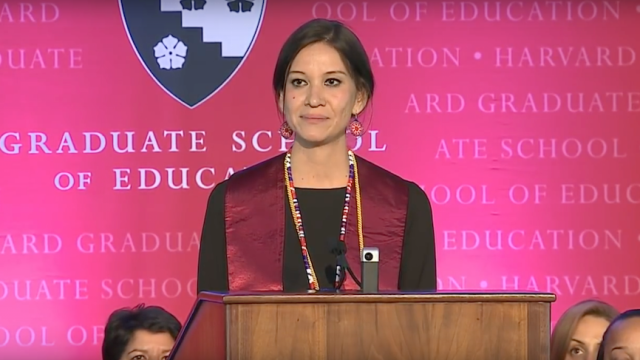 Until recently, I taught college English and Native American literature. It wasn't easy, and neither was the graduate education leading up to it. As a Muscogee (Creek) student and then professor, I had to contend with many misperceptions and challenges related to being a Native American person working away from my community. While most came from well-meaning people, it was still tiring, so I was a little relieved when a military move caused me to take a break from teaching.
However, Oglala-Lakota graduate Megan Red Shirt-Shaw's speech at the Harvard Graduate School of Education convocation almost convinced me to return to the profession by reminding me — and the thousands of people who shared it on social media — that education is powerful, especially at a time when education funding is in danger of being cut and the teaching profession is increasingly disrespected.
https://www.youtube.com/watch?v=jG9gHn7tHBI?feature=oembed
In it, Red Shirt-Shaw says that "we as educators will be called to courageously change because of times in America like the one we are currently experiencing."
She said of her time at Harvard,
"We cannot begin to predict in the future what will be difficult, what will feel safe, who will be beautiful to us, and what will make us feel like we've come undone. I could not have known that the Dakota Access Pipe Line movement would challenge me or my sisters in FIERCE [Future Indigenous Educators Resisting Colonial Education] for our entire academic year. I couldn't have known that I would be incapable of unseeing the people I love the most being hurt in North Dakota on the news in between classes and assignments or that the call to action from the Oceti Sakowin would sometimes overwhelm a professor's call to read a case study."
Red Shirt-Shaw, who founded the online publication Natives in America for young Native writers, spent her spring break in Canada working with First Nations young women who were homeless. She said,
"...these young women...reminded me to remember that if they can show up to their classrooms every day, by any means necessary, to learn and give back to the world in faith that things for them will someday be better, we can too."
She ended with a phrase in Lakota: "Weksuye, Ciksuye, Miksuye." ("I remember, I remember you, Remember me.")
She called on her fellow graduates to remember to bring all they learned inside and outside the classroom to their students because…
"Ultimately, that kindergartner you always said 'yes' to will go on to middle school. She'll go to high school. She'll find her voice in college. And then someday, maybe, she'll end up here on Appian Way. She will have moved every mountain unleashed. She will have pushed back on every system that tried to tell her who she was. And she will live with fire seeking justice in a country that doesn't always remember she is still here."
This is one commencement speech you're going to want to bookmark.