Officials are investigating whether the deadly Washington Amtrak crash was caused by human error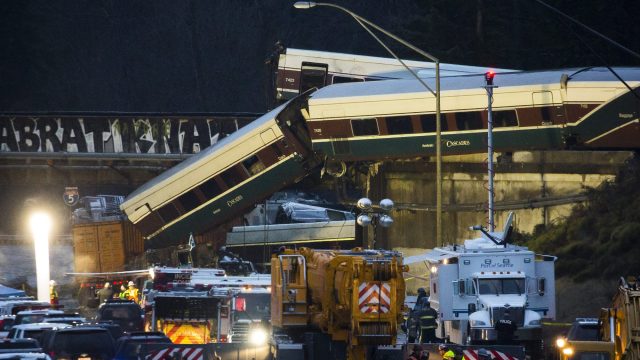 In the wake of the deadly Washington Amtrak derailment, officials are investigating whether the crash was caused by human error. It's currently known that at the time of the accident, there were two people in the main cabin: An engineer and a conductor-in-training who was familiarizing himself with the route.
It's currently believed that the crash, which killed at least three people and injured dozens more, could have occurred because the engineer was distracted.
During a press conference, National Transportation Safety Board member Bella Dinh-Zarr said that it appears as though the train's emergency brake went off automatically and was not manually activated by the engineer, which could mean that the engineer wasn't paying attention. A federal official, speaking on condition of anonymity to the AP, said they were concerned that the engineer had lost "situational awareness" because of the other person in the cab.
The Amtrak train crashed the morning of December 18th on an inaugural run from Seattle to Portland. The train was going 80 mph in a 30 mph zone when it derailed, then careened off a bridge and onto the highway below. Officials will be looking into the training the engineer and other crew members received before operating the new route, as well as studying images from the two cameras  on board.
Another detail also worth noting is that "positive train control" was not in use on the tracks. Positive train control (PTC) is technology that can automatically slow or stop a speeding train, and while it had been installed, it wasn't expected to be completed for use until the spring. Regulators have pushed the wide-spread used of PTC for years, though Dinh-Zarr said they don't yet know if PTC could have helped with this specific crash.
Our thoughts are with everyone affected by this tragedy.