It's official: Velvet boots are the must-have footwear for fall
We all know that fall fashion is the best fashion, and what better trend to kick off the season than some ultra-glam and absolutely gorgeous velvet boots? They're popping up all over the place and they are TO DIE for. Our girl, Kendall was rocking some seriously badass velvet booties just a few weeks back, and you KNOW she looked fierce.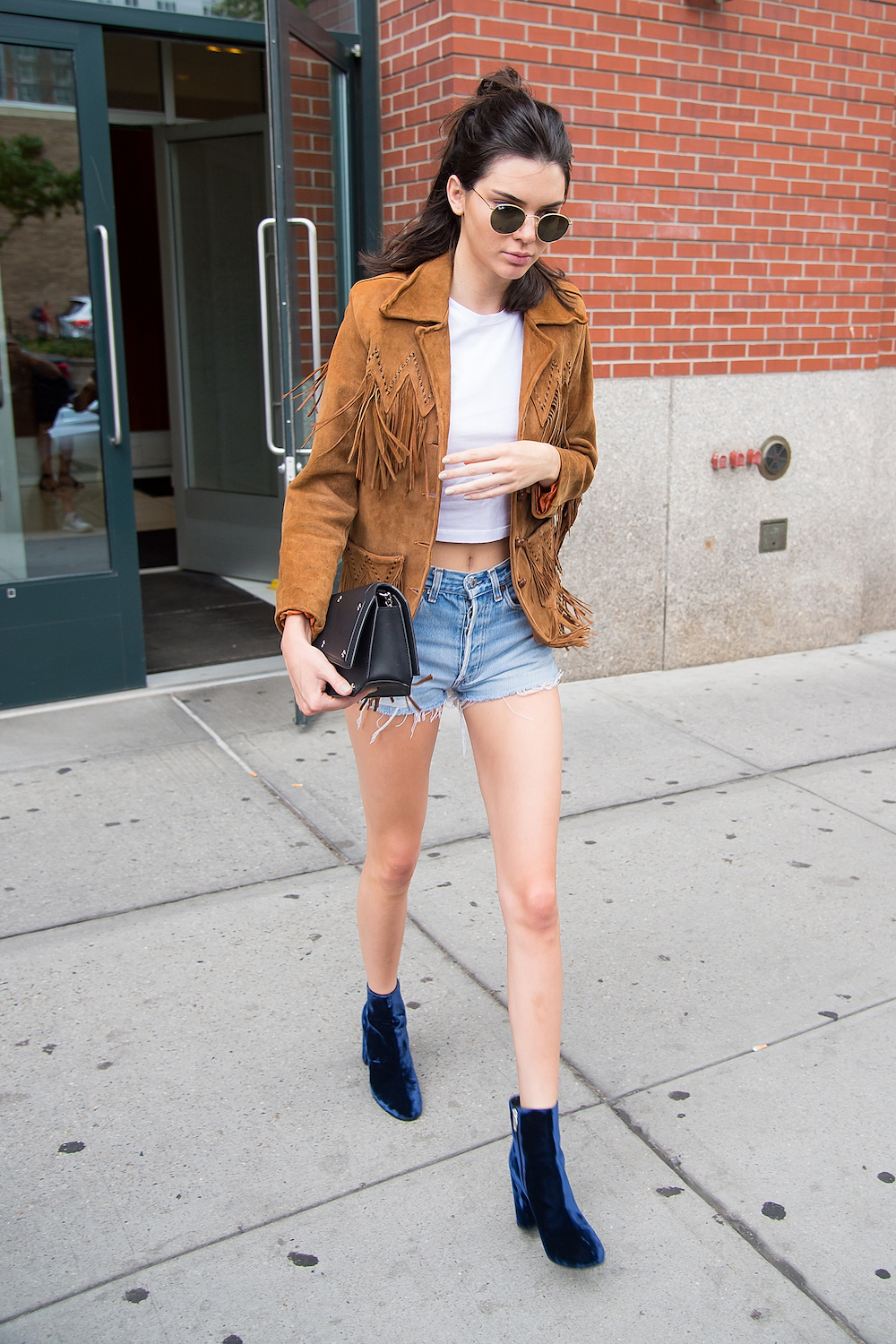 It's not just Kendall getting in on the action, her sister Kylie's BFF, Jordyn Woods, got an early start on the trend back in July.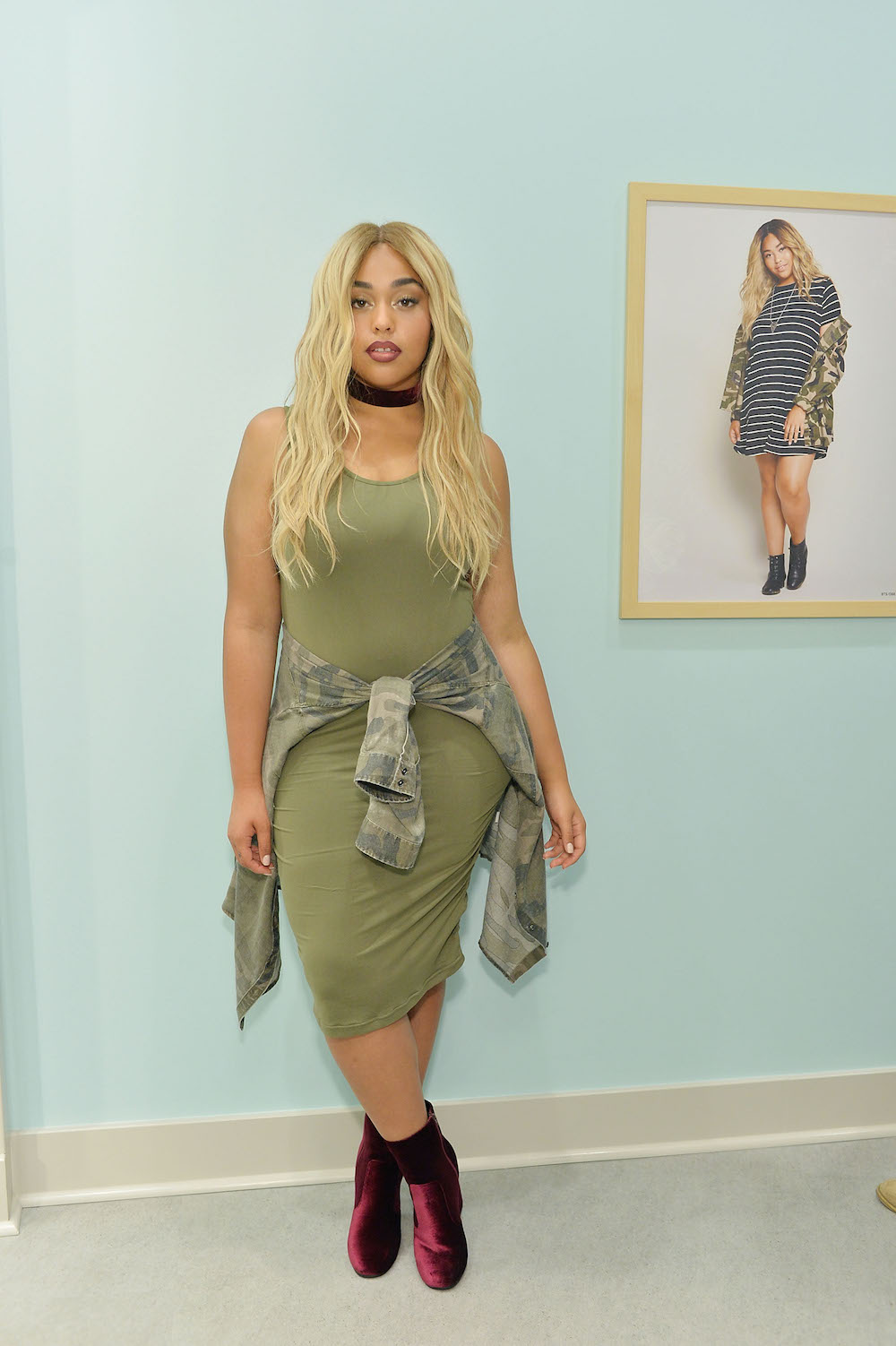 Taylor Swift and Hilary Duff have also been stepping out in them lately!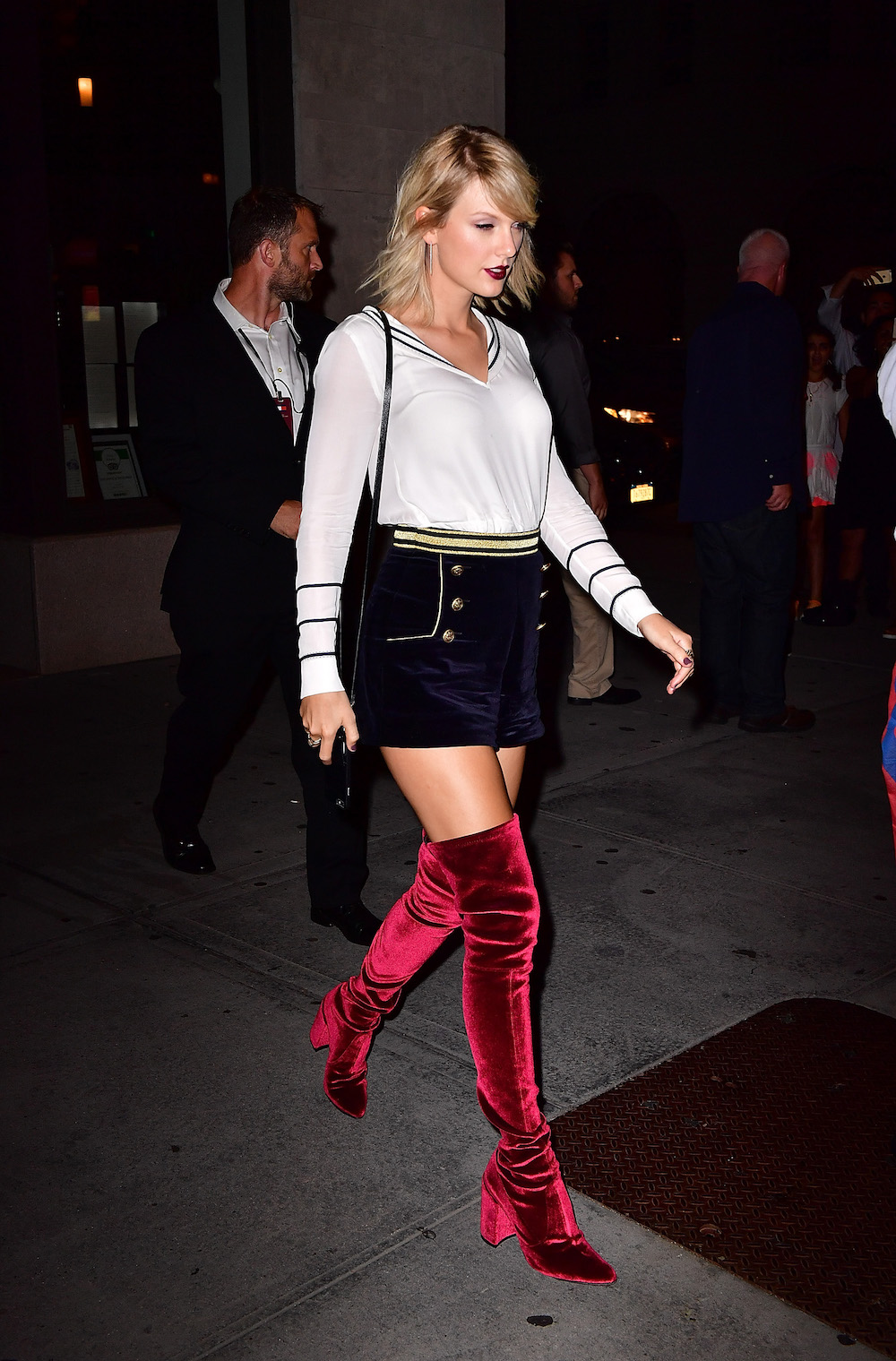 Gorgeous, right?
If you're in the market for your own pair of velvet boots to spice up your autumn shoe collection, check out these 11 stylish, affordable, and versatile options and see what's right for you!
Zara Velvet High-Heel Ankle Boots, $119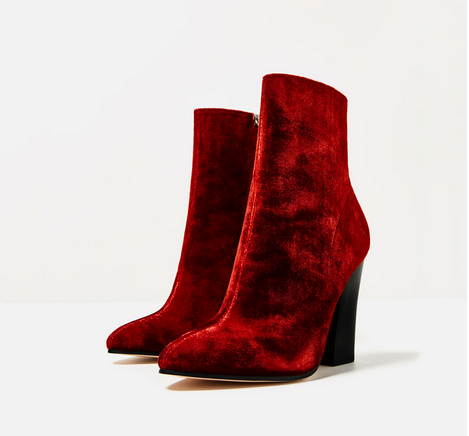 Get your own here!
Dolls KillSmoke Planetary Thigh High Boots, $58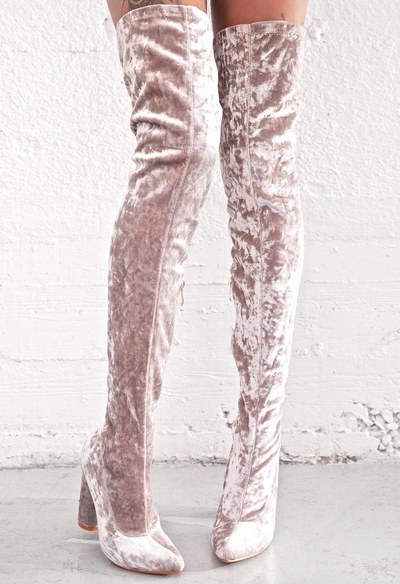 You don't have to stick to ankle boots — these thigh-high velvet boots are equal parts daring and absolutely dreamy! Take a peek right this way!
Urban Outfitters Presley Velvet Ankle Boot, $98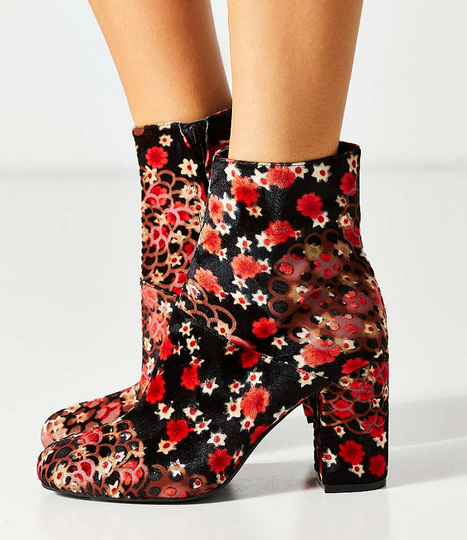 Check out these adorable floral-printed boots, they're giving us serious '90s vibes and couldn't be cuter.
Public Desire Nya Clear Insert Ankle Boot, $59.99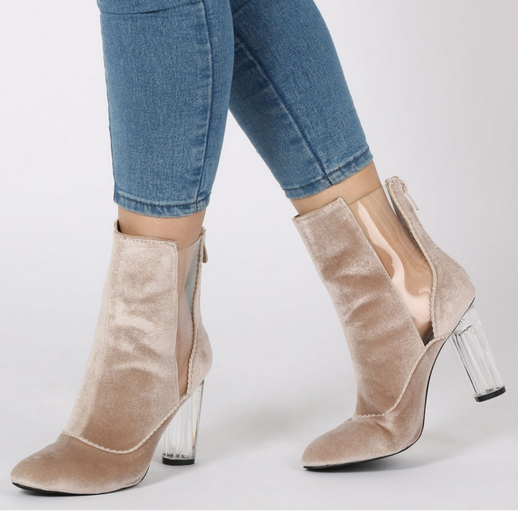 We are positively drooling over these space age-y blush and perspex boots, get them for yourself, here!
Jeffrey Campbell Jestyne Boots, $210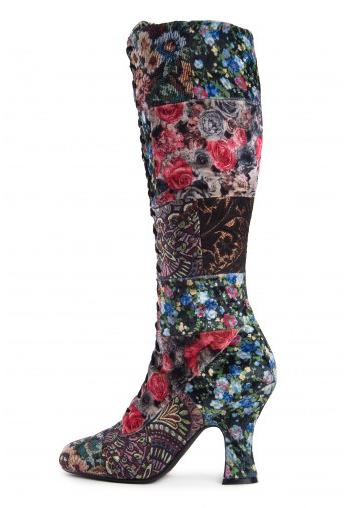 These floral patchwear boots are not for the faint of heart, so rock it if you got it!
Steve Madden Shariniv, $129.95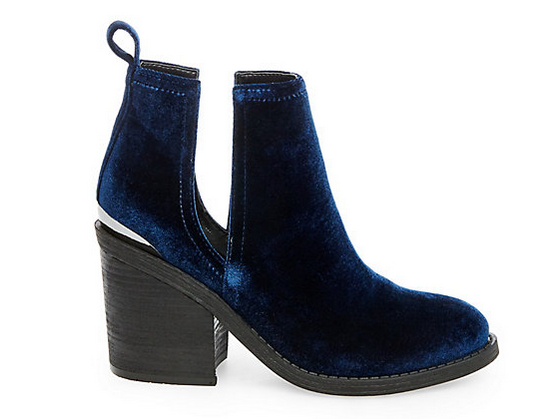 These cut-out velvet booties are part rock-and-roll, part cowgirl, and totally wearable. Go for it!
Nasty Gal Spot in Mind Velvet Ankle Boot, $149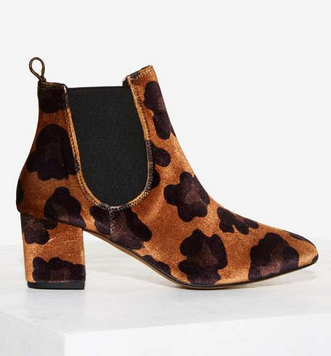 These boots take the classic Chelsea style and bumps it up two-fold, with a bold print and velvet fabric!
Asos Daisy Street Pink Crushed Velvet Pointed Heel Boots, $54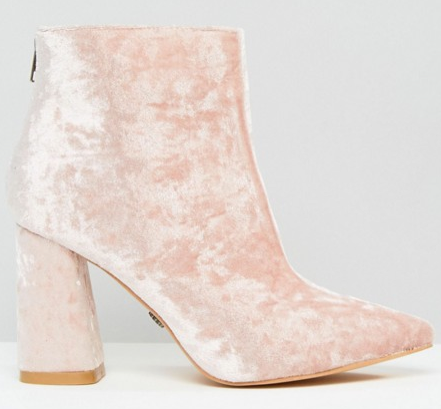 These pink velvet boots are both sexy and cute, and won't they be to die for with an all-black ensemble?
Modcloth Edit Velvet in Bootie, $49.99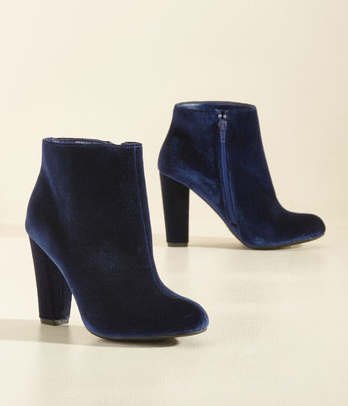 Picture this: crunchy leaves, an orange sunset sunset, a dramatic cape billowing behind you, and these blue velvet booties on your feet.
Forever 21 Velvet Ankle Booties $39.90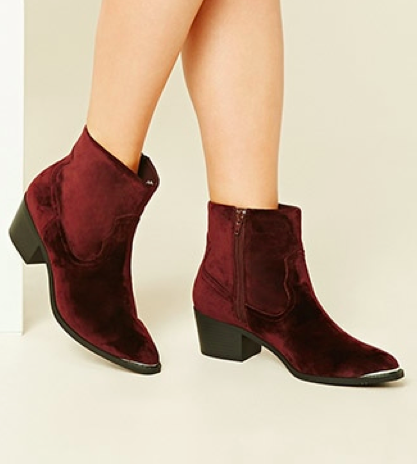 Pick them up, here.
Topshop KRAZY Pointed Bo0t, $60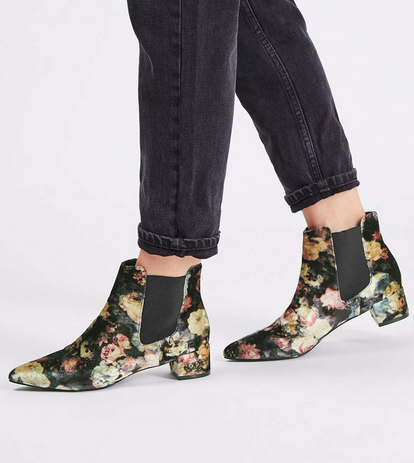 Love these classic Chelsea boots in a floral print; they'll put a veritable spring in your step!
For such a specific style, there are tons of options to fit your own unique fashion sensibilities. Perfect for dressing up a casual outfit, they're a definite statement piece that will jazz up your fall wardrobe and put some pep in your step!