The first ~official~ cast image for "Ocean's 8" is here, and it'll make your day 800% better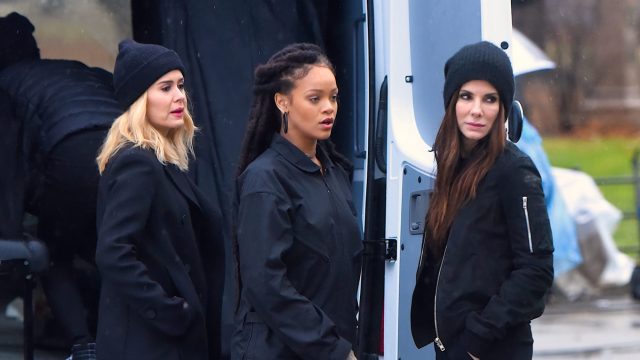 If you're looking for a reason to smile today, we've got eight of them right here: Warner Bros. has just released the first ~official~ image of Ocean's 8, and this is the hefty dose of girl power we need today.
The movie (currently in production and slated for release on June 8th, 2018, very clever) stars eight nine of the best ladies on the planet. They include (but are by no means limited to): Sandra Bullock, Anne Hathaway, Helena Bonham Carter, Cate Blanchett, Mindy Kaling, Anne Hathaway, Rihanna, Awkwafina, and Sarah Paulson. That's still only a faction of the all-star cast, because James Corden has also signed on. And Katie Holmes, Dakota Fanning, Olivia Munn have all been rumored to be joining the cast, too.
And, don't forget OG Ocean's 11 stars George Cloony and Matt Damon, who will probably be up for some heist fun as well.
But, it's the core group that make their way onto the first image for the upcoming movie. To put it simply, they all look like ???.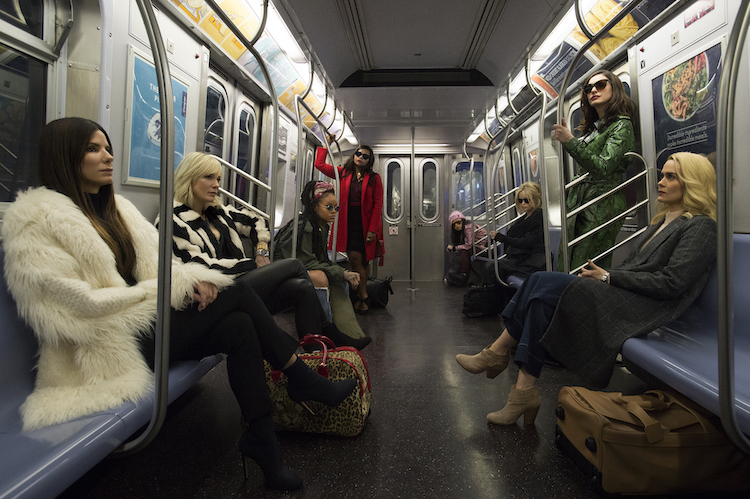 We've seen images of this subway ride before with these ladies, but this is the first time we're seeing them all together in all their glory. Warner Bros. has also released their character names, and this is important so listen up: Cate Blanchette is playing Lou, Rihanna is playing Nine Ball, Mindy Kaling is playing Amita, Awkwafina is playing Constance, Helena Bonham Carter is playing Rose, Anne Hathaway is playing Daphne Kluger, and Sarah Paulson is playing Tammy.
As for Sandra Bullock? Debbie Ocean. 
Warner Bros. has also dropped a real plot description, and it is a doozy: The tide will turn as Debbie Ocean attempts to pull off the heist of the century at New York City's star-studded annual Met Gala.
Get ready to see lots of 8's in 2018.