These work-friendly sweatpants have an insane 2,000 person waitlist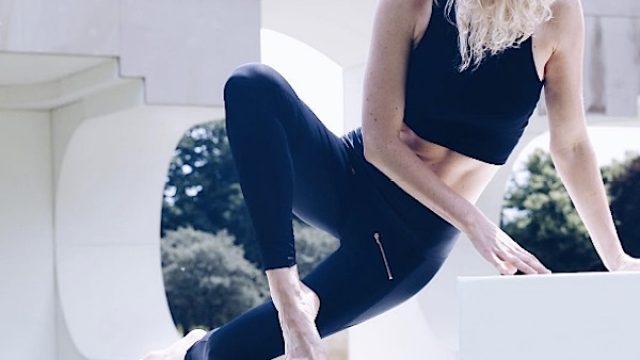 Marking the rise of the fashion and lifestyle trend known as "athleisure," the brand ADAY has created a pair of sweatpants that have a 2,000 person waitlist. According to Forbes, the incredibly popular and versatile pants affectionately named "Throw & Roll Leggings" boast wearability for both the sweatiest Pilates session and the demands of the office.
You may be wondering — what elegant features make these pants worth a 2,000 person waitlist and its $125 price tag?! For starters, they have pockets for cellphones (which is more progressive than lots of women's clothing), a wet-look waistband (which makes them immediately appear sexy and nightlife friendly), and a matte finish.
https://www.instagram.com/p/BH2PfEJgt5y
While the versatility is appealing to the general public, the original target demographic for these business-party pants is the steadily growing crop of Silicon Valley entrepreneurs, start-up employees and freelancers who find themselves wanting to jog off their soylent (lord have mercy on my tastebuds) in the same outfits they wear while designing dating apps (hell yeah).
https://www.instagram.com/p/BIDLPzZA1v9
The company ADAY was co-founded by the 28-year-old entrepeneurs Meg He and Nina Faulhauber who decided it was high-time they design clothing as active and ambitious as they are.
https://www.instagram.com/p/BHyUOXKAMB4
In an interview with WFU Style, co-founder Meg He shared her vision for the pants (are they considered actual pants?!), saying, "Originally we found inspiration for ADAY and our aesthetic from the lives we lived and where we lived them in the world. I was living in California where everyone is so active and running all the time in their Lulu Lemon leggings, I wanted to run but I used to want to wear an Isabel Marant when I did it."
I'd be a bold-faced liar if I denied googling Isabel Marant after reading her interview, which is not surprising considering the immense lifestyle gap between myself and a 28-year-old who sells $125 designer sweatpants. However, after skimming the equally glamour-meets-minimalist aesthetic of Marant, I can totally see the marriage of Lululemon functionality and SOHO fashion-chic.
https://www.instagram.com/p/BHzhNEOAtEI
The real question at hand here is: would YOU wait behind 2,000 people so you could pay $100 for these glossy athleisure pants?! It's something to meditate on.