John Krasinski is up for the "Office" reboot, in case anyone is wondering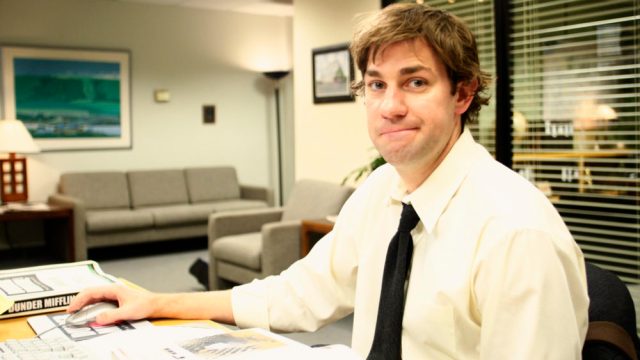 If you've never seen The Office or fallen in love with Jim — or Dwight (hey, we don't judge) — then you are sorely missing out. Seriously, the NBC series is the classic feel-good sitcom about life, love, and yes, working in an office. But sadly, the show has been off the air for nearly five years now, and fans still aren't over it (understandably so). Considering all the other classic TV shows getting the reboot treatment, it makes sense that people would want to see The Office return — and there's a chance that might actually happen (!!!).
And now, we know that John Krasinski is totally up for The Office reboot…so take note, NBC.
On an appearance on The Ellen DeGeneres Show, DeGeneres asked Krasinski if he'd be open to returning for the much-talked-about reboot. Obviously, Krasinski was pretty hilarious in his answer, but the short version was that yes, he'd be down to give the fan-favorite show some more love. "Oh my God, are you kidding? I'd love to get that gang back together," he told Ellen.
But, for now, it seems as though fans shouldn't get too excited at the prospect of Krasinski in new Office episodes.
Because, according to Krasinski, he hasn't even gotten a call yet.
https://www.youtube.com/watch?v=hojp2B2dgC0?feature=oembed
After Ellen asked him if he'd heard about the reboot rumors, Krasinski answered, "I did hear that on the internet. Guess who didn't get a call? Me." Now, we're not ones to gossip, but doesn't it seem like if NBC wanted a proper reboot of the beloved show, they'd include one of the most beloved characters? "What does that say?" Krasinski continued. "NBC's like 'You know who we didn't like? Jim.'"
We don't really see how it's possible for anyone not to like Jim, but it happens. Either way, we're just crossing our fingers that this rumored reboot actually happens, because we — like so many of you — could really use some more Jim and Pam in our lives.