Craig Robinson is game for an "Office" reboot, and it's what the warehouse team would want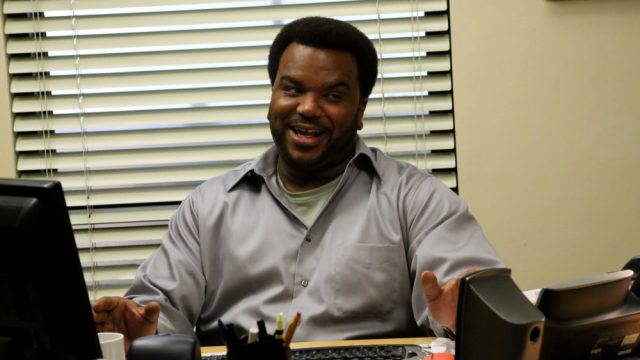 Last month, NBC Entertainment Chairman Bob Greenblatt revealed that he'd like to reboot some of the network's classics. Like, 30 Rock, The West Wing, ER, and — wait for it, Dunder Mifflin enthusiasts — The Office. The possibility of any of these classic shows coming back has us thrilled, but for today, let's talk about The Office because we know at least one of its stars is game to come back.
That person being Craig Robinson, who played warehouseman Darryl Philbin.
Speaking with HelloGiggles at PaleyFest's Fall TV Preview event for his new show, Ghosted, Robinson said that he's interested in a reboot — though, perhaps via a different format.
"Under the right situation, absolutely, yes," he said of wanting to head back to Scranton. "I think it'd have to be a movie or something. That'd be dope."
We like the sound of that! Robinson, who has expressed interest in heading back to The Office before, went on to explain why he'd want to revisit the standout comedy, and his reasoning is beyond sweet.
"Being on that show, it's like I have friends everywhere, so I would do it for them," he said. "There are people who probably just really want to see that and I would love to see that delivered to them. I'm warm and fuzzy, so I think that would be beautiful for people."
Beautiful, indeed. Let's just hope Steve Carell (Michael), Rainn Wilson (Dwight), John Krasinski (Jim), Jenna Fischer (Pam), and the rest of the group feel that way too.
And in the meantime, we'll be getting our laughs from Robinson's upcoming show, Ghosted, which also stars Adam Scott — who we've loved in so many projects over the years, including fellow NBC comedy, Parks and Recreation.
So while on the subject of NBC reboots, let's keep Parks and Recreation in mind too…