"30 Rock" low-key predicted the "Office" reboot, because of course it did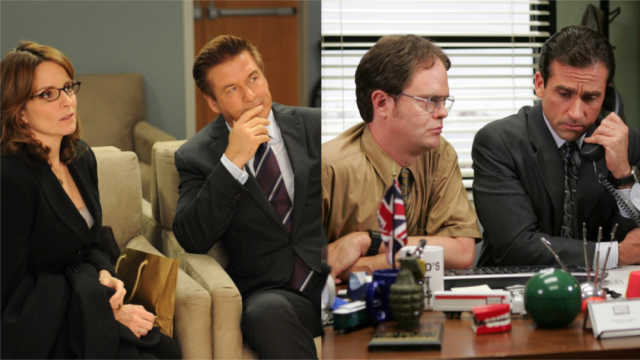 Someone hand Tina Fey a Dundie because another one of 30 Rock's predictions has come true. Yesterday, it was revealed that NBC is quietly working on a reboot of its beloved hit series The Office. Thanks to the overwhelming success of the Will & Grace revival — which was picked up for a 10th season before the revived 9th season had officially premiered — NBC is reportedly looking to bring back more from the golden era of its famed Thursday night comedy block.
But back in 2011, another NBC exec revealed just how much NBC sought to relive its programming glory days. Thanks to New York Times critic David Itzkoff, who pointed this fact out on Twitter, it appears 30 Rock — making a wonderful dig at NBC — actually predicted its home network's obsession with reboots years ago.
In 30 Rock episode "Mrs. Donaghy," Jack Donaghy (Alec Baldwin) reveals the NBC programming priorities breakdown to Liz Lemon (Tina Fey) amid budget cuts — and it turns out, after The Biggest Loser, the fictional NBC's highest priority is "making it 1997 again through science or magic."
Sure, The Office didn't premiere until 2005, but the sentiment is definitely there.
While NBC is certainly trying to relive its past with The Office, which reportedly could arrive as early as fall 2018, it'll return to Scranton, Pennsylvania minus the World's Best Boss, as it seems unlikely that Steve Carell will return for the series. NBC may be on the lookout for a new regional manager for Dunder Mifflin, but some of our favorite slacker employees could be returning. The rebooted series will reportedly see a mix of familiar and new faces occupying the Scranton Business Park.
While it's currently unknown who from the original cast would return, Mindy Kaling told The Talk in September that she'd be on-board if creator Greg Daniels returned to helm the project.
"I loved working on the show and I was there for eight years, she said. "I think that if Greg Daniels, who did the American version of the show, he's such a genius. And if he were to be in charge of it, I can't imagine that I wouldn't want to help out in some way, or write, and I feel like probably the rest of the cast feels the same.
We're not superstitious…but we are a little stitious, so we're keeping our fingers crossed that this revival actually comes to fruition.