7 offensive Halloween costumes you definitely shouldn't wear this year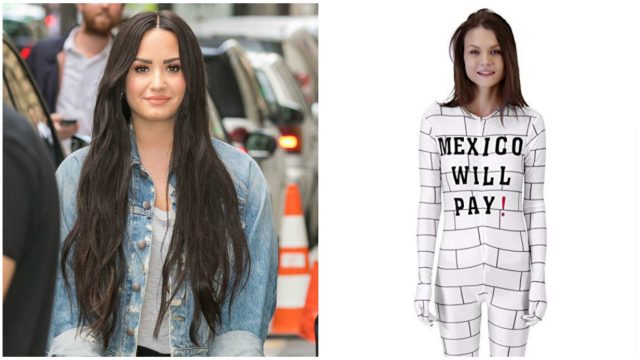 The leaves are falling, all things pumpkin are in full effect, and fall is officially here. But that also means something else is inevitable: offensive Halloween costumes. In spite of imploring for years and years, there's always that one person who insists on wearing blackface and later apologizing, or even better, foolishly asking why it's such a big deal. Or there's the group of friends who dress in highly offensive costumes that are 100% cultural appropriation. Halloween should be fun and a great way to show off creativity, but if your costume leaves people offended or even triggered, you're doing this Halloween thing all wrong.
This year in particular has been tough for many of us, so certain Halloween costumes are especially off limits. From police brutality to celebs in turmoil and political decisions that have caused many people pain, certain costumes should never even be costumes.
If you're still on the fence about what's acceptable and what's not, below is a list of offensive 2018 Halloween costumes that no one should wear.
1The Wall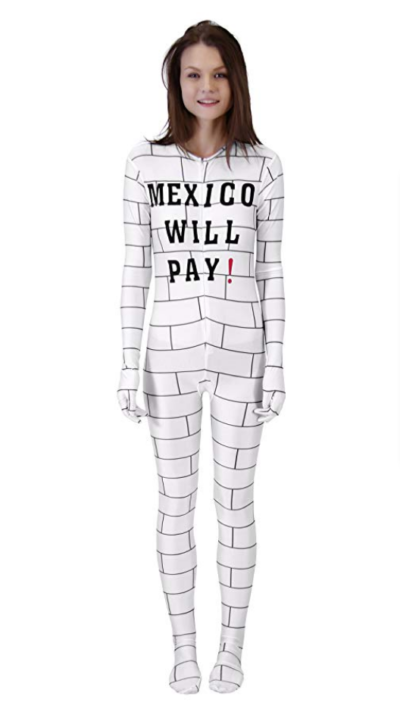 Yet again, another painful cultural reference being mocked with a costume. Last year, Party City showcased a "Wall" costume and many were offended by the reference to Trump's anti-immigration policy. It seems Party City is no longer selling the costume this year, but there's a similar "Wall" costume on Amazon. While there's a disclaimer that the costume is satire and "not meant to offend anyone," it's still not cool. And side note: if you have to tell people your costume isn't meant to offend, there's a good chance it's offensive.
2Harvey Weinstein
The end of 2017 saw the Hollywood producer accused of sexual misconduct and assault. The list of accusers continued to snowball into 2018 and resulted in Weinstein being arrested and charged with rape in May. It should go without saying that dressing up as the disgraced studio head is off limits and even triggering for those who have been victimized.
3Crazy Rich Asians
https://www.instagram.com/p/BnUezRkBHkB
Black Panther and Crazy Rich Asians proved in 2018 once and for all that people of color can carry blockbuster films. But wait, why is dressing as a character from Crazy Rich Asians offensive? If your costume consists of highly offensive slanted eyes or yellow skin, just stop before you even start.
4Black Panther
https://www.instagram.com/p/Bje6EjWjhbS
Same as above. You can show your love for the people of Wakanda without being offensive. Whether you want to dress as a Dora Milaje or Disney's badass Princess Shuri, we're pretty sure everyone will totally get your costume. And if all else fails, just do the Wakanda salute. No blackface necessary.
5Killer Cop
This year has seen no shortage of killings of unarmed Black men and women. So it should be a given that dressing up as an officer who made headlines for all the wrong reasons is on the what not to wear list. Want to dress up as a cop? Sure, show support for the men and women who protect us daily. But specifically dressing up someone who killed a civilian? Not cool.
6Sexy Handmaid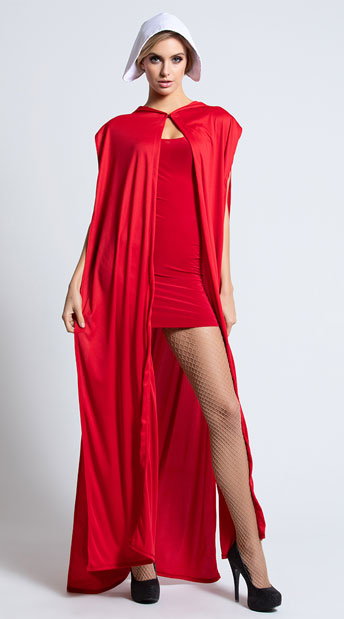 This costume received a ton of backlash when it was released, and understandably so. Why would anyone want to be a sexy version of The Handmaid's Tale? There's nothing remotely alluring about the oppressed and abused women of the hit Hulu show. While Yandy removed the costume from its site, some might feel tempted to recreate this look with a red bodycon dress, fishnets, and a white hood…but we highly advise against it.
7Demi Lovato
https://www.instagram.com/p/Bll0V5oFNbT
Lovato has publicly struggled with sobriety and was hospitalized in July after an overdose. If your Lovato costume includes drug paraphernalia or a reference to past body issues, do better. Even if you're not a fan of a celebrity, making light of anyone's struggles is never acceptable.