New photos from the "Ocean's Eight" set are here and OMG we have so many questions
Ladies, production for the highly anticipated, all-female, sure-to-be-badass Ocean's Eight film is well underway and there are some amazing photos coming to us from set. We got our first look at the ladies just a couple weeks ago after filming got started on the latest installment of the iconic Ocean's series. While the plot is still very much under wraps, we're starting to get a sense (KINDA) of what magic we'll be in for when the movie hits the theaters in 2018 – I knoooow, that's a heck of a wait.
But here are the latest photos from set and BOY do we have questions!
Okay, first up is the magnificent Helena Bonham Carter.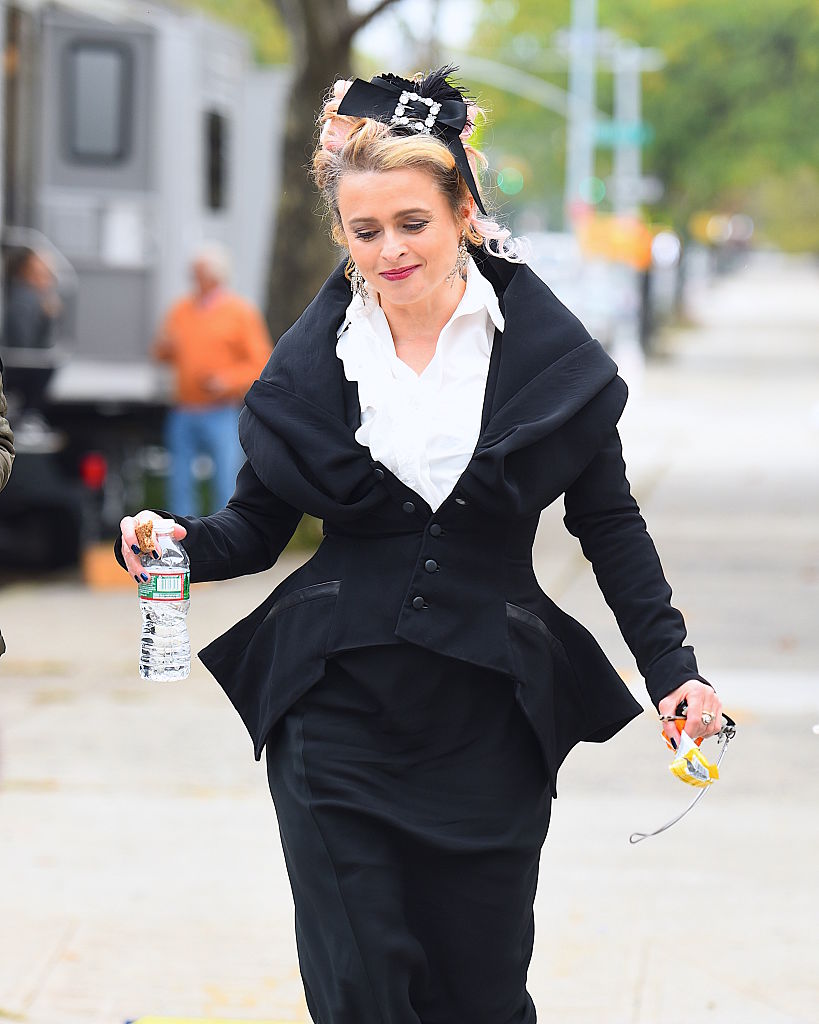 When the first photos from the Ocean's Eight set leaked, she looked a little more ~worse-for-wear~ but she looks FABULOUS AF here! Like, why is she dressed like a character from a past Tim Burton collaboration and is that PINK HAIR we're seeing? Clearly, Helena looks super happy and comfortable in this vintage-glam look and we're wondering if perhaps this is her character's ~true~ self or a heist disguise?
Here we have Sarah Paulson in an interestingly '80s-esque outfit.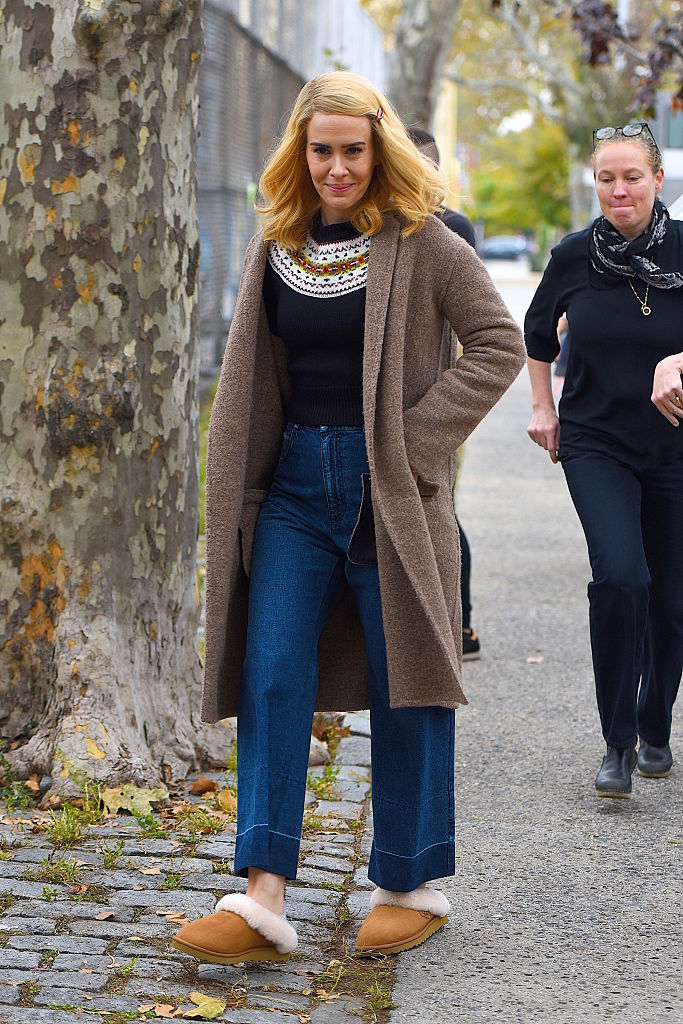 Okay. Number one: that sweater. It's like something out of Stranger Things and we can't help but think Sarah is either A) someone whose look hasn't changed in decades or B) the queen of retro-chic. Of course, the Ugg slippers are way more modern, but Sarah's prob just using wearing them to get her comfily to and fro on set! And, AGAIN, could this just be a disguise?!
Next up is the more-perfect-than-perfect Cate Blanchett.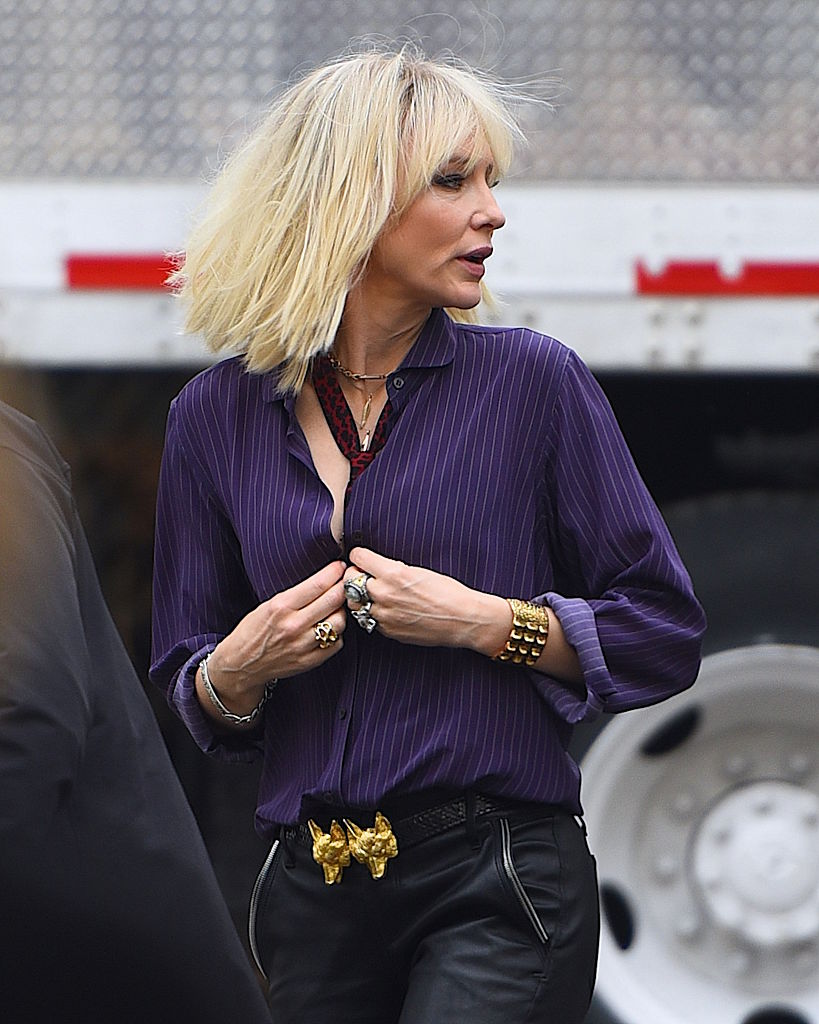 Cate's characters seems to be continuing a kind of '70s/'80s glam look today on set. She's sporting an amazing pinstripe shirt, red leopard print tie, and HELLO GOLDEN WOLF BELT BUCKLE?! Whatever is going on here, we are seriously on board. It seems like Cate's character is shaping up to be the bad boy girl of the group – perhaps à la Rusty (Brad Pitt) from the Ocean's Eleven trilogy?
Check out Sandra Bullock looking serious AF as she heads to set.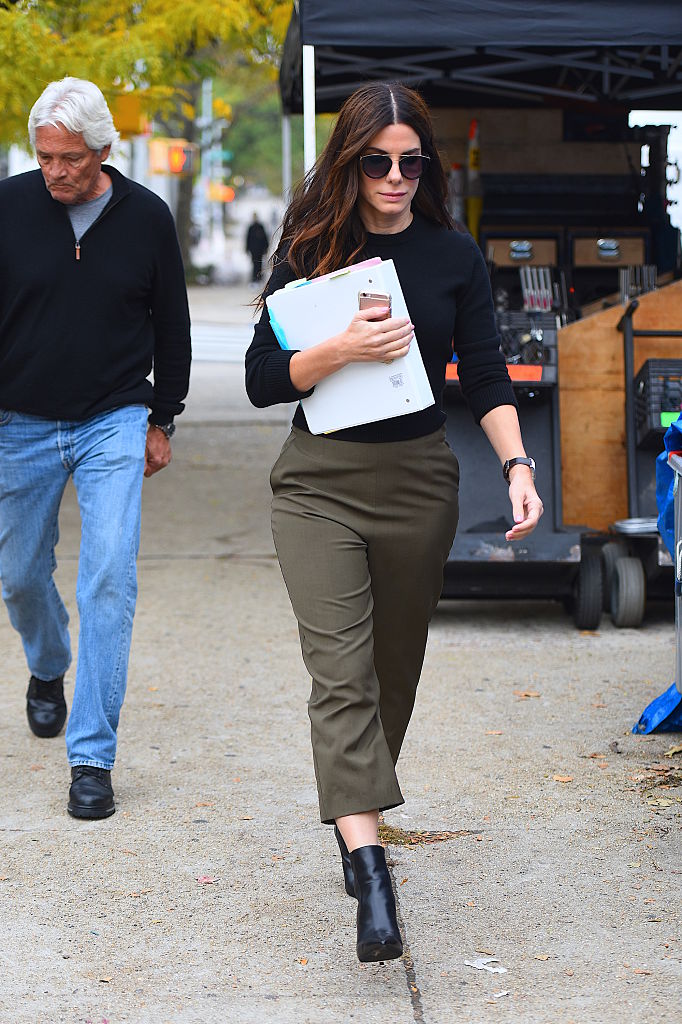 Sandra is rocking a serious woman-in-charge look here, which has us wondering if perhaps she's the "mastermind" (like Danny Ocean, aka George Clooney) of the group? This could also be just a really great non-costume outfit Sandra is rocking on set (she is carrying her script after all), but let's just have some fun and assume Sandra's character is headed to an important recruiting meeting!
And now…RHIANNA!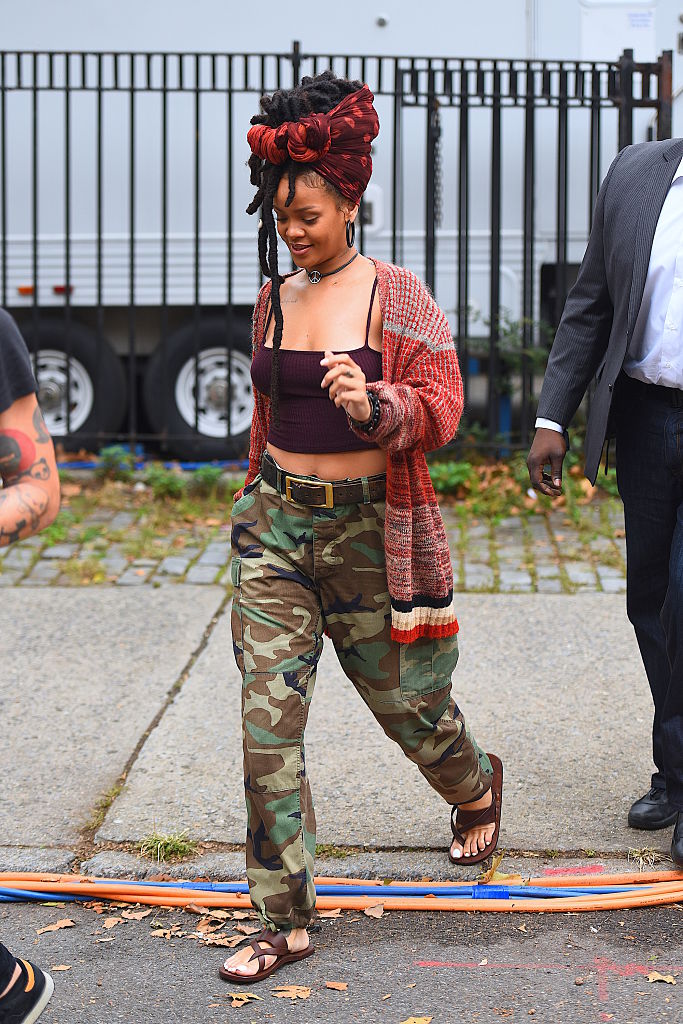 Rhianna has already been spotted on set rocking these amazing dreadlocks, so today's look isn't a huge departure from how we've already seen her. So, so far, no ~apparent~ disguises for Rhianna's character – does this mean she won't be infiltrating any casino's?! Will she be operating more behind-the-scenes during the heist?! WHAT DOES IT MEAN?
And finally, comedy hero of our hearts, Mindy Kaling.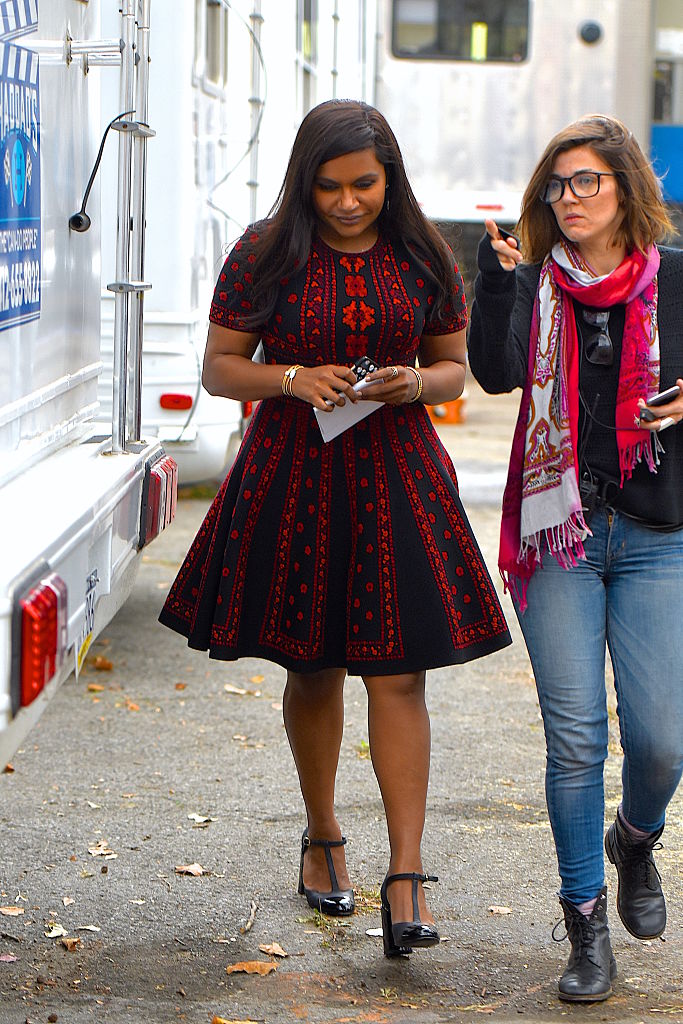 Mindy's outfit, though crazy beautiful, really doesn't tell us anything about her character. I mean, she could easily just be running around Hollywood to some important meetings in this look and we wouldn't know the difference. Are we to assume her character will be more of the "straight man" in Ocean's Eight?! Also, where do we get those amazing T-strap shoes?
We still have yet to see ANNE HATHAWAY on set…so jury's out on what kind of role she'll be playing.
Phew, are you excited yet? Because we're excited about Ocean's Eight and 2018 just can't get here soon enough!