Sarah Paulson improvised a bunch of X-rated lines on the set of Ocean's 8 — but they were all too inappropriate for the final cut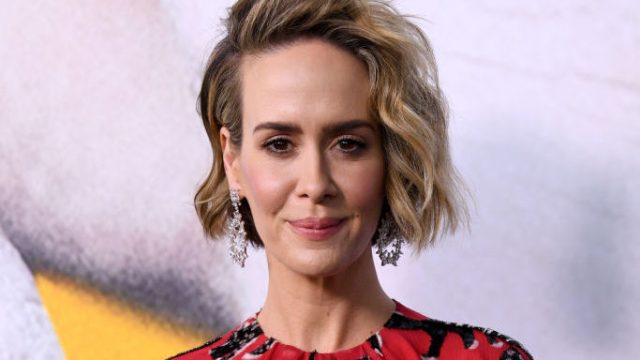 Sarah Paulson is known for being a dramatic actress. She's played countless scary ghosts and witches on American Horror Story and won an Emmy for portraying Marcia Clark in The People v. O. J. Simpson: American Crime Story. And while we love Paulson's more serious portrayals, we're excited she gets to show off her silly side in the upcoming film Ocean's 8.
Paulson plays Tammy, a suburban housewife with a sordid past. During the Ocean's 8 press conference in New York City on Tuesday, May 22nd, she opened up about how fun it was to take on a less dramatic role. Paulson said she even played around with improving some lines for her scenes. In fact, she played around so much that her bonus takes will likely never see the light of day. LOL.
"We played around a little bit. Gary's like, 'We played around a lot,'" Paulson said, imitating Ocean's 8 co-writer Gary Ross. "Scatalogically, some of it wasn't helpful. Is [the film] PG-13?"
"Well, yeah. In Europe, I think they'll hear everything you said," Ross responded with a laugh.
Even though we may never get to see some of Paulson's "X-rated" takes (her word), at least we'll get to see her play Tammy. When asked if she enjoyed playing her Ocean's 8 character, Paulson responded enthusiastically.
"Oh yeah. I myself am not a mother, so it was a stretch in and of itself," Paulson said. "I sort of thought it was interesting that she had all those microwaves and blenders in her garage. She used to very much be immersed in this way of living. And she got out, and then the Godfather over here [gestures to Sandra Bullock] comes back and pulls her back in. You know? Because private school's expensive."
Paulson's ad-libbing may have been too blue for the final cut of Ocean's 8, but her co-star Mindy Kaling said she enjoyed seeing the actress' sillier side. Anne Hathaway's too.
"What I thought was fun about Sarah and Anne in this movie was that they're both so funny in the movie," Kaling said. "I'm used to seeing you suffering on screen. It was great to see them do these comic turns. And they're so funny in the movie. That was really enjoyable for me to be able to see."
Ocean's 8 hits theaters on June 8th.