All the ways Ocean's 8 accurately and authentically represents women, because there are a lot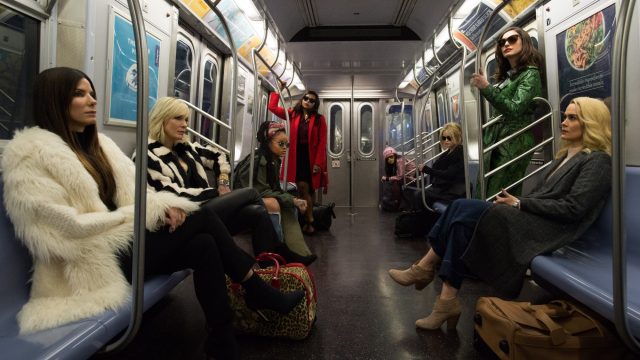 It's not every day that a movie has eight female leads, which is why we're so grateful for Ocean's 8. Sandra Bullock, Cate Blanchett, Anne Hathaway, Mindy Kaling, Sarah Paulson, Awkwafina, Rihanna, and Helena Bonham Carter are not only brilliantly talented actresses who share the spotlight. These actors also accurately and authentically represent women in a way that most movies don't.
During the Ocean's 8 press conference in New York City on Tuesday, May 22nd, the film's co-writer and director Gary Ross said it was very important to him to have a cast that correctly represented the world in 2018. And lucky for him, he got his dream team.
"One of the things that we're celebrating is not just their commonalities, but their differences," Ross said. "These are eight distinct women from eight distinct backgrounds, and that closely resembles what the world looks like. It's not just what Hollywood has made the world look like. That diversity was intentional, and important to us that it looked like the world. This group of people needed to be very, very representative."
Anne Hathaway, who plays actress Daphne Kluger, elaborated on how important visual representation is in the movie.
"You can't underestimate the power of visual representation. To an eight-year-old, we're not trying to say, 'Go have a life of crime.' But we're saying, 'Go do what you want. There's space for you, and there's space for you to do it with your friends, and there's room for all of you.' I think the films that have an 'everybody in' mentality and message for people who have historically been excluded, that's a really good thing."
Awkwafina, who plays quick-handed Constance, spoke specifically about the film's racial diversity.
"When it comes to representation and diversity, there's a difference between throwing in people of color and women, and then actually representing them accurately and authentically. The important thing about the characters in this movie — especially the people of color in this movie — that's not defining our characters. I am a New Yorker from Queens, and Asian-ness has nothing to do with it. That's representation. That's where we're going. I think this movie is going to be a step toward a right direction."
Sandra Bullock, who plays con queen Debbie Ocean, talked about another kind of representation in the movie: the kindness inherent in female friendships instead of the cattiness between frenemies.
"[Ocean's 8 shows] women taking care of each other. Women being good to each other. Women stepping back and letting the more gifted step forward in the heist. Recognizing talent and saying, 'Go out and shine. I've got your back.' And not fighting. Sure, you can fight, but we're fighting for the greater good, which is a lot of money. [laughs] I didn't care about the heist as much as I cared about how they treated each other and how they lifted each other up. To me, that's the world. It's not the world that's represented in media a lot, but really, what's happening is that's there's just so much love and support. We now need to show it."
And Ocean's 8 co-writer Olivia Milch tied it all together.
"I was awed every day by how incredible [the diversity on set] was. I was getting to see these eight distinct women of all stripes. We're getting to see that representation. I think that's what really matters — that we get to see not just archetypical, reduced, reductive, flat female characters. You're getting to see how distinct and complex and nuanced the possibilities are. And that's what really matters, especially to young women," Milch said. "Any woman, or any human being at all, anywhere on the spectrum, knows that women are funny and smart and complicated and nuanced and, sometimes, contradictory. And it's crazy, but we have to start seeing characters like that."
Well said, everyone. Ocean's 8 hits theaters on June 8th.