The official Ocean's 8 trailer is the most delightfully mischievous two minutes you'll watch today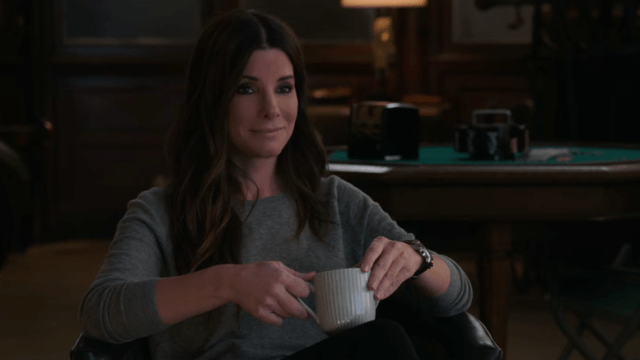 Five years, eight months, and 12 days — that's how long Debbie Ocean (Sandra Bullock) concocted the perfect crime in her head. That's also how long it felt to wait for the official main Ocean's 8 trailer to arrive. But, after what seemed like an eternity, the new Ocean's 8 trailer is finally here, and IT. IS. GLORIOUS.
Taking a page out of her brother's heist book, Debbie, having just been released from prison, wasted no time putting her plans of robbing the Met Gala in motion. She seeks help from her right-hand woman, Lou Miller (Cate Blanchett), and together, they curate a gang of expert thieves to snag a diamond necklace from Daphne Kluger, a world-famous actress (Anne Hathaway), at the prestigious event.
The catch? The necklace has to be lifted off the actress's neck. The prize? They get 16.5 million dollars. Each.
"Why do you need to do this?" Lou asks Debbie. "Because it's what I'm good at," she responds.
Ocean 8's felonious girl squad also includes Mindy Kaling, Sarah Paulson, Helena Bonham Carter, Rihanna, and Awkwafina — all of whom are assigned a vital part in executing the heist.
Kaling (Amita) is an expert jeweler, Paulson (Tammy) is an experienced fence, Bonham Carter (Rose) is a fashion designer, and Awkwafina (Constance) is a street con. Meanwhile, Rihanna stars as Ocean's 8's resident hacking genius named Nine Ball, and no offense to Livingston Dell, but she might just be a better tech guru than he is.
Rounding out the cast are Damien Lewis, Richard Armitage, James Corden, and Dakota Fanning. Ocean's 11 trilogy stars Matt Damon and Carl Reiner are also expected to reprise their roles as Linus Caldwell and Saul Bloom. What's more, Kim Kardashian, Kendall Jenner, Anna Wintour, Adriana Lima, and Katie Holmes may pop in for some cameos.
Catch the criminally good trailer — set to Linda Ronstadt's "You're No Good" — below:
https://www.youtube.com/watch?v=n5LoVcVsiSQ?feature=oembed
Ocean's 8 raids theaters on June 8th.