The Obamas officially signed a deal with Netflix, and be still our queues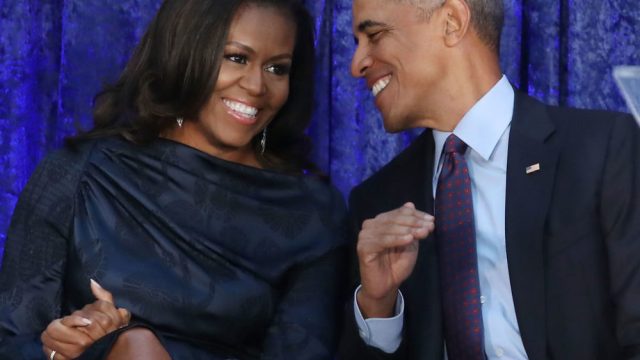 Since leaving the White House in January 2017, Barack and Michelle Obama have been living their best lives. They've unveiled their official portraits, announced plans for upcoming memoirs, and, of course, enjoyed lots of relaxation. In their latest project, the Obamas have partnered with Netflix to establish the production company Higher Ground Productions — and we can't wait to tune in.
Netflix announced today, May 21st, that the former first couple had signed a multi-year production agreement. Their company, Higher Ground Productions will reportedly oversee "a diverse mix of content," which could include documentaries, docuseries, scripted series, and unscripted series. That's a pretty broad range, and so far, not much else has been revealed about the company's upcoming projects. (Although we'd be excited for anything featuring the Obamas, tbh.)
The 44th president said in a statement that through this production company, he and Michelle Obama "hope to cultivate and curate the talented, inspiring, creative voices who are able to promote greater empathy and understanding between peoples, and help them share their stories with the entire world."
The former first lady also noted that their love of storytelling inspired this partnership.
"Barack and I have always believed in the power of storytelling to inspire us, to make us think differently about the world around us, and to help us open our minds and hearts to others, she said in a press release. "Netflix's unparalleled service is a natural fit for the kinds of stories we want to share, and we look forward to starting this exciting new partnership."
Ted Sarandos, chief content officer for Netflix, praised the Obamas' "formidable storytelling abilities" in a statement.
"Barack and Michelle Obama are among the world's most respected and highly-recognized public figures and are uniquely positioned to discover and highlight stories of people who make a difference in their communities and strive to change the world for the better, Sarandos said. "We are incredibly proud they have chosen to make Netflix the home for their formidable storytelling abilities."
Rumors of the Obamas' collaboration with Netflix have swirled for months, with reports in March that the deal was in "advanced negotiations." But this announcement confirms that our next favorite show could be helmed by the Obamas.
And, perhaps as expected, certain conservative factions are currently encouraging subscribers to "boycott Netflix" and/or "cancel Netflix" because of the collab, but we have a feeling they're not going to gain too much traction…
We personally can't wait to see what the Obamas have planned for Higher Ground Productions.