The Obamas' perfect holiday card would have never happened without Justin Trudeau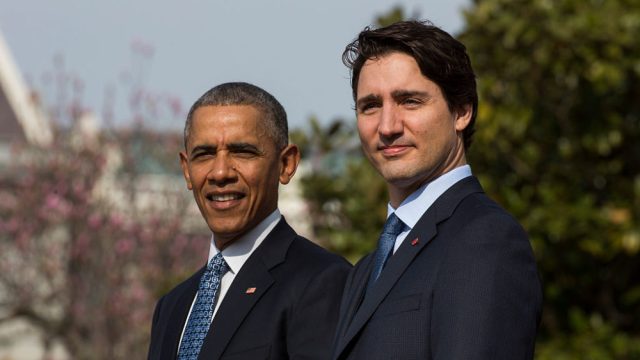 According to White House photographer Pete Souza, we have Justin Trudeau to thank for the Obama's holiday card. The infamous state dinner photo was snapped at the request of the Canadian Prime minister, and we're seriously so grateful!
Here's how the final holiday card shenanigans went down:
Just before guests arrived for the dinner, Trudeau asked if he could take a picture with the Obamas on the balcony. After the group shot, Trudeau then suggested that the Obamas pose for the very family photo that we know and love today. Who would've thought that the Prime Minister had such a knack for photography?! We definitely had no clue!
White House photographer Pete Souza shared the original photo of the Obamas at the State Dinner, giving the background of how the pose came to be on the holiday card.
So sweet!
We're totally in love with this photo, and think it was the perfect choice for this year's Christmas card. And after eight magical years of watching the Obama family grow into the White House, it's the perfect parting gift.
We're certainly going to miss the Obamas being in the White House, and are so thankful Souza was present to capture some of our fave First Family moments on film.