The Obama's very last White House Christmas card made the perfect statement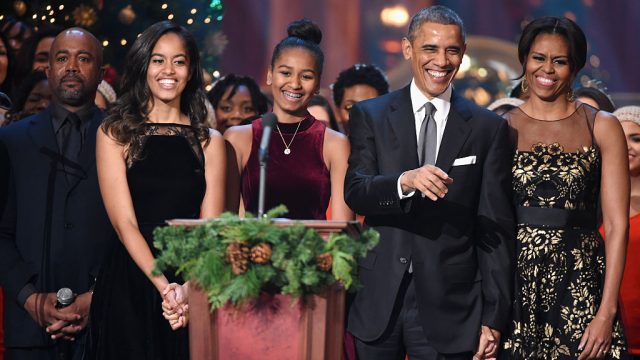 It's safe to say we're going to miss the Obamas a hell of a lot when they leave the White House. Seeing their 2016 White House Christmas card — their last one! — only made that sinking feeling come a lot sooner. They chose to include a picture from the Canada State Dinner that took place this past spring, featuring President Barack Obama, First Lady Michelle Obama, and their daughters Sasha and Malia, smiling their contagious smiles and bringing us a whole lot of Christmas cheer.
The context of when and where this photo was taken matters, though.
When this state dinner took place in March and people saw what Sasha and Malia were wearing, the internet nearly self-combusted with all the commentary. The gowns they wore were designed by Naeem Khan, and they apparently cost a little less than $20,000. (Um, did we mention the young ladies looked drop-dead gorgeous?!) Some people decided to pipe up about that price tag, because, well, it's the internet.
https://twitter.com/udfredirect/status/708469054596583424
Plenty of people came to Sasha and Malia's defense, though, because let's be honest. When has a fancy gown ever been a problem in the White House before?
false false
It turns out that the dresses were loaned to the Obama girls, and even if they weren't, the Obama family would have paid for the dresses themselves. Which is all very standard. So our taxes didn't pay for an inch of that fabric. It was a shame that the Sasha and Malia's incredible night had to be accompanied with these kinds of ignorant remarks online.
But then again…as if the Obamas would be bothered by such nonsense. Which, we're guessing, is precisely why they showed the world how proud they were of that memorable night by putting it on their Christmas card.