Stop everything: The Obamas might get a production deal with Netflix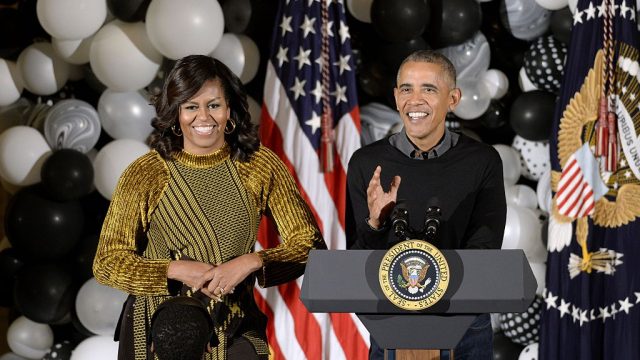 We don't know about you, but we miss Barack and Michelle Obama something fierce. Even though they're no longer our President and First Lady, we still look to them for guidance in times of need. Barack Obama had a very presidential response to the Florida shooting. And Michelle Obama is still a role model to young girls everywhere. So when we heard that there's an Obama Netflix deal potentially on the table, we were joyous.
According to The New York Times, Obama is reportedly in "advanced negotiations" with Netflix to possibly produce a series of shows for the streaming service. Details are still very much a work in progress. The show's format and the number of episodes are still undetermined. But there's definitely one tone the potential show will not strike: Obama will reportedly not use Netflix as a platform to respond to President Donald Trump. Insiders say the shows will likely highlight moving and inspirational stories.
"President and Mrs. Obama have always believed in the power of storytelling to inspire," Eric Schultz, a senior adviser to Obama, said. "Throughout their lives, they have lifted up stories of people whose efforts to make a difference are quietly changing the world for the better. As they consider their future personal plans, they continue to explore new ways to help others tell and share their stories."
For the most part, the Obamas have stayed out of the public eye since leaving the White House.
They've made some public appearances, delivered speeches, and both are writing memoirs. But other than that, we haven't seen much of them. A production deal with Netflix likely means that they're ready to put themselves back on a global stage.
Even though details of their potential shows are still a work in progress, our wheels are already spinning at the possibilities. We'd love to see uplifting stories about people who have inspired them. Or documentaries that go in-depth about subjects they're passionate about.
We'd even watch a reality TV show about their daily lives.
We highly doubt that would ever happen. But can you imagine?! Keeping Up with the Obamas would be an instant hit.
Hopefully, there will be dancing.
Whatever this Obama Netflix deal ends up looking like, we could not be more excited.
Anything that brings us more Barack and Michelle is a big win in our book.