Obama's nephews accepting the White House Christmas tree will make you feel all warm and fuzzy inside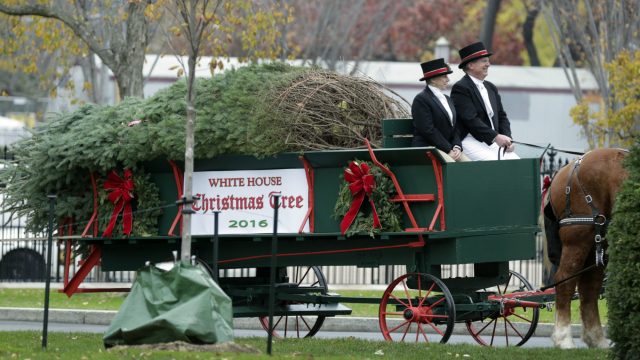 As if you weren't feeling holly jolly enough this weekend, Obama's nephews accepting official White House Christmas tree arrived yesterday, so the holidays are officially here. Although our favorite first daughters were missing from the scene, President Obama's adorable nephews were more than happy to step in. (You might have noticed them hanging with the POTUS — and petting the turkeys — during Obama's final official turkey pardon earlier this week.)
In case you couldn't tell from those cheeky grins, Austin and Aaron Robinson are Michelle's brother's kids. Family resemblance, much? This year we're extra thankful to see them sharing the holiday magic that is the White House Christmas tree.
Each holding a leash for a canine member of the Obama family, Aaron and Austin joined the FLOTUS to check out the tree. (Although they did get distracted by the pups once or twice – let's be honest, we totally would have, too.) Apparently it passed the test. When Michelle asked the boys what they thought of the tree, she was told, "it's great." The decision to accept it as the Obamas' final White House Christmas tree was unanimous. false
Aww.
In true presidential fashion, there was plenty of fanfare around the arrival of the White House Christmas tree. Think horse-drawn carriage, complete with jingle bell harnesses – and a rousing rendition of O Christmas Tree. The tree itself is pretty impressive, too. At 19 feet tall, the Douglas Fir seems like an ideal canvas for this year's holiday decorations, which FLOTUS will reveal on Tuesday.
We just hope that Austin and Aaron stick around to share the festivities (and a few more cheeky grins). It's hard to believe that this is the first family's lastholiday season in the White House. We're really going to miss this time of year with the Sasha, Malia, Michelle, Barack, and of course, Sunny and Bo.