Barack Obama just sent Michelle the sweetest birthday message, and we're so happy America's mom and dad are still so in love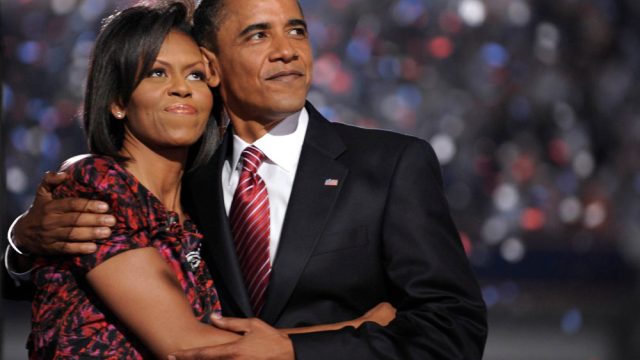 Today's (January 17th) a pretty big day and calls for a proper celebration: It's Michelle Obama's birthday, and the former First Lady (tbh, the forever First Lady in our hearts) is turning 54 years young. As always, we're sending so much love to Mrs. Obama, and dear god, we miss you so much. But that's neither here nor there right now — we're here to celebrate a birthday, not wax nostalgic. (But if anyone wants to talk about the "good old days," aka 2008-2016, we're here.)
If you're wondering how to celebrate Mrs. Obama's birthday, whatever you do and wherever you are, you're going to have to go bigger and better than Barack, who went with low-key elegance this year. Ahem, dad low-key elegance. The former President of the United States (and if you're reading this, Obama, we miss you literally so much it hurts) went with "flowers" and "heartfelt Instagram post" to celebrate his wife's day of birth.
Might not seem like a lot, but listen, you actually have to see his post, and read his words, and maybe sob into your computer and/or phone for a while. Calling Michelle his "best friend," the picture he posted is a stunning portrait of the two of them, and Mrs. Obama, of course, looks radiant. Then, take a look at how Obama is looking at her, with literally all the LOVE IN THE WORLD. I think my heart just grew three sizes.
As he writes: "You're not only my wife and the mother of my children, you're my best friend. I love your strength, your grace, and your determination. And I love you more each day. Happy Birthday, @MichelleObama."
That's not all, though. Mrs. Obama then posted to her Instagram, showing us flowers Obama had sent to her office. She notes that Obama is her "best friend, biggest fan, and getting notes and flowers from you will never get old."
For everyone else sending her well wishes across the country, Mrs. Obama wants us to know that she sees them, and she loves them.
"And to the many people from around the country who sent cards and posted on social media, you have no idea how much we love hearing from you…your messages of hope, generosity, and warmth have always reminded me how lucky and blessed we are."
Barack and Michelle Obama are so blessed, and we are so lucky to have them in our lives — we just wish they were in our lives a little bit more right now, and maybe living on Pennsylvania Avenue in a house with Oval offices. IDK, just a nice thing I like to think about sometimes. Happy birthday Michelle! xoxo