Obama is going to be David Letterman's first Netflix show guest, and he *really* needs no introduction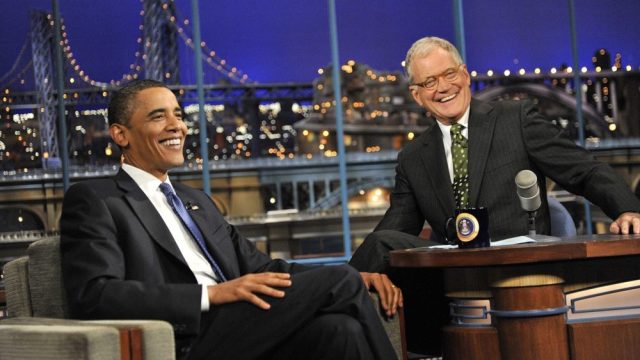 Post-White House life appears to be pretty low-key for President Barack Obama. He went kitesurfing with billionaire Richard Branson, as one does. He shared his reading list and current favorite jams for the New Year. He talked social media with Prince Harry on the BBC. And now the former Commander in Chief will sit down with a fellow public figure who's spent a few months out of the spotlight: David Letterman.
My Next Guest Needs No Introduction with David Letterman premieres January 12th on the streaming platform, and Obama will be the first of six guests the monthly series has lined up so far, Netflix announced Friday. After Obama, George Clooney, Malala Yousafzai, Jay-Z, Tina Fey, and Howard Stern are schedule to appear on the show. "You never know when you might learn something and that's what this is about for me," a newly-bearded Letterman says in a promo for the series. "These are people that I admire."
https://www.youtube.com/watch?v=ctBVhyZxXYY?feature=oembed
There aren't many clues in the trailer Netflix released promoting the show about its format or style but Letterman did joke with Jimmy Kimmel a few months ago that he would welcome interesting guests of all kinds. He told Kimmel he'd gladly take President Donald Trump as a guest, as well as Pope Francis, or the brother of the dude from "that commercial where the guy saws a rowboat in half."
While we're sure all of those people would make for fascinating interviews, we're excited for Letterman's first pick (Obama) — both because he's a compelling conversationalist and because, well, we miss him.
https://www.youtube.com/watch?v=hoyKkLfv28Y?feature=oembed
Letterman's kept himself off the radar for the most part since Late Show with David Letterman went off the air in 2015. He did nab the coveted Mark Twain Prize for American Humor in 2017 and even got a video shout-out from former First Lady Michelle Obama during the Washington, D.C. ceremony. Now it's Michelle's husband who will be visiting Letterman's stomping grounds, and we're ready for him.