Don't mind us, we're just pretending like we're on the Obamas' epic white water rafting vacation
If there was one family we wish we could join, it would be the Obama family. Not only do Barack, Michelle, Malia, and Sasha all seem close, but they also seem like they have so much fun together. The former president and first lady like to live it up, as evidenced by their fun family vacations, but this latest trip seems like a dream come true.
If you can handle running the USA, you can probably handle rafting, right?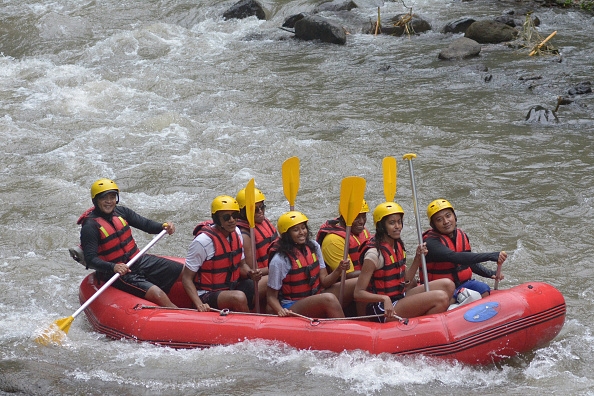 The family looked calm and happy as they sailed through Bali. Indonesia is special for the Obamas since Barack lived there for a few years as a child.
Sisters Sasha and Malia even went to visit the Tirta Empul temple at Tampaksiring Village, proving an Obama vacation is anything but average. We love that the family explores when they're away, learning about where they're visiting and taking in the culture.
And can we just take a second to appreciate Barack's island style? The former POTUS looks like the coolest dad around in his white polo, dark wash jeans, and sneakers. According to the Associated Press, the Obamas were joined by Barack's half-sister Soetoro-Ng on their trip. She plans on accompanying them to visit Yogyakarta, an ancient city in Java where Barack's mother, Ann Dunham, did anthropological research.
This seems like the coolest vacation ever and our only regret is that we're not there. How can we get the Obamas to adopt us, again?