Actually, the best part of NYFW are the regular women slaying the street style fashion
Sure, catching a glimpse of Bella, Gigi, Hailey or Kendall is a fun perk of being around for New York Fashion Week; but our favorite part? The normal women! The totally regular, non-millionaire models who are our friends, co-workers, even us — if we could get our bones out of bed and slip on anything other than sweatpants (which, thanks to the wonderful athleisure trend, can totally work if you want it to). Fashion week brings out the inner fashionista in just about everybody; the air fills with glamorous vibes that invite risk, innovation and creativity and the streets become a cat walk all their own. Don't believe us? Get inspired by some of our favorite undiscovered fashion geniuses who ventured out into the snowy New York streets this week and didn't look back.
The Popstar of Color
Everyone knows the power of a pop of color, especially this woman who adhered to an all-black-everything approach save for a bright gold coat which she flung over her shoulders like a cape. Points for the earrings, which, when tucked away, pop like their own little piece of hair jewelry. Also huge this year: peek-a-boo fishnets. We see you!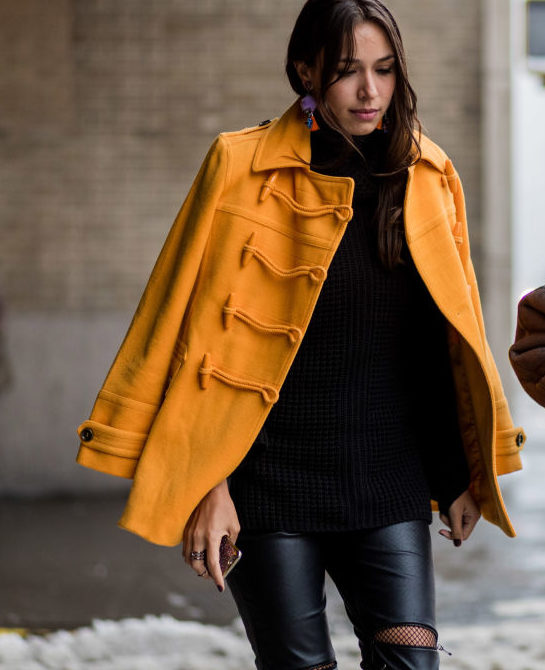 The More is More Master
Sometimes, more is more and this ensemble proves it — we love thinking that she kept piling it on until she was content, then piled on a few more pieces. The cool shirtdress, the chained choker-to-belt combo, the zippered pant, the platformed boot. We're living for this "half my closet" look. And the coat? Dreeeamy.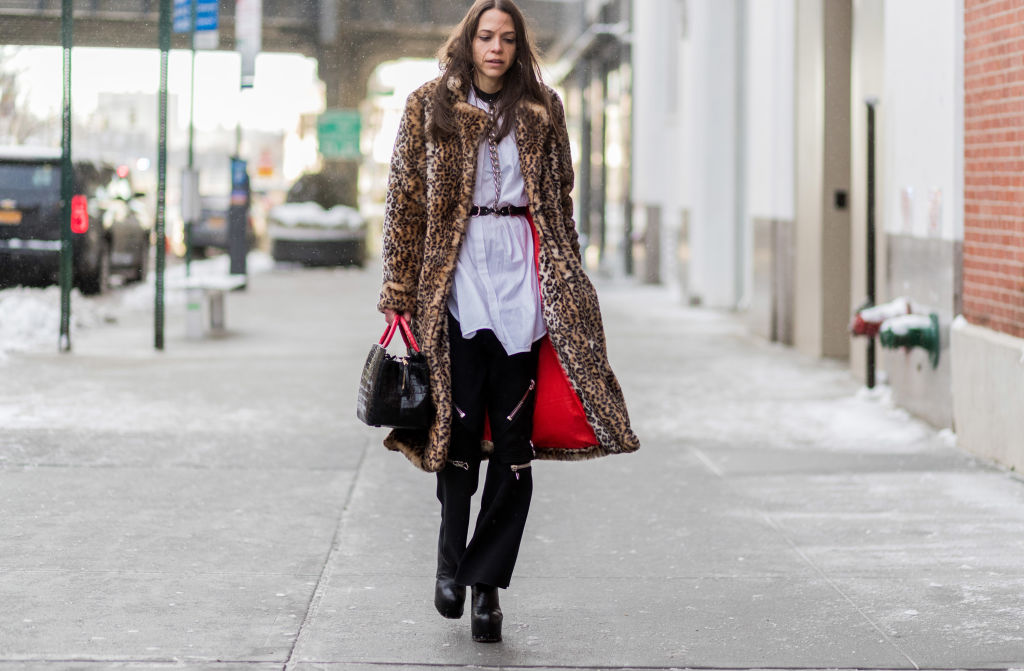 The Athletic Grandma
Okay, okay, so it's not the most flattering name but we are all about admiring los cahones on this lady. Pastel hair has outlasted it's title of "top 2016 trend" and become a totally viable option for year round punky goodness. The big chunky grandpa sweater thrown over track suit bottoms? We love. And don't forget those low, comfy trainers!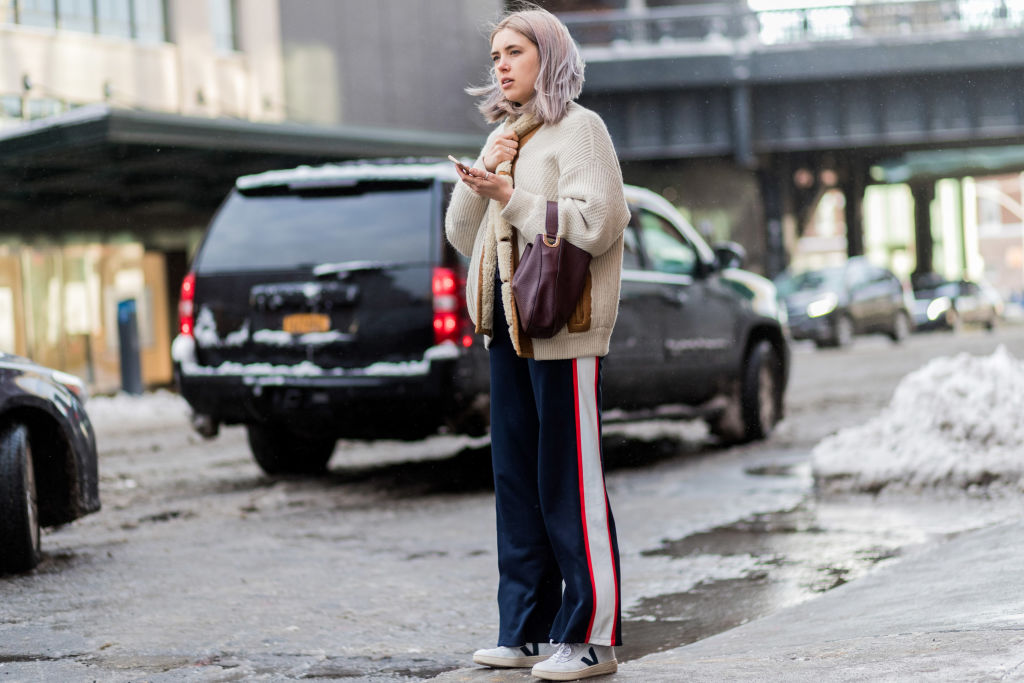 The Season-less Sorceress
Oh, we're sorry — is it winter? Please, nobody tell this woman and her to-die-for abs. We're calling this a crop top and leggings combo, accompanied by a long denim trench (someone take us to the nearest thrift store, now) and a biker chick leather jacket. The hat says Italy, the gloves say New York, the matte green mani says $total boss lady$.
The Utilitarian Queen
Who says a janitor jumpsuit can't rule the runway? Not this woman, who paired the cheeriest fuchsia one piece with some iridescent, futuristic heels and the sweetest kelly green envelope clutch we've ever laid eyes on. She kept warm with a bulky black knit hat and gray basic turtleneck underneath, because when you're rocking a look this rad, you're nothing but cool.
The Flirty Wink
"Are you looking at me? 'Cause you should be," suggests this cutesy, high-fashion look. The aviators and the choker elevate this cheeky tank and bright yellow leather to new dimensions. Wink!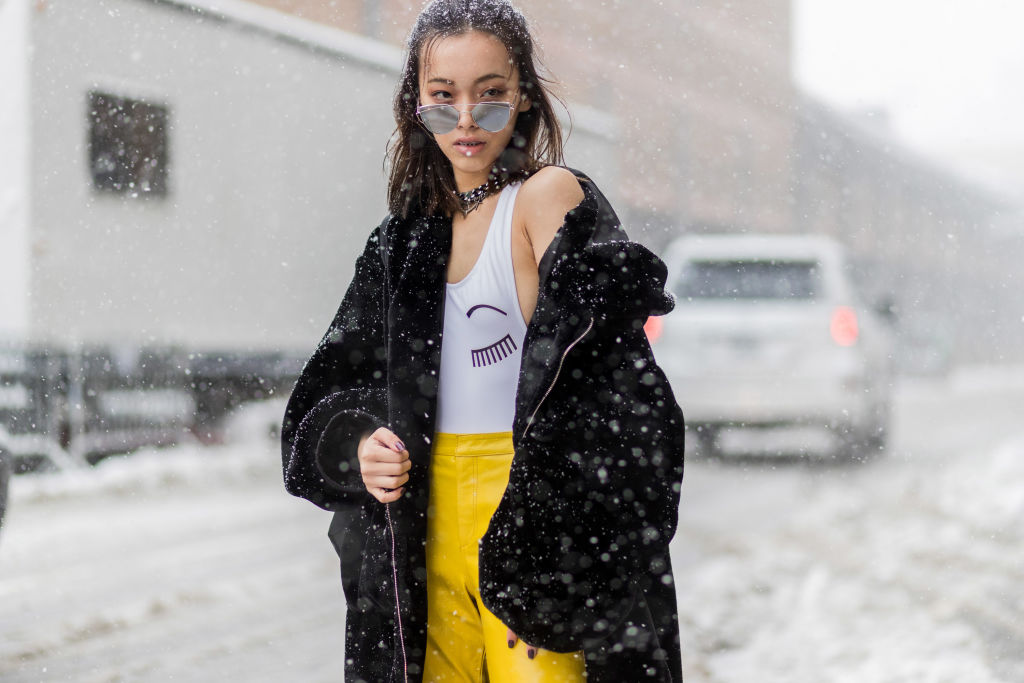 The Bold Prints-cess
We're a sucker for a bold, large print; so this one made the list before we could even say "GIMME THAT." We are all about the art of the clash, and this woman's bright '70s clutch against her floor-grazing sweater coat is making us majorly jealous. Throw on a hat and scarf for fun, not that you need it.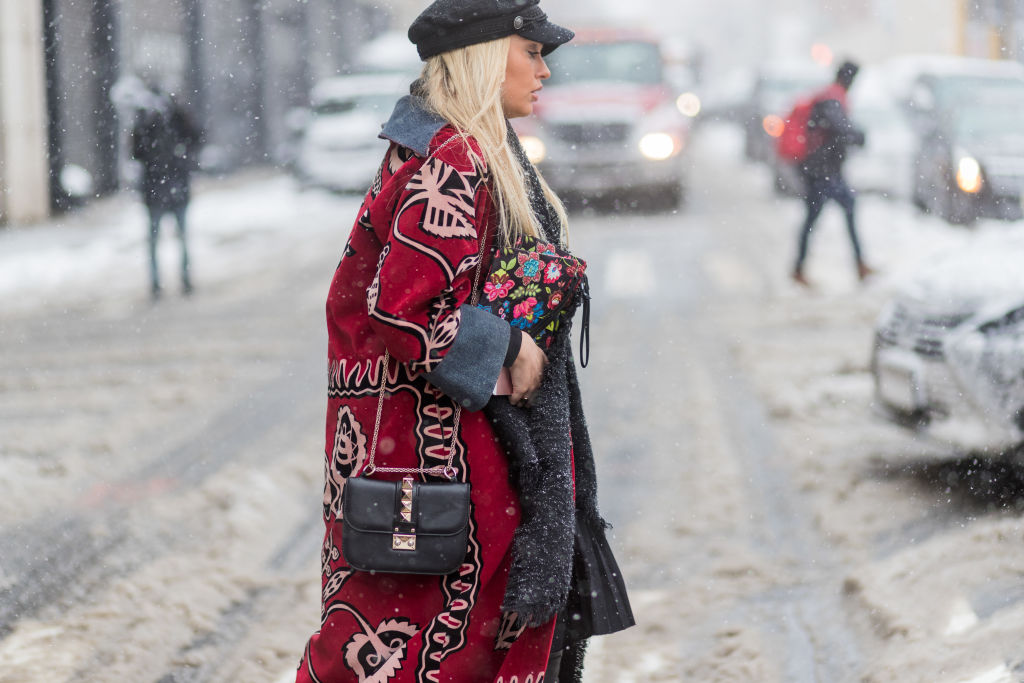 Jumpsuit Envy
The name says it all; we are smitten with this scarlet jumpsuit as it peeks out from under this gray textured coat. The choker, glasses, and bun are all on point, but that cut-out jumpsuit, though. The stuff of dreams.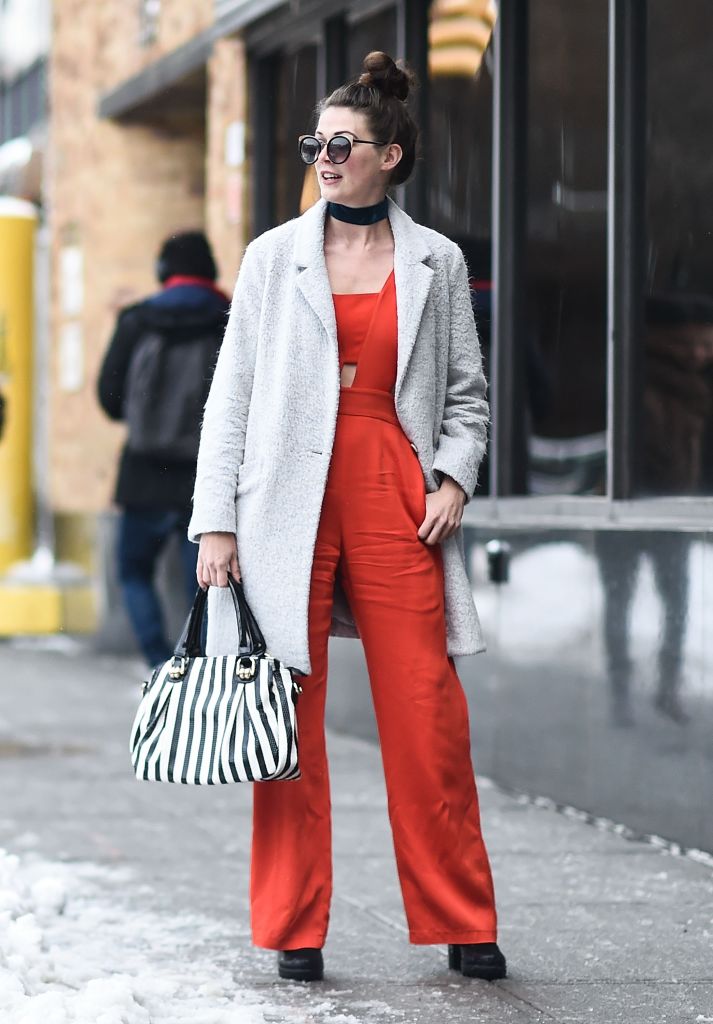 The All-Business Boss
We like to think this woman is off to tell a whole floor of business underlings what to do and how to do it. This look is pure "don't mess with me" realness, from the fur sleeves to the grommit-riddled pants and lace up block heels. We want to live in this lady's closet, and we promise we won't make it weird.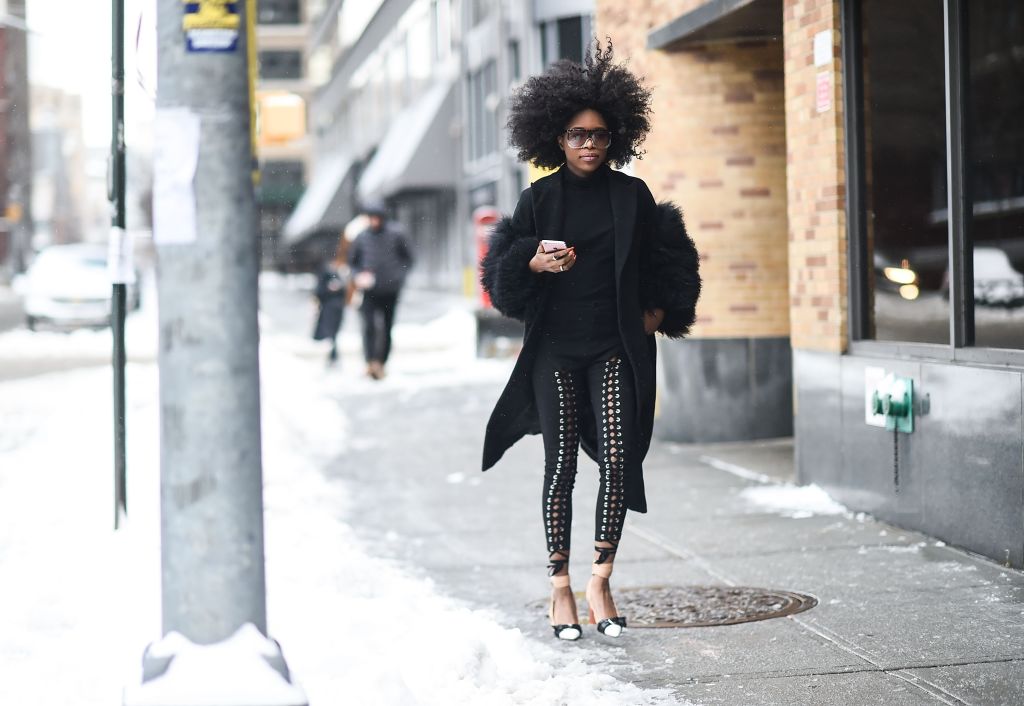 The Every-Era Muse
What year is it and does it matter? No! The boots and shades say '70s, the flares say '90s, the earrings? Check your mom's '80s collection, she's got a pair like 'em, we promise. This woman is blurring the lines of time itself with this ensemble in 2017, but the joke's on us. Whichever trend is next to come back? She's already on it.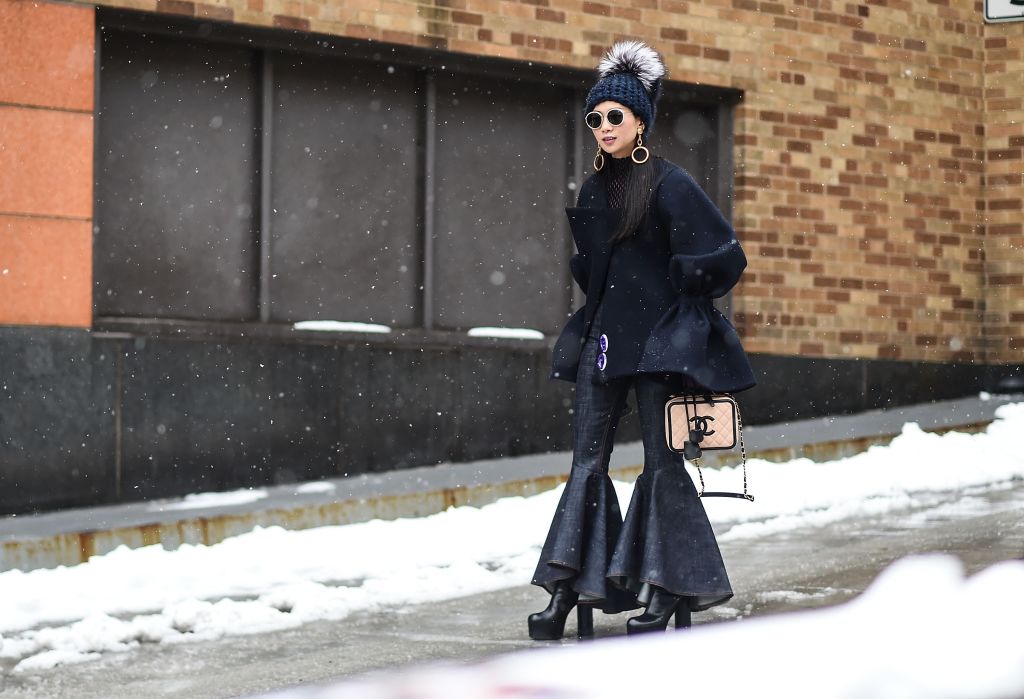 So there you have it! You don't have to be the daughters of  TV royalty or reality tycoons to score yourself an invite to the catwalk. All you need is some fiery vision and a walk that could put RuPaul to shame. Start practicing!