Under-10k weddings: A $7,000 affair with three different ceremonies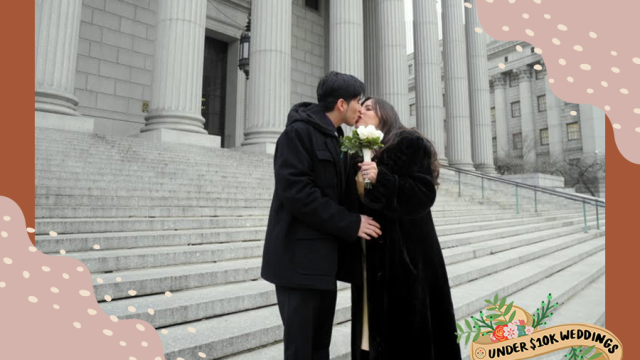 The average cost of an American wedding is more than $30,000. For many of us, that's an impossible sum, overshadowing what should be one of the happiest times in our lives. But it doesn't have to be that way. Under-$10k Weddings celebrates beautiful, affordable weddings, from city hall ceremonies to Vegas elopements—proving that it's possible to have the wedding of your dreams on a budget.
Out of all the meet-cutes out there, Roberto and I have a pretty epic one. He was learning English at the Jacob A. Riis Neighborhood Settlement House and I was volunteering there. And soon after, I became his conversation partner. Within a few months, Roberto was graduating from the program, and, at the community center's year-end party, he asked me to dance. The rest is history. 
Two years later, we got married on December 31, 2012 at City Hall.It was the first of three simple celebrations we planned. With friends and families spread across countries and time zones, we settled on having a few small parties that would fit within our budget rather than one big event that would leave some people out. The other two celebrations consisted of a party bus reception featuring a magical tour of New York City the following summer and a small anniversary ceremony with my husband's family in El Salvador one year later. 
Getting called for jury duty a few months before was the inspiration for my budget wedding.Every day outside the Queens courthouse where I served for a month, I saw countless couples lining up to make their love official in the eyes of the law.These were small moments observed from afar, but I could sense the happiness in the air. My now-husband liked the idea of keeping things simple since weddings in his home country are usually intimate gatherings as well. 
Originally the wedding was planned for March of 2013, before my parents moved to Florida. But my dad suggested doing it in December, so we could receive the tax benefits of being married a year earlier. In the end, that timing also worked out better because my now brother-in-law was able to make the international trip from El Salvador and other friends were able to travel to celebrate with us as well. Ultimately, three celebrations across two countries cost about $6,740.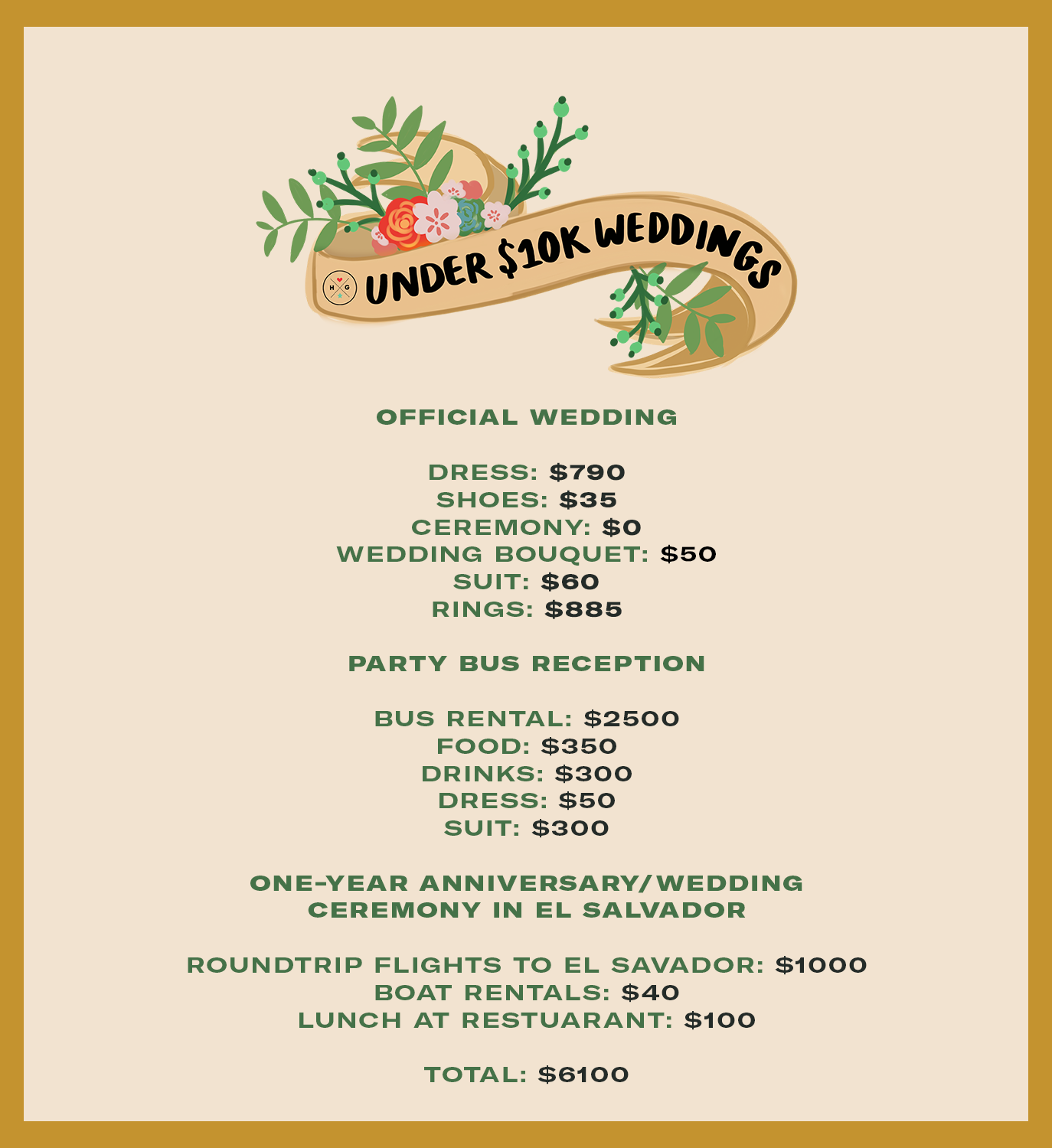 Our first ceremony at City Hall
Moving our wedding date to December after getting engaged a month previously meant there wasn't much time to plan. We managed to find our outfits, wedding rings, and invite close family and friends to celebrate on New Year's Eve with a no-frills, low-budget ceremony at Manhattan's City Hall. The $50 bouquet I bought at City Hall's gift shop the morning of the ceremony cost more than the service itself ($35). The major expenses were our clothes and rings, but we didn't even splurge on these. I found my dress on sale for $50 at a boutique in Forest Hills, Queens, and bought my ring—a 1950's white gold band with white and blue sapphire stones—at an antique store down the street from the dress boutique for $350. 
For my husband Roberto's ring, we went to New York's Diamond District, an area packed with vendors selling jewelry of all kinds. We settled on a white gold band for $600. And we bought Roberto's suit, tie, shirt, and both of our shoes for $435 total by taking advantage of the Christmas and New Year's sales at Macy's.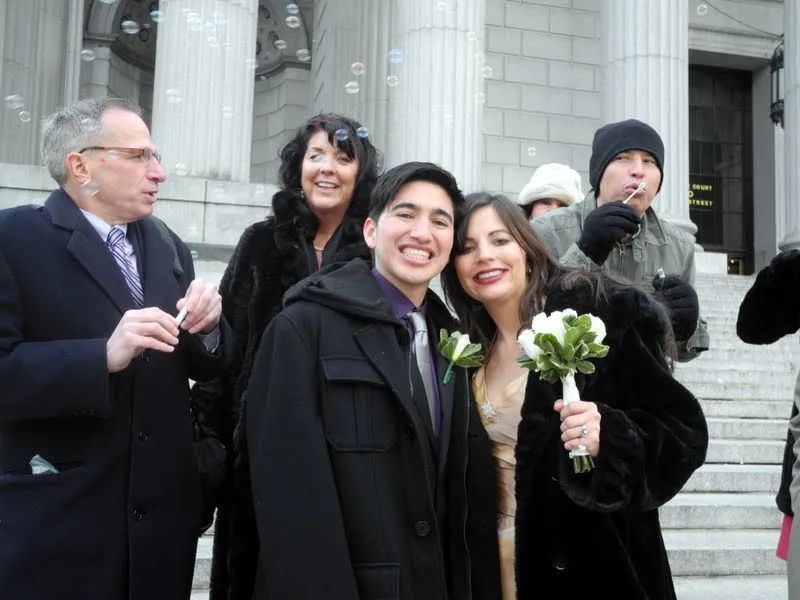 On the morning of the big day, we got ready at home. We handled everything from hair and makeup and even took photos of ourselves (with the help of family). We arrived at the City Clerk's office before noon, assuming there would be a long line of New Year's Eve couples getting married, but we hardly had to wait. In front of friends and family, who traveled from all over the world, we shared our vows, exchanged rings, and took lots of happy photos.
Excluding certain members of my husband's family who were unable to attend, we didn't feel like anything was missing from our ceremony. We even had enough time to special order a flower girl T-shirt for our dog, Ally, who was the guest of honor at our party later in the evening.
Later that day, my parents bought brunch for all of us at a Greek diner in our neighborhood in Astoria. That evening, we had friends who couldn't make the ceremony in person join us for a small New Year's Eve gathering in the multipurpose meeting room of my parents' building, which they were able to reserve for free. We got to enjoy my dad's homemade chocolates, my mom's homemade cheesecake as our wedding cake, champagne, and snacks, all for another few hundred dollars.
In total, we spent about $1,500 on our clothes, rings, and ceremony, and my parents spent about $600 on the celebratory brunch and party.
The most priceless part of the day was the photos my sister took of us (for free) on the steps of City Hall, with both of us wearing black winter coats we've had for years. 
Our party bus reception over the summer
In July 2013, we threw a bigger party with about 40 of our friends aboard a party bus. After having lived in New York City for nine years, I had seen wedding couples taking photos in so many iconic spots. But I didn't want to have to settle on just one location. I imagined being able to revisit our favorite spots in the city and bring all of our friends with us. After touring a few different bus companies that were scattered across the city, we settled on the one that would most comfortably fit our friends: A rental that cost about $2,500 for five hours, including the tip.
The bus ride was a tour of sentimental spots I mapped out and timed with my dad ahead of the big day. We passed through Astoria where we lived, the school where my husband and I met, and our first date spot at Flushing-Meadows Park. We then stopped at another former date spot at Gantry Plaza State Park in Long Island City, where we had catered pupusas and empanadas from two of our favorite restaurants for about $350. Finally, we ended with a drive through Manhattan and Times Square at night. Friends played their favorite songs on their phones through the bus's sound system, and we all took and exchanged photos. For drinks, we stocked up on a few hundred dollars worth of alcohol at a discount liquor store, and friends brought bottles on board as party gifts. Between these expenses and our outfits ($350), we spent about $3,500 on the party overall.
Our anniversary reception in El Salvador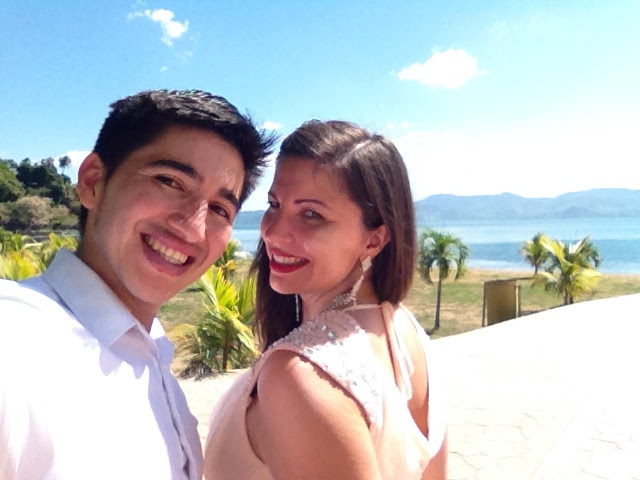 Because my in-laws lived in a different country, I didn't get to meet many of them until our first wedding anniversary when we were able to visit El Salvador. We planned on a gathering with my husband's family aboard a boat tour of a volcanic lake, Lago de Ilopango, near where his family lives. We thought the boat tour would be a memorable way to share our vows in a picturesque spot where my husband had many happy childhood memories. We spent $40 to hire two small boats to carry all of our friends and family to the middle of the lake, where we stopped to repeat our vows one year later (my husband translating mine into Spanish). After the tour, we had lunch at one of the small waterfront seafood restaurants, which cost about $100 for us and our guests. 
By keeping costs low for all three gatherings, we were able to celebrate across two countries and the calendar year, without having to go into any debt. Beyond that, our celebrationspaved the way for my husband and me to share a lifetime of adventures together with our now growing family.