Check out the NYC subway map that pays homage to the city's most accomplished women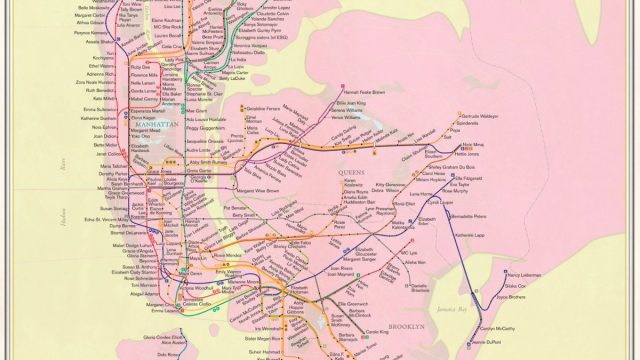 We wouldn't be able to get anything done in this world if it weren't for women doing everything they do. That's why March 8 is one of the most important days of 2017. It's International Women's Day as well as A Day Without A Woman, so women all around the country are taking a stand against the systemic inequality we face every day by taking off work and marching to fight for equality.
Today is the perfect day to reflect on all the ways women have helped build the world we currently live in, and it's the perfect time to think about how little recognition they've gotten for their hard work. Which brings us to a special NYC subway map that was shared in The New Yorker last October and is called "City of Women."
The idea was birthed by Rebecca Solnit, who included "City of Women" in her book Nonstop Metropolis: A New York City Atlas. Molly Roy is responsible for creating this unique piece of cartography.
Solnit makes the excellent point that, in every major city, many of the landmarks and streets are named after men. She insists that "names perpetuate the gendering of New York City."
Rather than just accepting this as the way it is, she and Roy set out to make a map of the NYC subway that reflected how many strong, accomplished women live or have lived in the city. You see all kinds of names, including Joan Rivers, Toni Morrison, Yoko Ono, and Ruth Bader Ginsburg. Whether they're politicians, authors, or activists, all of the women on this map have made a significant contribution to New York — and also to the world.
"Many of the women who made valuable contributions or might have are forgotten or were never named. Many women were never allowed to be someone; many heroes of any gender live quiet lives," Solnit wrote for The New Yorker. "But some rose up; some became visible; and here they are by the hundreds. This map is their memorial and their celebration."
We can't think of a better way to celebrate the inspiring women of New York than by sharing this map.