What is NXIVM, the alleged sex cult that "Smallville's" Kristin Kreuk and Allison Mack are linked to?
On its website, the New York-headquartered organization NXIVM describes itself as "a company whose mission is to raise human awareness, foster an ethical humanitarian civilization, and celebrate what it means to be human." But if you visit that site now, you'll also see a statement from its administrators defending founder Keith Raniere, who was arrested in Mexico this week on multiple charges of sex trafficking and forced labor. Though the group claims to be a self-improvement company, a series of reports and complaints suggests it's something much darker — NXIVM has been called an abusive sex cult, and several people who've been members or are connected to members, including Smallville star Kristin Kreuk, have spoken out against NXIVM.
Kreuk acknowledged in a statement on Twitter that she had gotten involved with the group when she was about 23 to help her overcome her shyness, and she left five years ago. Allison Mack, Kreuk's Smallville co-star, is reportedly still a member, and according to some outlets, a high-ranking one. Kreuk says she enrolled in an "Executive Success Programs/NXIVM 'intensive,'" which she "understood to be a self-help/personal growth course." It helped, she said, so she continued with the program but says she is now "deeply disturbed and embarrassed to have been associated with NXIVM."
Such workshops and coaching programs are at the core of what NXIVM (pronounced nex-e-um) promises its followers. According to the site, the Executive Success Programs, for instance, were "founded in 1998 by scientist and humanist Keith Raniere, and by Nancy Salzman, one of the world's top trainers in the field of human potential. The company is dedicated to empowering people to make better decisions so they can create richer, more joyful, and more meaningful lives."
Other listed programs include subgroups dedicated to vaguely worded goals like women's empowerment, child development, ethical science, and a men's faction for members who "seek to be the voice of character and honor in the world" called, extra creepily, the "Society of Protectors."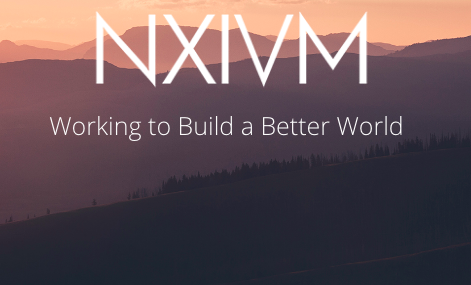 But for years, journalists, former members, and friends and family of members, have worked to expose what they say are NXIVM's shadier activities.
The Albany Times-Union, The New York Times, and people like Dynasty actress Catherine Oxenberg have published investigative pieces or spoken out against practices by NXIVM that allegedly include branding members, recruiting women as sex slaves, and other manipulative and abusive behavior. Members have denied these allegations, saying in their online statement that they are "currently working with the authorities to demonstrate [Raniere's] innocence and true character."
Raniere, who is apparently known to his members as "Vanguard," was also one of the leaders of a discount company that was investigated and shut down as a suspected pyramid scheme in the 1990s, according to the Times.
As more details come out about Raniere and his followers, the picture of NXIVM will likely become clearer. For now, consider us seriously disturbed.