This couple did a chicken nugget-themed engagement shoot, because foodie love is the best love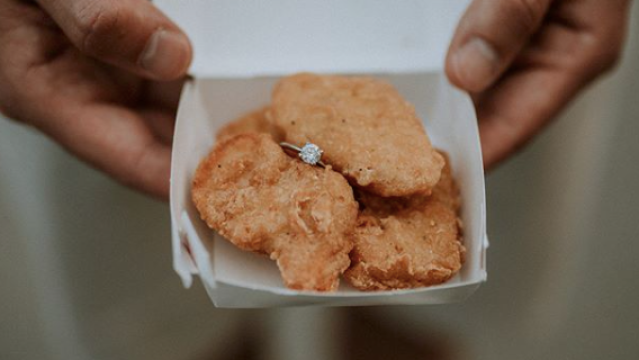 A couple had a chicken nugget-themed engagement shoot. Full stop. We've seen a variety of *interesting* engagement photoshoots over the years. There's the empowering kind (like the couple who did a body-positive boudoir shoot), the dreamy kind (the pair who took inspiration from Beauty and the Beast), and the plain bizarre (the T-Rex engagement shoot comes to mind). But what about the engagement photo shoots that leave you super hungry? Steph and Brett from Ontario, Canada posed for a McNuggets-themed photo shoot, and McDonald's owes these two lovebirds a check (or at least a catered wedding reception).
According to the photographer Katie Marie, the couple literally asked her how they could "include chicken nuggets in [their] engagement shoot." Katie shared the fast-food inspired photo shoot on her Instagram on June 1st, and we can't stop lol'ing.
These photos are so goofy and sweet — and really, they used a four-pack of nuggets as a ring box. We wonder if Brett proposed like that? Down on one knee, holding a greasy to-go box, uttering the words, "Steph? Will you eat these chicken nuggets with marry me?"
Several things are clear from these photos. 1) We're hungry. 2) Steph and Brett seem like a cool couple. 3) Katie is the kind-of wedding photographer we need more of in this world*.
*No offense to engagement photos of a couple standing in the woods gazing longingly at each other, but hiding an engagement ring inside a box of chicken nuggets is some A+ art direction.
Click through to see all the photos from this very silly chicken nugget engagement.
We love this one of the couple gazing longingly at a box of nuggets.
Congratulations to these two McDonald's enthusiasts on their engagement! Brb, we need to Postmate some nugs now.