Ntozake Shange's writing allowed Black women to see themselves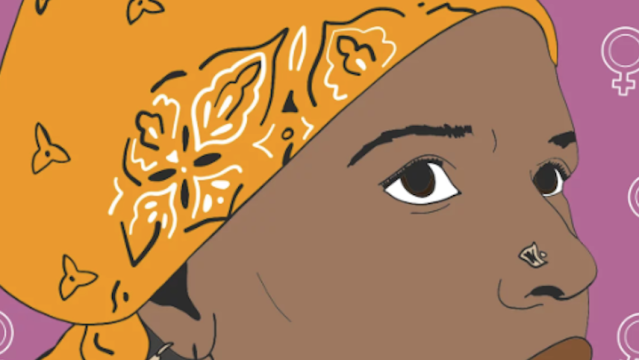 Trigger Warning: This essay discusses suicidal ideation.
On Saturday, October 27th, famed Black poet Ntozake Shange died in her sleep in Maryland. She had just turned 70 and, according to her Twitter, was still an active member of the literary world. Though Shange had multiple strokes in the early 2000s, and was diagnosed with a neurological disorder, she continued to perform and even wrote a book of poetry in 2017.
Undoubtedly, Shange's most famous work is her 1976 choreopoem for colored girls who have considered suicide / when the rainbow is enuf. It is a musical that explores the lives of seven women who have all been exposed to the colder side of life, but chose to love themselves, and each other, in the end. for colored girls… was the second play by a Black woman to grace Broadway, and it is just as poignant as it was 40 years ago. Domestic violence, abortion, and rape are discussed, and the story was turned into a film in 2010.
for colored girls who have considered suicide / when the rainbow is enuf exhibited Black women's various backgrounds, putting worn out stereotypes to death. The play literally gave us color in a time when black and white depictions of us were all too common.
The reality-rooted portrayals that Shange created has allowed Black women to see themselves on stage, in books, and on TV. As a woman who has had to choose self-love over and over again after falling into pits of despair, I am grateful for Shange's work.
I remember the cold night when Shange's revelations became clear to me.
It was dark. I was creeping through the streets of Brooklyn, New York, and I wasn't feeling great. My job sucked the joy out of my life, and my living situation wasn't much to be coveted. Weed wasn't helpful, but that didn't stop me from hitting a blunt whenever I got a chance, which often led to me fueling an eating disorder by gorging. On this night in particular, I was so high that my vision blurred and I walked slower than I was breathing. My speed gave me the opportunity to really think about the choices I had been making and the direction where I was headed. My stomach was so full of shit, rot, pain, and food that it actually hurt to breathe.
That was the first time I realized I was suicidal.
I cried. And I cried. Did I mention that I cried? I got myself together just enough to force myself to start the journey home. After a man attempted to follow me on the train, I trudged through the sharp air, the rot still inside of me. But even with that deep inner longing to end my suffering, I knew that I couldn't end my life. I had a mother and a family that would never recover. I wanted to see where my life would take me. There was a sliver of hope, and digging deep within myself to find and cultivate that light was a task—but dammit, I did it. And I've had to redo it whenever life threatens to rip my core asunder.
The strength to talk about this—the knowledge that my voice, my Black, feminine voice, matters—comes from Ntozake Shange. Without a shadow of doubt, the world is not the same without her.
https://www.instagram.com/p/BpiMCp-Ar8Q
So alas, one of our pillars has soared to the mysterious beyond. Ntozake Shange gracefully floats with Gwendolyn Brooks, Maya Angelou, and Lorraine Hansberry. She joins the ranks of female ancestors who watch over us, knowing that theirs is a legacy of emotional accountability and love that we can hold on to whenever we are low. Shange helped so many lives evolve throughout her four-decade career, and we are publicly grieving her. Still, that same sliver of featherweight hope that allowed me to love myself is the same hope that reassures me Shange will live on through her words.
If you are struggling and need help, call the National Alliance on Mental Illness HelpLine at 1-800-950-NAMI (6264), available Monday through Friday, 10 a.m.–6 p.m., ET. If this is an emergency, you can call the National Suicide Prevention Lifeline at 800-273-TALK (8255) or text NAMI's Crisis Line at 741-741.