There's going to be an *NSYNC reunion, and the boys really, really want you to know it's not a *real* reunion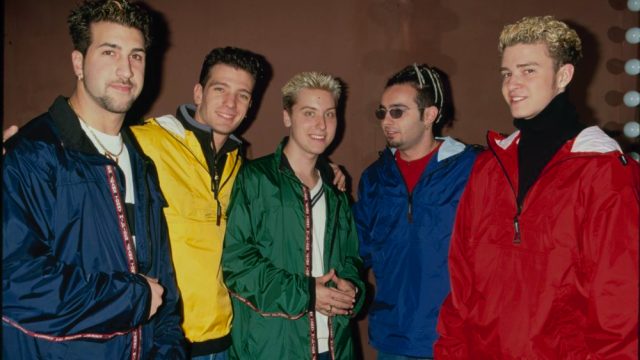 Whether you grew up in the '90s or not, boy bands were a major part of everyone's life for a brief period in the late '90s/early '00s. And there were two juggernaut groups at the center of the boy band madness: The Backstreet Boys and *NSYNC. You could like both, but you always loved one more than the other. So this piece of news is for all you *NSYNC diehards out there, because — drumroll, please — the band is getting back together!
Now, before you start selling your soul to prepare for the steep costs of concert tickets for all the stops on a new tour, reign in your expectations. Yes, the boys of *NSYNC are reuniting. But no, it's not for a new tour, or even new music. They're getting together to be honored with one of the biggest achievements known to anyone in pop culture…
They're getting a star on the Hollywood Walk of Fame!
On April 30th, JC Chasez, Joey Fatone, Lance Bass, Chris Kirkpatrick, and even Justin Timberlake (!!!) will reunite for a ceremony as their one star is unveiled at 7080 Hollywood Blvd. (Okay, so you might still have to sell your soul to book plane tickets out to LA to be there for this big moment.) And while the thought of all five of the guys getting back together is enough to incite a frenzy, the boys really, really, really want to make it clear that this isn't actually a real reunion.
https://twitter.com/udfredirect/status/832692610011574272
So why is *NSYNC getting a Walk of Fame star now, when they haven't been together as a group for so long? Duh, it's the 20-year anniversary of *NSYNC's self-titled debut album of course!
Start planning your ceremony watch parties now, because if you can't make it out to LA in person to witness the unveiling of the star, you can watch the Walk of Fame live-stream on April 30th at 11:30 a.m. PT and pretend like you're there.https://fanufactured.tumblr.com/post/84318559429/guess-what-tomorrow-is
Honestly, what better way to celebrate "It's Gonna Be May" day?