This *NSYNC fashion line is tearin' up '90s kids' hearts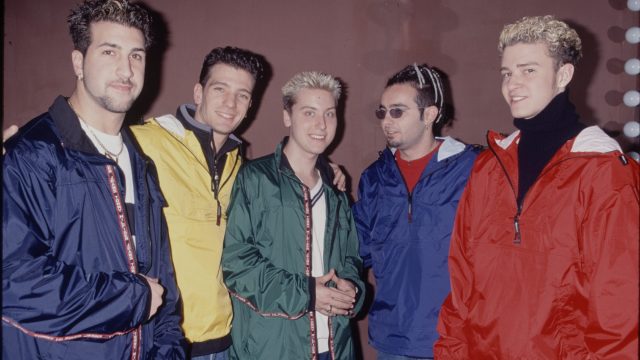 We hope you '90s kids just got paid because you're about to go on a shopping spree. A new *NSYNC fashion line is on its way and it's bound to tear up a few hearts when it drops.
To celebrate the boyband's 20th (yes, 20th) anniversary in 2018, *NSYNC teamed up with the branding and licensing company Epic Rights to launch a line of merchandise including apparel, accessories, gifts, and collectables. This news is seriously music to our hearts.
According to Billboard.com, *NSYNC's Lance Bass, who will act as a liaison between the band and Epic Rights, said in a statement:
"The band is thrilled to create an exciting new line of merch with Epic Rights in celebration of our 20th Anniversary." Epic Rights CEO Dell Furano added, "*NSYNC ushered in the modern age of huge merchandise sales both at their sold-out concerts and at retail. We are certain we will have equal success today."
And we have great news for those of us kids who thrive off of '90s fashion. Billboard.com reports that *NSYNC and Epic Rights plan on releasing an entire line of '90s-inspired clothing with the help of a few "iconic fashion brands" from the decade.
The collaboration will also put old *NSYNC album covers, photos, and logos to use on t-shirts, electronics, seasonal and home decor, and games. You can also expect to see collectible figures (we're planning on collecting all the Justins) and, supposedly, slot machines.
Side note to Epic Rights: Can you put the below photo on everything? Thanks.
Alongside next year's merch launch, *NSYNC will also receive a star on the Hollywood Walk of Fame in Spring 2018. Besides Bass, it's unclear if other band members — Joey Fatone, Chris Kirkpatrick, JC Chasez, and Justin Timberlake — will be involved with the launch or the 20th anniversary activities.
Until the merchandise line comes to fruition, we'll be thinking of you, *NSYNC. Then again, when are we not thinking of *NSYNC?