A running list of companies that have cut ties with the NRA, because it matters where we spend our money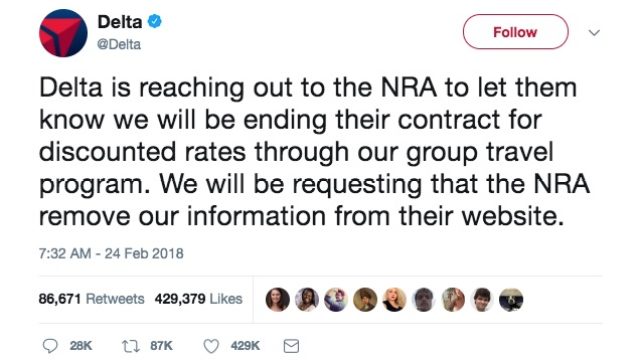 In the wake of the heartbreaking mass shooting at Marjory Stoneman Douglas High School in Parkland, Florida, the debate over gun control has reached a new high. We've seen countless mass shootings rip through our country and our schools since the tragedy at Sandy Hook Elementary School in 2012. Unfortunately, not much has been done about it since then. Now, the survivors of the Florida school shooting are taking a stand against gun violence in a big way — and their efforts have spawned a boycott of the NRA.
The time has come to actually *do* something about gun violence, and we are totally here for it. With the NRA and NRA-backed politicians becoming a focal point of the conversation around gun control, people and companies are standing up to say "enough" as they join in the rapidly growing NRA boycott.
The NRA holds massive influence over U.S. politics. In the 2016 election cycle alone, the NRA and its partners spent a record $54 million to support Republicans in Congress. More than half of that figure — $30 million, at least — went toward helping to elect Donald Trump. While the sheer number is shocking, the NRA's influence is about more than money.
Countless Americans believe the "good guy with a gun" myth, but — as we saw with the armed guard in Florida who never went inside the high school — that isn't always the case. In fact, one study from Stanford University that considered whether more guns save lives discovered that states with more relaxed gun laws had higher rates of gun violence than states with strict regulations.
Thankfully, the list of organizations participating in the NRA boycott is growing.
First Omaha National Bank was one of the first NRA business affiliates to cut ties with the group, and — after sharing the news publicly — other organizations quickly followed suit. false
Both Delta and United Airlines have ended their partnerships with the NRA, too. And while not everyone agrees with the NRA boycott, Twitter is definitely cheering them on. false false
So, do you want to know where to spend your money? Consider supporting these companies as they boycott the NRA, so we can let the world know we want real change when it comes to gun violence:
Allied Van Lines
North American Van Lines
Avis Budget Group
Hertz
Enterprise Holdings (which includes Alamo, Enterprise and National)
Starkey Hearing Technologies
MetLife
Chubb
Teladoc
TrueCar
SimpliSafe
Symantec (which includes LifeLock)
Wild Apricot

According to a report by ThinkProgress, here's a list of NRA business affiliates who have yet to cut ties with the organization.
FedEx
Vinesse Wines
Hotel Planner
Lockton
eHealth
Medical Concierge Network
Life Insurance Central
ManageUrID
LifeLine Screening
Of course, there's also the ongoing campaign to pressure Amazon to stop carrying NRATV, the organization's 24/7 streaming channel.
The NRA isn't happy about losing their business partners, and quickly released a statement condemning the actions.
false
While it might seem like the NRA is impossible to defeat, powerful lobbying organizations have lost in the past. For example, tobacco companies exerted hefty influence over American politics for years, but — as information about the toxic effects of smoking became public — major reforms took place and smoking in America has continually decreased. Even more encouraging? People want change. Even lifelong pro-gun supporters are speaking out in support of common-sense gun laws, because let's be honest: "Thoughts and prayers" never were enough. false
If you're looking for more ways to take action besides the NRA boycott, be sure to support organizations fighting for gun control and register to vote.
You can also participate in the upcoming March for Our Lives and contact your representatives to let them know where you stand. All you have to do is text "resist" to 50409, and ResistBot will take care of the rest. 
We're so proud of the Parkland students demanding change, and we truly believe we can make a difference together.