Fighting for gender equality on a daily basis is this woman's job, and she wants you to "challenge everyday sexism" in your own life
We've made major strides for the advancement of women's voices in predominantly male-dominated institutions, but there's still a long road ahead in ensuring those same advancements for women are intersectional. After all, it's 2018, and non-binary, LGBTQIA, Black, and Brown folks are still fighting tooth and nail for basic human rights. That's why it's imperative that we hold those in power accountable and demand they use their privilege and resources to speak up for those who can't.
And many — if not all of those times — it's women who step up to the plate.
That's why we want to celebrate Sonia Ossorio, the President of the National Organization for Women, New York (NOW-NY) and New York City (NOW-NYC), who has devoted nearly 20 years of her life to fighting for women's equality. With more than 5,000 active members and supporters of NOW-NY, Ossorio has led the organization to the front lines, fighting to change outdated laws, discriminatory policies, and oppressive attitudes in order to improve women's reproductive rights, create economic equality, and put an end to any violence against women. NOW has been around since 1966 – its founding chapter is in Washington D.C. – and it's the nation's largest organization advocating for women's rights.
Ossorio was appointed to the NYC Commission on Gender Equity by Mayor Bill De Blasio in 2016 and has continued to keep a subtle footing in the journalistic world with social and political commentary appearing in USA Today, the Denver Post, and the New York Times.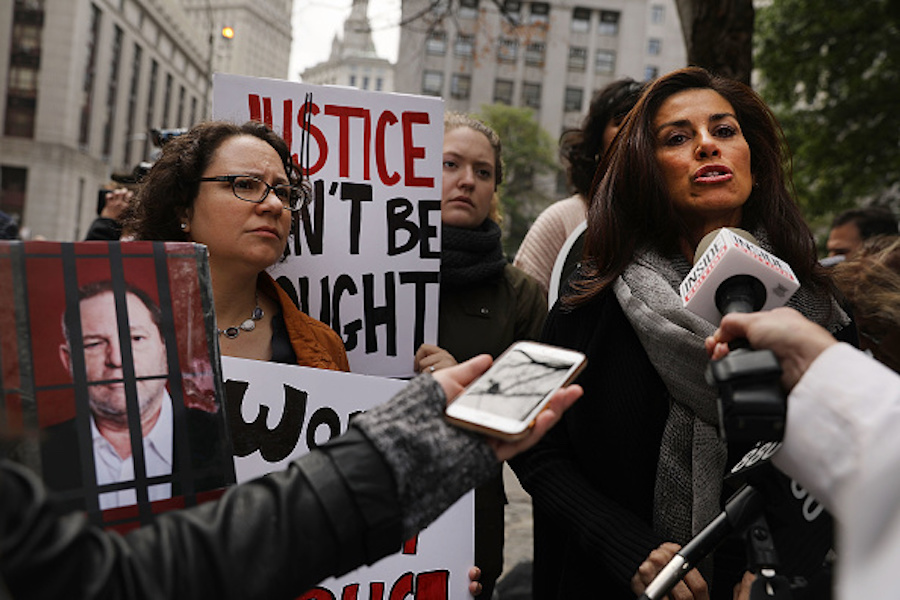 As of late, NOW-NY also works to pass stronger gun laws in the state of New York in an effort to end gun violence against women. Ossorio has also gone on to publish an important op-ed in the New York Daily News about how gun violence is in fact, a women's issue. Further, NOW-NY also launched a campaign, Take Rape Seriously NOW, to assist survivors of sexual assault, provide resources for sexual assault and domestic violence victims, and expand the programs funded by the Violence Against Women Act (VAWA). NOW-NY, with Ossorio leading the pack, is fighting for all women by any means necessary.
HelloGiggles spoke to Sonia Ossorio about how we can become active agents of change in the mobilization for women's rights and equality, support women who have experienced any type of discrimination, and what makes her wake up, after 20 years at NOW-NY, in the morning.
HelloGiggles (HG): What does a day in the life of the president of NOW-NY look like?
Sonia Ossorio (SO): NOW is the largest women's right organization in the country. It was started before most of the people reading this were born! We've always been on the front lines of social, political, and economic issues making sure that women have a voice and standing up for women's rights — whether that is to advance our rights or make sure that people aren't trying to roll back women's rights. [That] is a constant two part battle that we undertake and that we're involved in.
For my day to day, I come into the office with a list of things that I want to get done all while knowing that at any moment the ball could drop and it's time to go into action and [get out there] and fight for an important issue, or it's time to call our activists and say, "We need you today, 5 o'clock, at City Hall." Because it's important to be able to react quickly to injustices that are taking place and let those who wield a lot of power — whether it's lawmakers or business people, know that we're going to be loud and proud about where we stand on discrimination and injustices for women.
HG: You've been a part of NOW-NY for nearly 20 years and president for the last 12. How do you keep your momentum going? What is it about your career that makes you wake up in the morning, ready to go?
SO: I enjoy the people I work with and I get a real charge from rooting out injustice. At NOW, we are ready to take to the street with a moment's notice. We keep the megaphone and banners by the door. Our team knows what's at stake for women, people of color, and immigrants [during the] Trump administration.
The key thing about my job is I need to be on my toes every day to see where the opportunities exist to help women raise their voices, to be the support network to help them do just that, and to put pressure on those in power who think they're going to get away with maligning women's lives.
HG: You were a journalist – a business reporter, specifically – before you crossed over into the nonprofit sector. Can you speak more on why you decided to change career paths?
SO: It's becoming more and more common to make career changes across industries. You become passionate about different things as you go through life. You grow more as a person as you apply the skills you've learned in different jobs to different situations. Allow room for flexibility in your life — don't be set on having a "5-year plan" because sometimes you might miss opportunities for growth and change that come up along the way.
HG: As President, you've had your successes in being an active agent in helping pass history-making legislations. You've worked to pass anti-trafficking laws, repeal the statute of limitations on rape, and advocate for legislation criminalizing child marriages. How did you make that happen?
SO: There are so many areas where social justice doesn't exist, so when I see injustices – I work to rectify it. It's [also] about launching a campaign, that means [focusing on] public education, and getting citizens engaged to the point they are willing to get on a bus at 6 a.m. and spend the next 16 hours talking to legislators and telling the truth about women's lives. And knowing that by doing it, you're there for the single mom who has so many demands in her life, [knowing] you're there for that woman who doesn't have the time and resources or privilege to [stand up for herself].
HG: What advice would you give women hoping to someday do the work you're doing — whether that be working for women's rights, being a voice for the voiceless, or shattering the glass ceiling?
SO: There's probably nothing more important for us to do as individuals than to challenge the everyday sexism that we see happening. To call it out when we see it, to ask others to do the same. To define for ourselves what being a good bystander look like. Have those meaningful conversations with the men in your lives – in your family, workplace, and community – about how they define manhood. Engage them in conversations about toxic masculinity and ask them to think about the harm they've seen it cause. Be direct, but kind. Just tell the men in your lives about what women would like to see from them and why being a feminist and a man is not at odds.
HG: What advice would you give readers or women who come across this interview and are dealing with any kind of discrimination or harassment?
SO: Well, in my life experience, I've come to realize that when you stand up for what's right, more oftentimes than not, others will join you and you'll be able to make change. Obviously, you don't want to put yourself in dangerous situations, but everyday sexism, those everyday injustices that make your blood boil, it'd be healthier to say something about them. It'd be healthier to stand up to the racism and the bigotry.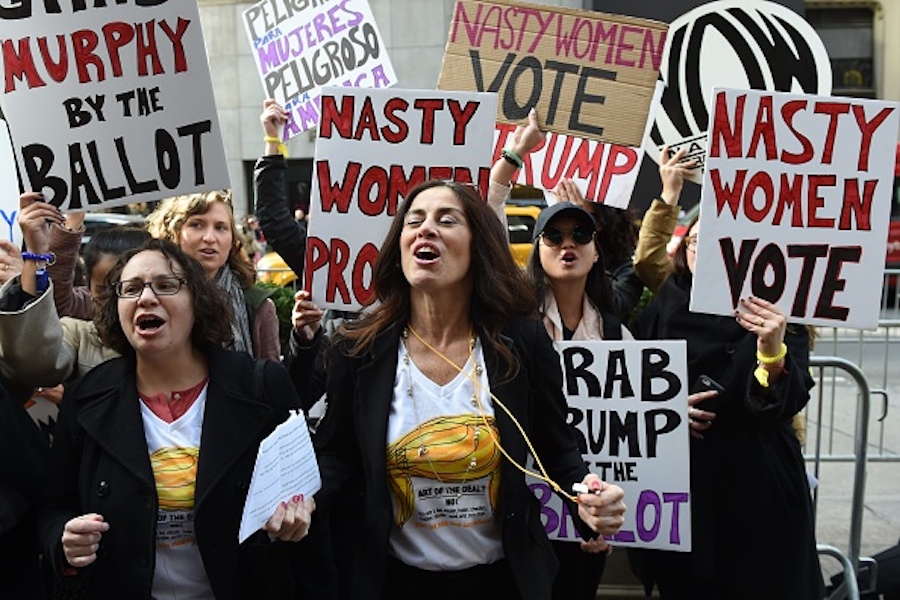 HG: What are you looking forward to in 2018 with NOW-NY?
SO: Looking forward to getting more women elected to office. Looking forward to giving women a space where they can learn about important issues and learn how to be an activist.