Now everything we eat will literally sparkle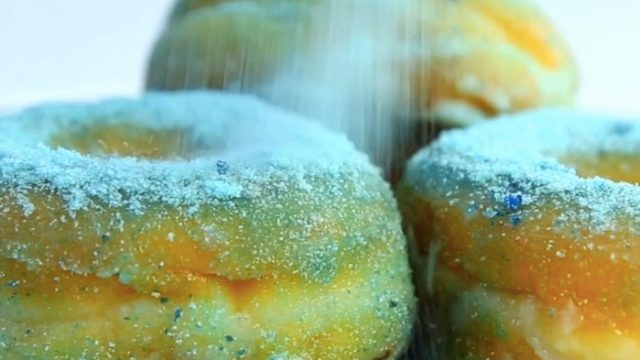 Who doesn't love glitter? It's beautiful in crafts, in makeup, in the classic 2001 Mariah Carey movie masterpiece. Which is why we are so stoked for this edible glitter recipe, which will finally allow us to turn our favorite thing (sugar, of course) into another favorite thing.
Now everything we eat will sparkle. Donuts? Sparkly. Toast? Shimmering. The rim of your martini glass? Glittery AF.
Pizza? …
Okay, maybe not we're not ready for edible glitter on literally everything, but we'll certainly be experimenting with it and we hope you will too.
Check out this fun video to see how to make it:
[tempo-video id="5026612903001″ account="4607804089001″]
INGREDIENTS:
1/2 cup of sugar
10 drops of food coloring
RECIPE:
Preheat your oven to 350° F.
Mix the 2 ingredients until you're happy with the new, bright, uniform color of your sugar. Feel free to add more drops of food coloring to your liking!
Spread the colored sugar mixture in a thin layer on a baking sheet (we recommend using a sheet of parchment paper on the tray for easy clean-up).
Bake the sugar mixture for 10 minutes. Allow to cool.
And voila! You have edible glitter.
Put. It. On. EVERYTHING.
Except pizza. Or not. You do you.