We're not sure what's going on during Chris Pine's promo for "SNL," but we love it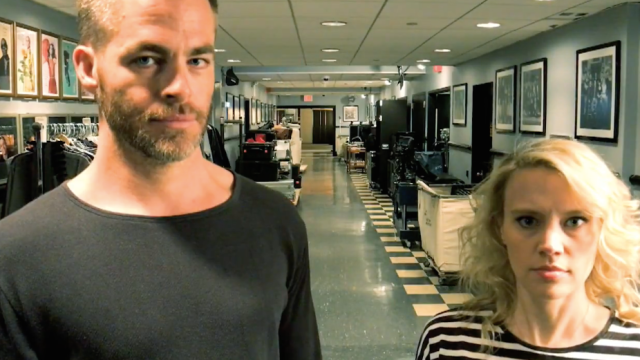 Good news! Since the writers' strike is *definitely* no longer happening, we can keep enjoying our late-night TV — including Saturday Night Live! Which is especially great news because Star Trek: Into Darkness and Princess Diaries 2 actor and all-around gorgeous human being, Chris Pine, is hosting this weekend with LCD Soundsystem as his musical guest, and he seems seriously excited. The first-time host appeared in his first promo with SNL vet Kate McKinnon and it's both charming and weird.
While not personally featured in the new promo, LCD Soundsystem is there in spirit as Pine and McKinnon dance it out to the group's 2010 hit "Dance Yrself Clean". https://www.youtube.com/watch?v=2dDNkJaa_tk
Along with the pair's absurdly funny dancing, which includes McKinnon rocking a serious pregnancy belly and Pine's sweet wig, the video gives behind-the-scenes tour of the famed Studio 8H, featuring the hair-and-makeup room, the props department, the back hallway, and the view from the stage.
Pine may be making his first appearance as host, but he also appeared on SNL's Weekend Update in 2009 to promote Star Trek. On the SNL Twitter page, the Wonder Woman actor posted a behind-the-scenes video of the promo shoot, in which he explains *just* how excited he is.
Pine also posted a video with cast member Mikey Day and writer Streeter Seidell from writer's night, where he apparently went full diva. We love it so much!
Saturday's episode marks the second coast-to-coast live event, following Jimmy Fallon's episode just a few weeks ago. Pine seems like a naturally funny guy, so we know he'll kill it this weekend.