How to not show up a sweaty mess everywhere you go this summer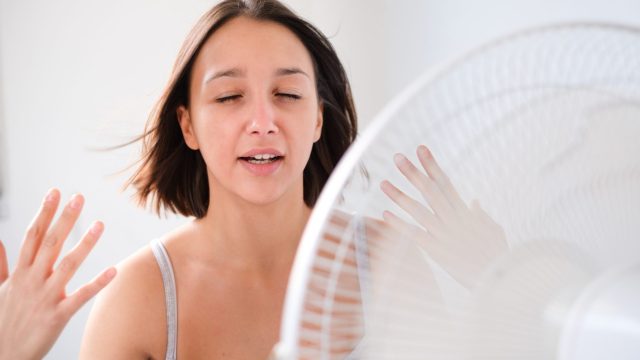 You can tell the visitors from the locals during Florida winters. The visitors are enjoying the breezy, 60-degree weather in swimsuits, while the locals are bundled up in sweaters. "I'm from up north!" they say, as if their hometown somehow dictates the way weather affects their bodies.
In summer, though, we all suffer. Heat knows no boundaries. Stick anyone in the sun during a Florida summer and their body starts sweating. The only advantage for those of us who are used to the weather is that we're better equipped to handle it.
But even though I've spent 27 years living in Florida, I still find myself wishing I'd better prepared for the heat and humidity. So I reached out to other hot weather ladies to find out how they keep themselves from showing up a sweaty mess everywhere they go. And by the way, I might be from Florida, but these tips are useful anywhere the temperature reaches above 80.
Take a warm shower
A cold shower seems like the logical choice, but while it cools down your skin temporarily, it ultimately heats you up. "A cold shower increases your internal body temperature, making you feel hotter. Instead, start your day with a warm shower to beat the heat," said Caroline Topperman of Style on the Side.
During a cold shower, blood flow is restricted from the skin and held internally. This causes the core of your body to heat up, and in the minutes after the shower that heat spreads to make you hotter than after a warm shower. So turn up the the temperature in the shower — but not too much — to stay at the optimal temperature.
Use a portable fan
Wind is the best respite against a hot day. Carry a breeze in your pocket with a mini portable fan. I used one that was powered by my phone, and it kept my face sweat-free during the Total Solar Eclipse in the middle of August last year. The fans are inexpensive, but can be costly on your battery life, so use sparingly.
Prevent thigh chafing
Summer fashion lends itself to sticky, bare skin. To prevent your thighs from rubbing together and turning into a raw, burning mess, CeCe Olisa, co-founder of theCURVYCon, recommended using chafing gel. "I always keep a tube of anti-chafing balm in my purse. I switch between Monistat's chafing gel and Gold Bond's chafing stick," she shared. Apply where needed before you go out, and wear those shorts or that dress worry-free.
Feel fresh and dry
You can't stop sweating altogether, so you need to be ready when it happens. Carry wet wipes and use them to clean off sweat from your body. Then, smooth on a light layer of powder to freshen up. Too much powder can turn clumpy, but a small amount applied with a puff is very grandma-chic. Give yourself a second to relax, and then head back into the world like you're not facing 90-degree temperatures.
Keep your hair under control
If you haven't given up altogether and thrown your hair in a top knot (which, by the way, I highly recommend) keep your hair styled using products made for heat. "I swear by Kevin Murphy's​ ​A​​NTI.GRAVITY Spray during the summer months — for my clients, myself, and especially summer brides," said Kashmir Asvaraksh, a Boston-based hair and makeup artist. "It contains lavender​,​ which works as a natural astringent​ to dry up oil and sweat that keeps your hair feeling clean all day. I love it personally because​ ​it keeps my hair from getting sweaty and flat-​looking in the summer heat when I'm working in the salon or at a fashion show." Apply it as a last step before you head outside.
Try cooling gel
Jen Mathews is a beauty blogger who battles the L.A. heat by hacking a product meant for sore muscles. "I use Yuni Beauty Chillax, which is technically a muscle rub (kind of like a cruelty-free version of Icy Hot with a roller ball applicator). I put it on the back of my neck and it instantly feels 15 degrees cooler," she said. The bottle is small enough to keep in your purse, and you don't have worry about smelling like menthol.
Use oil-controlling skin care and makeup products
Keeping your makeup looking fresh is one of the hardest parts of the summer heat. While I recommend applying as few products as possible, sometimes you need a full face. To keep your makeup on all day, prep your skin with the right products first.
Jamika Martin, founder of ROSEN Skincare, recommended the brand's Rose Water Face Dew and Gold Tides Toner. An oil-controlling toner like this one is good for those with oily skin, and it helps keep you matte throughout the day — meaning your makeup won't slide off with your sweat.
After skin care, apply a mattifying primer and keep foundation and concealer to a minimum. Powder can react badly with sweat, so lean on oil-blotting sheets to soak up oil and sweat throughout the day.
When you need a refresher, use a facial spray like the aforementioned Rose Water Face Dew. "The Rose Water Face Dew is a super lightweight rose water and rose-hip oil blend that is so refreshing during hot weather," said Martin. "A couple of sprays throughout the day keeps my makeup fresh and definitely cools me off."