So, North West is apparently Kim Kardashian's social media manager now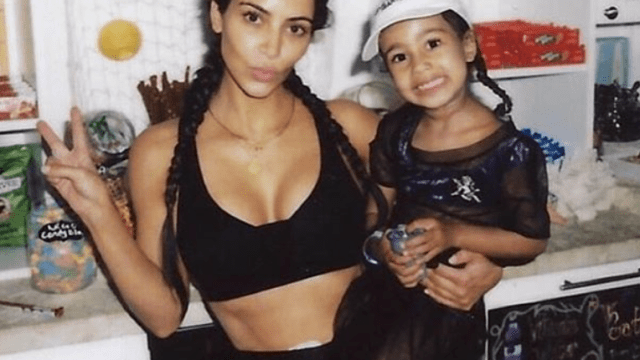 Kim Kardashian has been on a (NSFW) body-positive Instagram photo-posting spree lately. In her latest snap, she's seen taking off her bra in the mirror, and the photographer is credited as her four-year-old daughter North West, whose reflection can be seen in the photo. You know those times when your four-year-old kid snaps a photo of you in a state of undress, and it's shockingly artistic so you post it to Instagram — hey, it happens.
Remember in 2015 when North ~accidentally~ uploaded a throwback photo of her mom in a bikini because she was playing around with Kim's phone? Yeah, Kim posted a 10-year-old bikini photo to Instagram with the caption: "North posted this while playing games on my phone. Not sure why or how she chose it but I'm not complaining!" North would have been two when she did this.
Listen, Kim, we get it. North West is your social media manager, and that's totally cool. Get your girl in the family business early. Why not?
But what about this beachy photo Kim posted yesterday? Who is the photographer for this one? Kanye West? No, he's probably MIA in a yurt making music somewhere. Her assistant Steph? No, she was fired. Could her mini-me daughter who is always by her side be responsible for this photo, too? Anything is possible with the Kardashians.
For now, North's Insta-influence is confirmed with this snap:
https://www.instagram.com/p/Be8V9RCFmMy
And this 2015 #tbt image:
If Kanye is in charge of Kim's wardrobe and sends emails demanding that she only wear tiny sunglasses, and if Kris Jenner manages her career, then who's to say that Northie isn't running Kim's Instagram? We like her initiative.