North crashing Kim Kardashian West's recording is so relatable to moms everywhere right now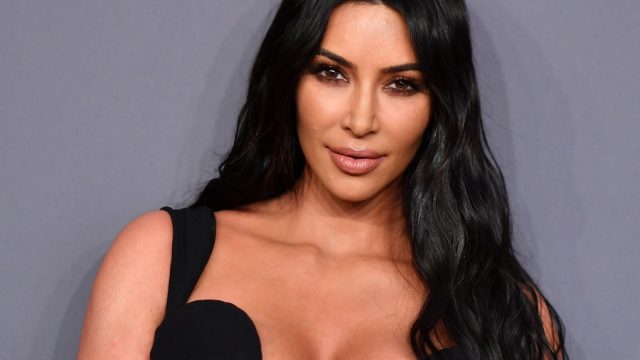 Kim Kardashian West is overwhelmed—just like all moms are right now. Being quarantined at home with your kids can be a bonding experience, of course, but it's also exhausting. Case in point: As Kardashian West tried to film a "stay at home" PSA for her fellow Californians, her oldest daughter, North West, crashed her work time.
"Hi everyone in California, it's Kim Kardashian West and I was just wanted to talk to you," the reality star began before being interrupted by her daughter behind her. "And North West!"
Kardashian West continued: "I just wanted to have a serious conversation with you guys about social distancing. I know it's California and we've got the most beautiful weather, but we have to start to train ourselves…" Before she could finish her sentence, North again interrupted her mother by whispering, "I want out…"
(Also relatable, North.)
"You went outside to your backyard and that's totally fine," Kardashian West responded. We then see her pleading with North. "Can you not jump on the bed? Give me like two seconds to seriously do this," she said.
It's safe to say that moms everywhere are totally feeling Kardashian West's weariness.
"Okay, so guys, we just want you to social distance," she continued. "There's so many fun, amazing projects you can do, you can spend time with your kids and have so much fun."
She gritted her teeth, trying not to flip out. "Trust me, I want to get out more than you know."
Kardashian added, "It's really important to always do mental health checks on your friends and your loved ones," before North jumped in again. "You should be more busy of your kids, not your friends," her daughter said.
"Facts," North's mother agreed. "Honestly, staying home is saving lives and that's what we're all trying to do here. Alright, that's it. Stay safe."
We wish all parents the best while social distancing. Take Kardashian West's advice to have "so much fun" with your kids—but it's also understandable if you relate to her exhaustion, too.
As information about the coronavirus pandemic rapidly changes, HelloGiggles is committed to providing accurate and helpful coverage to our readers. As such, some of the information in this story may have changed after publication. For the latest on COVID-19, we encourage you to use online resources from CDC, WHO, and local public health departments, and visit our coronavirus hub.