The North Korean cheerleaders had no time for a Kim Jong-un impersonator who walked through their section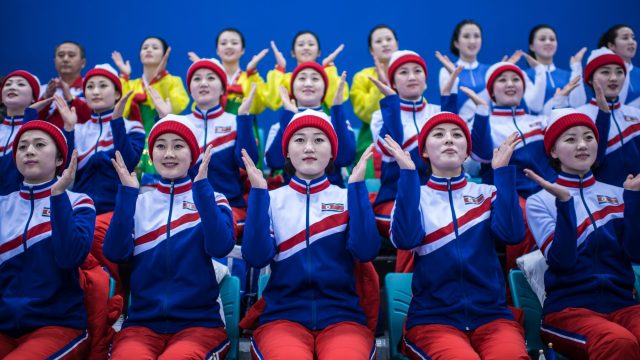 Admit it: the North Korean cheerleaders know how to bring it. From their matching getups to their oddly mesmerizing hand-clap choreography, this 230-strong pep squad's cheer game is on point.
But the North Korean cheerleaders did not come to the 2018 Olympic Winter Games in PyeongChang to play. While they've provide moral support for the North Korean athletes competing in this year's Games, they also serve another function. North Korean dictator Kim Jong-un handpicked the perma-smiling squad, in part, as a PR strategy. The more delightful their dancing and the more heartwarming their national pride, the easier it is to forget (in theory) how oppressive a regime Kim runs.
So far, it's worked, partly due to the cheer squad's aggressively cheerful disposition. But when a Kim Jong-un impersonator walked through their section at an Olympic hockey game on Wednesday, the North Korean cheerleaders were having none of it.
With reactions ranging from uncomfortable laughter to straight-up disgust, the perpetually peppy women proved they can throw varying degrees of shade with the best of them. For real, if the Olympics offered a side-eye-giving competition, it's safe to say the North Korean cheerleaders would win gold. Team and individual medals.
Don't mess with the North Korean cheerleaders!
Your eyes don't deceive you. You've seen this Kim Jong-un impersonator before. Along with a Donald Trump companion impersonator, this guy hung out at the Olympic Opening Ceremony, too. So if you were wondering if Kim Jong-un would be at the 2018 Olympics, the answer is: sort of.
The Kim Jong-un lookalike, known only as "Howard," flew solo this time around. (We don't blame him. We don't want to hang with DJT, either.) Like at the Opening Ceremony, police quickly escorted fake Kim out of the arena. And by "escorted," we mean "dragged out." But not before the North Korean cheerleaders gave him the stink eye. He was later allowed to return to the arena, but only after the game ended and the cheerleaders had left.
Give us an 'N', an 'O', a 'P', an 'E'! What does that spell?
When asked what his goal was in crashing the game, Howard said, "Enjoy the game, meet the cheerleaders, which I did, and create some good political satire."
#winning…?