North Koreans apparently think Donald Trump should be "sentenced to death"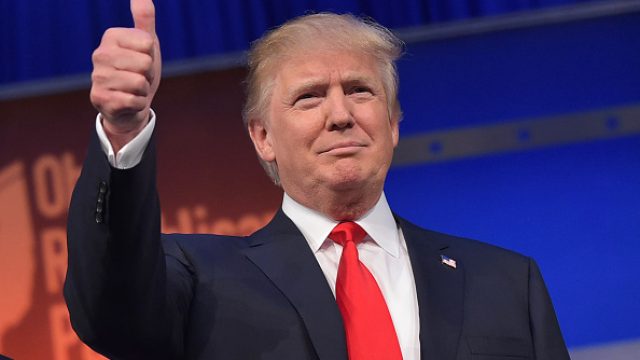 President Donald Trump has been trading threats with North Korean president Kim Jong-un for months now. But a North Korean newspaper just stepped up the game. An editorial in the state newspaper the Rodong Sinmun said Trump should get the death penalty for insulting Kim. The paper's op-ed comes in the wake of Trump's visit to South Korea, where he gave a speech denouncing North Korea's "cruel dictatorship."
"He should know that he is just a hideous criminal sentenced to death by the Korean people," the editorial stated. "He will be forced to pay dearly for his blasphemy any moment."
The newspaper also took issue with Trump's failure to visit the demilitarized zone on the border between North and South Korea. Trump apparently tried to visit the DMZ, but his plans were canceled due to thick fog; however, the paper chalked the cancelation up to "fear." Trump also provoked North Korean anger during his visit to Vietnam on November 12th, when he tweeted that Kim was "short and fat."
https://twitter.com/udfredirect/status/929511061954297857
U.S. relations with North Korea were already tense, but both Trump and Kim have been stoking the flames this year. North Korea claimed in July that it has intercontinental ballistic missiles capable of striking the U.S. The North Korean government has also threatened to bomb the U.S. territory of Guam, and sent a missile over Japan to prove that the territory is within striking distance. In response to North Korea's threats, Trump said "they will be met with fire and fury."
The newspaper in which the editorial appeared has made inflammatory remarks toward Trump and the U.S. before, calling Trump a "psychopath" and threatening that North Korea could "reduce the U.S. mainland to ashes at any moment."
It's hard to tell if this threat to Trump is legitimate or another one of the paper's trademark insults. So while we're taking this news with a grain of salt, it's still worth keeping an eye on.